Instagram Is Loving Martha Stewart's Cocktail Hour Selfies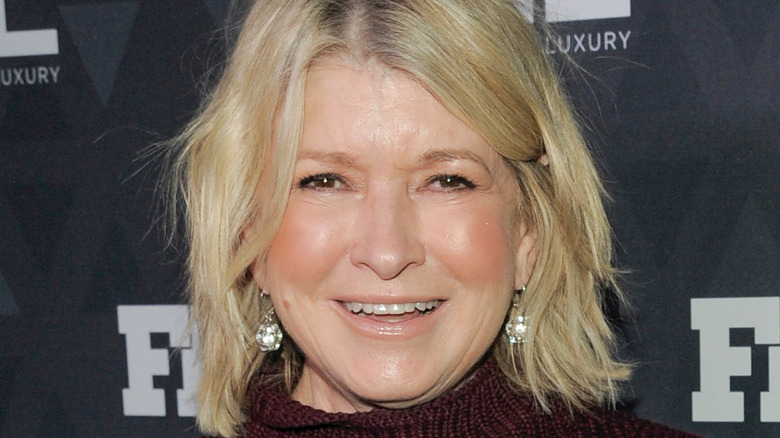 lev radin/Shutterstock
Fans of Martha Stewart undoubtedly remember her famous thirst trap pool photo that was shared to her personal Instagram, @MarthaStewart48, in the summer of 2020. After the photo blew up last summer, Stewart said on "The Ellen Degeneres Show" that she received so many "propositions." "But I had to ignore all of them. I'm a very busy person," she told guest host Howie Mandel in a joking manner (via People). (Mandel also explained to her what "thirst trap" meant.) Now Stewart is back at it with more borderline thirst traps, thanks to the selfies she took and posted during cocktail hour.
Stewart shared several photos to her personal Instagram account again, @MarthaStewart48, on September 15. While the pool photo received more than 243,000 likes, this one has garnered 70,696 likes within a day. Clearly, fans are loving Stewart's newfound selfie-taking confidence. The caption of the post said, "Not thirst traps but getting close. Two caipirinhas at @animae.sandiego (amazing food and drinks) after a wonderful interview on stage at @trafficandconversionsummit in San Diego with a fantastic host and interviewer @roland Frasier." Naturally, fans had plenty of thoughts on the post.
This is how fans are responding
Stewart might not have considered the selfies she included in the post to be thirst traps, per se, but her fans and followers disagree (via @MarthaStewart48). One person wrote back, calling them "thirst quenchers*." Another wrote, "still a thirst trap, Martha." One comment read, "trap away, queen!!!" One fan stepped up to the mic and simply told Stewart, "we want the thirst traps." Someone else agreed, writing, "here for it, Martha." But those responses in support of Stewart's thirst-trapping ways were not the only ones.
Plenty of other commenters were there to support Stewart's selfie-snapping habit. One comment read, "Martha you need to get the iPhone 13 next week so we can have higher resolution night mode photos." Someone else commented, "I freaking love it when Martha drinks." A third person said, "[Martha] came here to steal your man." Of course, they were all meant in a loving way, followed by heart and fire emojis. Only time will tell where Stewart's next thirst trap will take place.