Best Peanut Butter Latte Recipe
Jaime Bachtell-Shelbert/Mashed
Do you want a taste of a hand-crafted coffee, but don't have the time or the energy to run out and get it? Fear not, because you can enjoy a delicious latte in the comfort of your own home, and it's surprisingly easy to make. And guess what? You don't need any fancy equipment to make it! We know, that sounds pretty sweet. All you need in order to make the latte is a saucepan and a few ingredients. This beverage is a great morning treat, and it's perfect to make quickly before you have to head into the office.
Recipe developer Jaime Bachtell-Shelbert came up with this fantastic peanut butter latte that tastes just as good as it sounds. "This recipe combines two of my favorite things — coffee and peanut butter! And it really works," Bachtell-Shelbert raves. "Instead of using a sugar-flavored syrup, the peanut butter brings that nutty flavor, and the honey adds a touch of sweetness." Bachtell-Shelbert also says that she loves the "creamy and nutty [taste]" of the latte. 
This recipe sounds like a real winner in our book! It's a real treat that can actually be savored any time of day. Keep reading to find out how to make this delightful latte.
Gather the ingredients to prepare this peanut butter latte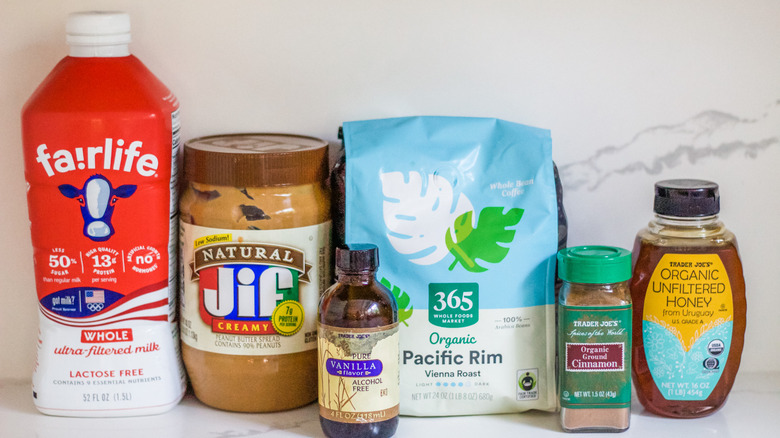 Jaime Bachtell-Shelbert/Mashed
The first thing you need to do before you get to work is gather all of the necessary items to make this yummy latte. Most of these items are pretty common, and if you're lucky, you will already have them at home in your cupboard and fridge. To start, you will need coffee beans and water, both of which are pretty standard in coffee recipes. In addition, milk is necessary.
You will also have to pull out peanut butter and honey, which are two ingredients that will help to make this latte taste out-of-this-world good. Last but not least, the recipe calls for a teaspoon of vanilla and some cinnamon for topping.
Grind the coffee beans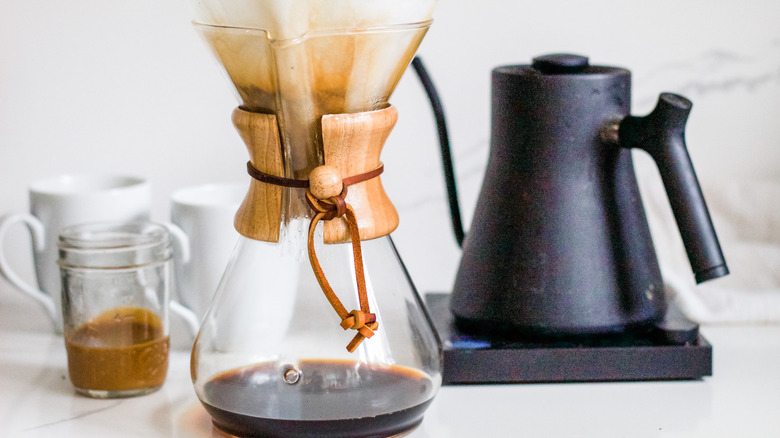 Jaime Bachtell-Shelbert/Mashed
Are you ready to show off your barista skills? You don't have to work behind the counter at Starbucks in order to whip up this tasty latte — trust us when we tell you it's really simple. First, finely grind your coffee beans. You can use whatever your go-to blend is, but Bachtell-Shelbert has a few specific roasts that she likes to use. "I would recommend an espresso roast or some other dark roast," she says.
Then, brew the coffee grinds using 1 cup of water. You can use the pour-over method, but Bachtell-Shelbert notes that a percolator also works well for this step.
Add the milk and other ingredients to a saucepan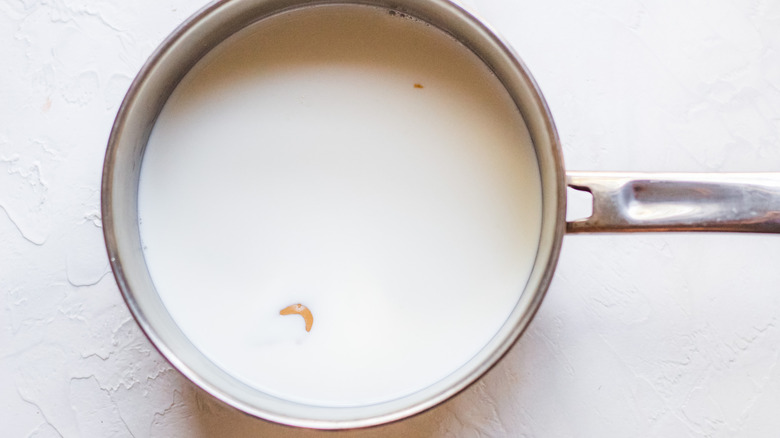 Jaime Bachtell-Shelbert/Mashed
Go ahead and set the coffee to the side, because you will need it shortly. For now, it's time to move on to the sweet ingredients. Pull out a saucepan, and put it on your stove. Just be sure it's big enough to add all of the remaining ingredients. Then, add in the milk, peanut butter, and vanilla. Turn the heat to medium, and begin whisking the ingredients together to combine. Be sure to remove the mixture from heat before it comes to a boil. Set it to the side, and move onto the next part of the process. 
Divide the coffee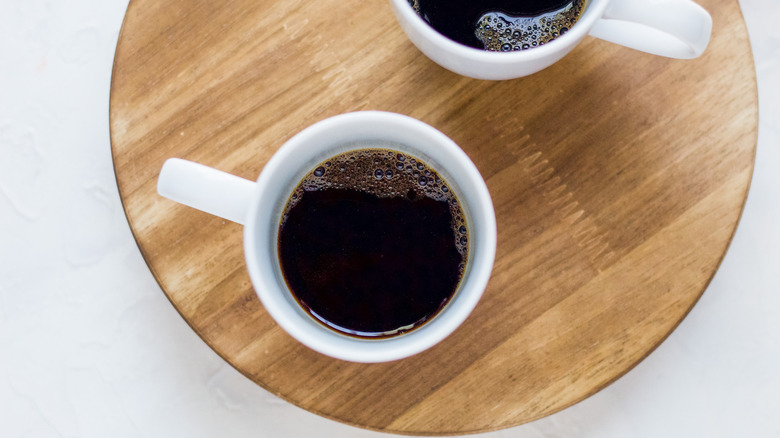 Jaime Bachtell-Shelbert/Mashed
Now that you have finished the coffee and the latte mix, it's time to combine them. This recipe calls for two lattes, so grab two mugs to serve it up. Divide the coffee evenly between the two cups. This will go at the bottom of the mug. Then, pour the peanut butter and milk mixture over the top, distributing about half into each cup. If you want, you can sprinkle cinnamon over the top of each latte, which adds the perfect flavor to this already sweet drink.
Serving suggestions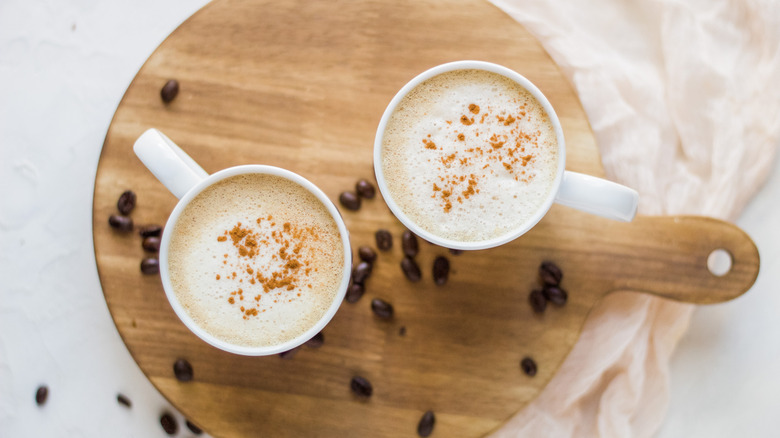 Jaime Bachtell-Shelbert/Mashed
This cup of coffee is great on its own, but if you're planning on making it for guests, Bachtell-Shelbert provides a few serving suggestions. "This latte is a great afternoon pick-me-up that provides extra protein and calories to power you through," she raves. "Grab a piece of fruit to go along with [it]. Or, if you are having this for breakfast, pair it with something lighter like whole wheat toast."
We also think that it would be great with a dollop of whipped cream to give it an extra-special edge. Hey, you can even get fancy with cinnamon sticks! This is such a Pinterest-worthy creation, you may want to snap a few pics to show it off. Now, there's only one thing left to do — drink up!
Best Peanut Butter Latte Recipe
This peanut butter latte is a great morning treat, and it's perfect to make quickly before you have to head into the office.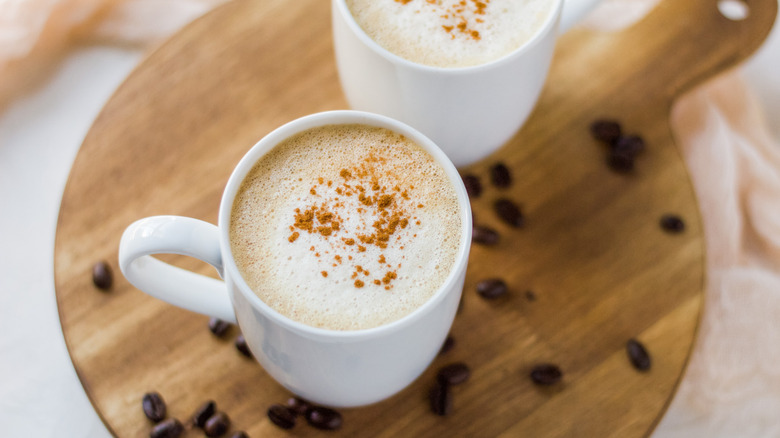 Ingredients
6 tablespoons coffee beans
1 cup water
2 cups milk
3 tablespoons peanut butter
2 teaspoons honey
¾ teaspoon vanilla extract
Optional Ingredients
Directions
Finely grind the coffee beans.
Brew the coffee using the grounds and 1 cup of water. (You can use the pour-over method, but a percolator works as well.)
Add the milk, peanut butter, honey, and vanilla to a saucepan. Heat over medium heat, whisking to combine. Remove from the heat just before the mixture comes to a boil.
Divide the coffee between two mugs, and top evenly with the peanut butter-milk mixture.
Top with cinnamon, if desired.
Nutrition
| | |
| --- | --- |
| Calories per Serving | 350 |
| Total Fat | 20.3 g |
| Saturated Fat | 7.0 g |
| Trans Fat | 0.0 g |
| Cholesterol | 24.4 mg |
| | |
| --- | --- |
| Total Carbohydrates | 29.9 g |
| Dietary Fiber | 1.2 g |
| Total Sugars | 20.8 g |
| Sodium | 117.5 mg |
| Protein | 14.1 g |