Aldi Shoppers Are Loving This Frozen Vegetable Lasagna
September usually marks the start of one very important period in the food world: pumpkin spice season. And it's not just pumpkin spice lattes from Starbucks that get people going, it's pumpkin everything — and who could even criticize the excitement because pumpkin spice is so good? Still, when the calendar page flips, and the first hint of fall is in the air, you know the moment people have been waiting for all year has finally arrived.
But, around the same time, there's another item, a fan-favorite lasagna, that makes a yearly comeback with foodies holding their breaths until it hits the shelves again. Of course, it's stocked at none other than the ever-so-popular: Aldi. The budget grocery store is known for its "Aldi Finds," specially selected items that are in stock for a limited amount of time, and this dish is one of them.
One blogger claimed to have found it during Aldi's Italian week back in 2019 (via Aldi Reviewer), but most people seem to start looking for it around the end of August and early September.
Shoppers love the Season's Choice 7 Vegetable Lasagna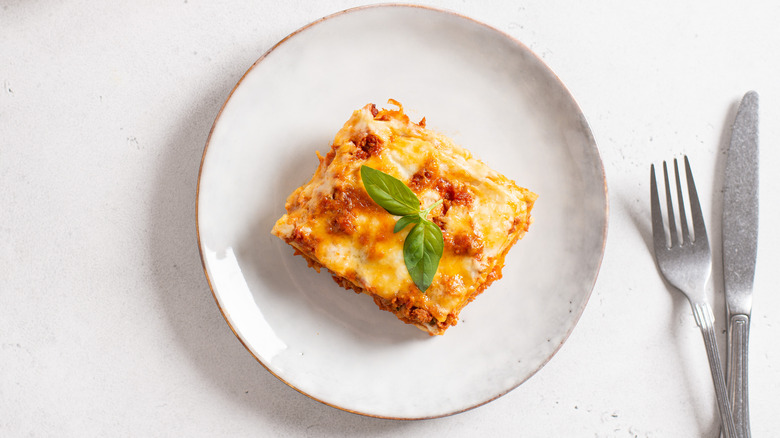 Dina Photo Stories/Shutterstock
One of the most beloved Aldi fall items, shoppers can't get enough of the Season's Choice 7 Vegetable Lasagna. The passion for the dish is so intense, one Aldi customer started a Reddit thread about the product. "I've been waiting for this to come back since last year! Delicious vegetable lasagna," the original poster wrote alongside a photo of the packaging.
"I walked by this today, I am filled with regrets now," one commenter noted. "This is one of my favorite Aldi products. I fill a shelf in my freezer with them when they have them lol," another poster shared — which sounds like a pretty good idea all things considered.
The lasagna was included in this week's Aldi Finds, scheduled to be in stores from September 15 through the 21. You'd likely find it somewhere in the freezer section of your local store, one Facebook post shared they spotted it in the deep freezer of the "Special Buys" section.
Each 32-oz lasagna costs $6.99 and comes frozen and fully prepared, per Aldi. The product is described as: "Seven vegetables, zesty marinara sauce, and ricotta cheese, layered between lasagna pasta and topped with mozzarella cheese." If that sounds as good to you as it does us, don't waste any time and run to your local Aldi to grab a box before inventory runs out.