The Essential Pasta Rule Gordon Ramsay Ignores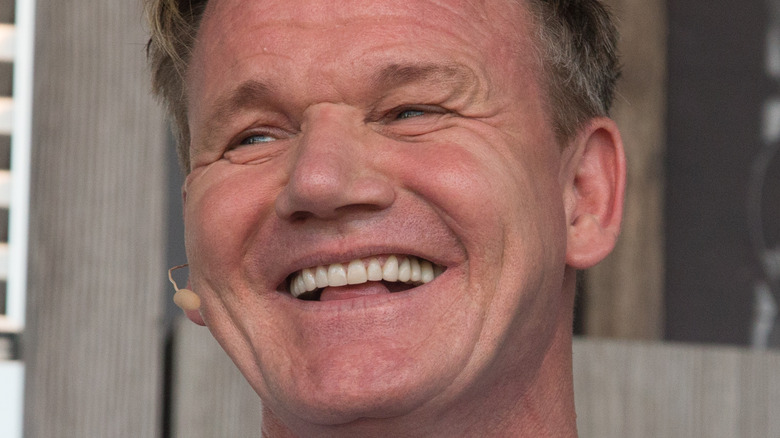 Sterling Munksgard/Shutterstock
There are few pasta cooking tips as divisive as the one which advises you to add oil to pasta water. Smithsonian Magazine quotes Lidia Bastianich as handing down something which — to our ears — sounds like a cooking commandment when she says:  "Do not — I repeat, do not — add oil to your pasta cooking water! And that's an order!" 
But it's an order Bastianich's fellow celebrity chef Gordon Ramsay appears all too willing to disregard, because in a rediscovered YouTube video, he is seen urging fans to add a bit of oil to pasta water because, you know "that stops the pasta from sticking together" before bringing it to the boil. To be fair, the cooking tip, which was filmed back in 2014, was captioned as a "top tips on how to cook angel hair pasta," but we can't imagine the rules as having changed very much regarding angel hair — or any other noodle — since that time.
There are many reasons why people might add oil in general — and extra virgin olive oil in particular — to pasta. Insider spoke to Seattle restaurant owner Michael Easton who argues that olive oil only works to keep water from bubbling over, and is an unnecessary step for noodles that need less than 13 minutes to cook. Otherwise, the oil "keep[s] the sauce from sticking to your noodles."
Gordon Ramsay's pasta tip was not embraced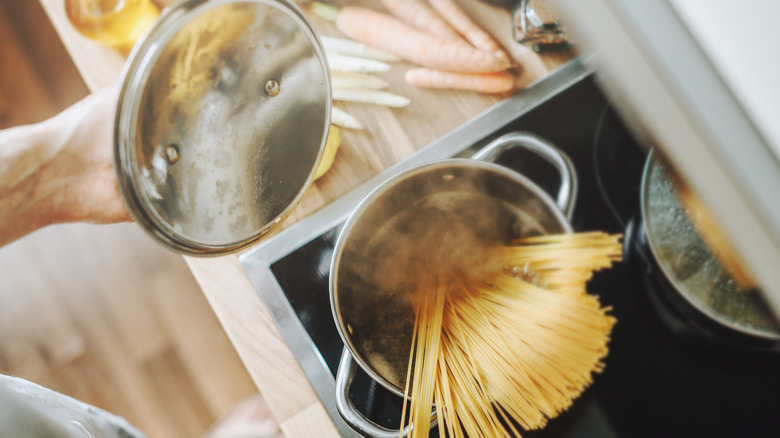 nerudol/Shutterstock
While comments that discredit the oil-in-pasta-water hack swirl and bubble across the Internet pretty much the way boiling pasta water does, only Australia-based food enthusiast Vincenzo Prosperi took direct aim at Ramsay's pasta tip on his YouTube channel saying: "That's not true, guys. Who told you that? Why waste the extra virgin olive oil in the pasta water? Never never waste the extra virgin olive oil. First, because it's expensive. Second, because you don't waste it like that. It's such a beautiful, beautiful ingredient. It's the best oil for you to eat."
This isn't the first time Ramsay has been schooled by his contemporaries, even though he is considered a kitchen giant. He's made some very public missteps, like that time he made his own version of Pad Thai for Chang, the former executive chef at London's Blue Elephant, who critiqued the dish by saying "This is not pad thai at all!" (via Food52). We can only imagine former contestants who have appeared on Ramsay's "Hell's Kitchen" must feel just a bit of satisfaction when Ramsay's very public kitchen fails like this one come up for a bit of air.