Why Fans Are So Upset Over Tom Colicchio's Most Recent Fishing Trip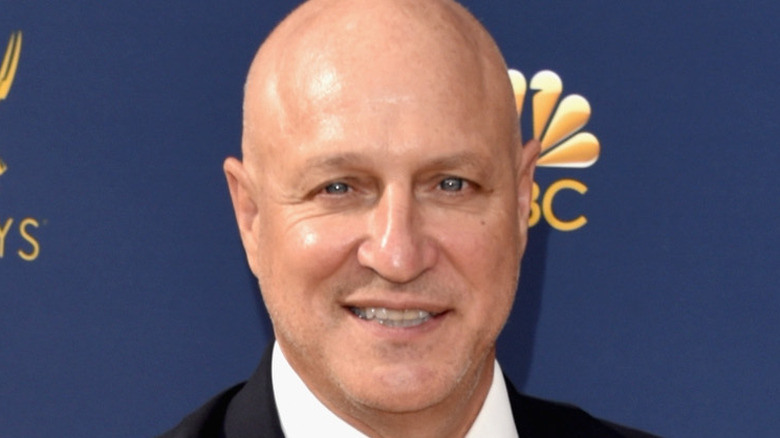 John Shearer/Getty Images
It's not uncommon for fans to get up in arms about something a celebrity has done, especially with social media providing unlimited access to their comings and goings like never before. Recent topics have included rage over seeing Mike Richards appointed as the new host of "Jeopardy" after previous controversial behaviors of his emerged (prompting him to step down from the role) and even something as innocuous as Amanda Seyfried's dog sporting a plastic face shield that has sparked online disputes from fans, according to Hello! Magazine.
Celebrity chefs and cooking gurus are not immune to the phenomenon, either, as seen in the distancing from Paula Deen in the recent past, as well as Martha Stewart's previous troubles. So what could "Top Chef" judge Tom Colicchio possibly have done on an innocent fishing trip that has social media all riled up?
Tom Colicchio's large catch on a fishing trip has some fans upset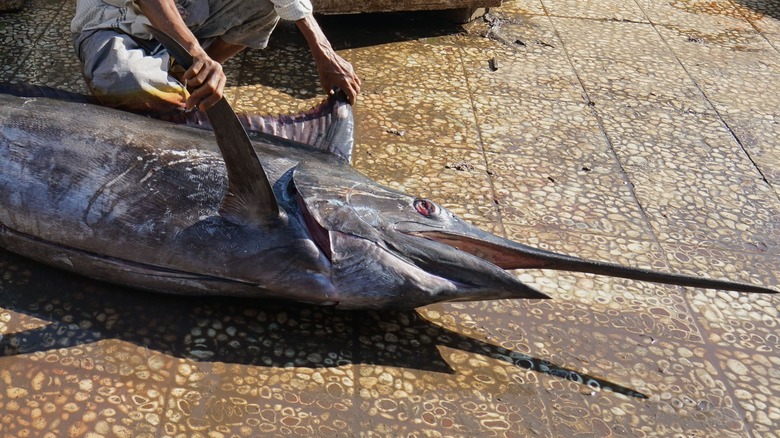 Giles Clarke/Getty Images
While a fishing trip may seem more calming that anger-inducing, Tom Colicchio's latest Instagram post may prove that theory wrong. The well-regarded chef and food television personality posted a photo of himself on a recent adventure holding quite a large catch alongside the caption, "Tuesday morning Hudson Canyon, my 1st swordfish. Fishing with team Regulator aboard the new 37." 
And while many minds were blown away over the mere size of the swordfish, with some joking, "You have 30 minutes to break it down and create a 4-course meal — including dessert... time starts NOW!!" — other fans were upset by the post and seeing a majestic creature outside of the water.
Follower @charles.barb wrote, "This made me sad. What a beautiful creature," while another person by the name of @sustainablepapi commented, "Nothing to see or be proud of here" alongside the hashtag #govegan. Looks like Tom won't be making friends with PETA anytime soon, but the chef is not exactly known for his veggie-forward ways. There's no word on how he plans to use the catch, which likely would have caused some mixed feelings, too.