This Person Scored 10 Interviews By Pairing Their Resume With Donuts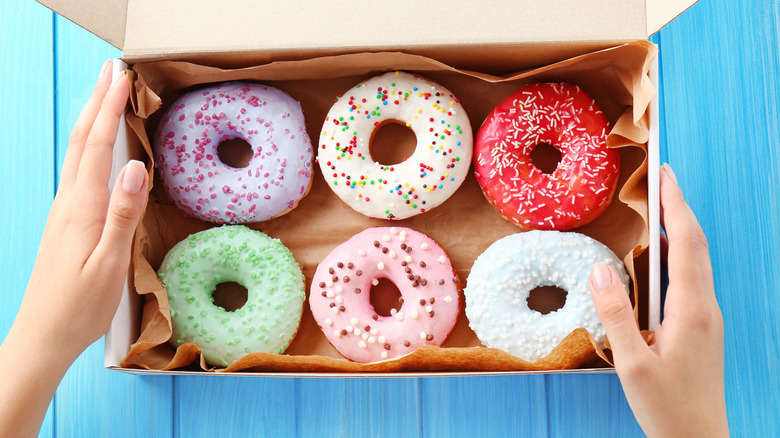 Africa Studio/Shutterstock
In today's day and age, handing in your resume on a clean white piece of copy paper isn't enough. It especially won't cut it if you work in a creative industry like marketing, graphic design, social media, or anything in the digital arts space, where the recruiter is looking to hire the most creative, innovative brain in the room. Times New Roman font isn't very original or authentic, now is it?
According to Inc magazine, research indicates that you have about six seconds to capture the attention of a job recruiter or your possible employer once they lay their eyes on your resume. This means your resume has to be so attention-grabbing that they don't want to look away. There are a few ways you can go about executing this. Certainly, colored paper is a different approach, as is including graphics or a small profile photo. However, Lukas Yla, an aspiring marketing professional, went a completely different route. He used donuts to his advantage (via Thrillist).
He BOGO'd his way through with donuts and resumes
After not having any luck with his job search, 25-year-old Lukas Yla knew he had to do something to stand out, and it'd have to be big. He decided to dress as a Postmates delivery driver and drop off boxes of artisan donuts with his resume inside to marketing agencies and tech businesses in the San Francisco area. Those who got the donuts didn't expect their surprise sugary snack to come with a side of Yla's resume, but you can bet they spent longer than six seconds skimming it.
"I was looking for the most direct way to reach decision makers at the companies. I thought, that I might fail competing only on 'resume' level with other candidates that have work experience in San Francisco," he told Thrillist.
Forty donut-resume deliveries later, Yla landed 10 interviews and counting. "Recruiters, marketing pros and people in general love this kind of approach, it's something you didn't expect, fun and out of the box," he explained. The next time you want to catch a recruiter's eye, send them a surprise donut or pizza delivery!