Trader Joe's Shoppers Are Loving Its New Kale And Cauliflower Chili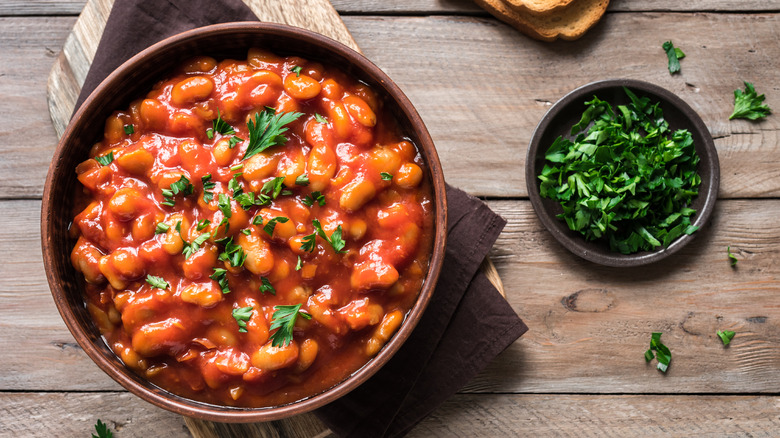 Oksana Mizina/Shutterstock
Trader Joe's just released a slew of new items for fall 2021 and — drumroll please — Instagram fan account @TraderJoesList found one especially intriguing (and non-pumpkin flavored) offering. Hidden among the autumn-inspired foods, beverages, and (yes, really) dog biscuits, according to BuzzFeed, is the grocery chain's new Kale and Cauliflower Chili with Navy Beans. The outlet shares this new vegetarian chili hits all the right notes, describing it as "filling and comforting," perfect for those times you're craving a cozy meal, but uninterested or unable to start from scratch.
@TraderJoesList shared with its 1.7 million followers, "NEW KALE & CAULIFLOWER CHILI WITH NAVY BEANS ... I'd like to interrupt your #pumpkinpalooza with a non-pumpkin item! I am so excited for fall because we are officially entering #soup season and I LOVE soup!! I love to make it but also appreciate a well made jar of soup like this #new item from #traderjoes! I'll 100% be adding this to my #traderjoeslist! Will you?" Followers were quick to share their enthusiastic feelings about the new product. Here's what they (and other Trader Joe's fans online) had to say.
Fans are falling for Trader Joe's new chili
At least one of @TraderJoesList's followers was just as happy to find a pumpkinless food choice among Trader Joe's new fall items. User @smashinglyashley commented with a smiling heart eyes emoji, writing, "Wa [sic] so excited to see something not pumpkin! Bought today and excited to try with some cornbread mini muffins." User @julia.malykh shared their thoughts after taste-testing the new chili, and it's seemingly all good. "I got this one this week. It has a bit of spice and sort of like a lighter vegetarian chilli [sic]. I loved it," the Instagram user wrote.
YouTubers Stacey and Mark from "Make Life Grand" sampled Trader Joe's Kale & Cauliflower Chili along with an array of new fall items. Their verdict? "Looks like a really nice little chili there," commented Stacey. "This is very different. I like it. It's got a little sweetness to it also, and also a little heat. ... I like the beans. I'm big fan of navy beans in soups and stews and that kind of stuff." Mark's assessment was a bit more reserved. "First initial taste was great chili flavor ... I really liked it. Then the tomato flavor became a little overpowering for a chili, then the heat kicked in a little bit ... But I think the tomato flavor was a little strong for chili, for my liking."
Too much tomato? Or just right? There's only one way to know for sure — pick up a jar and do your own personal taste test!