Easy Peanut Lime Dressing Recipe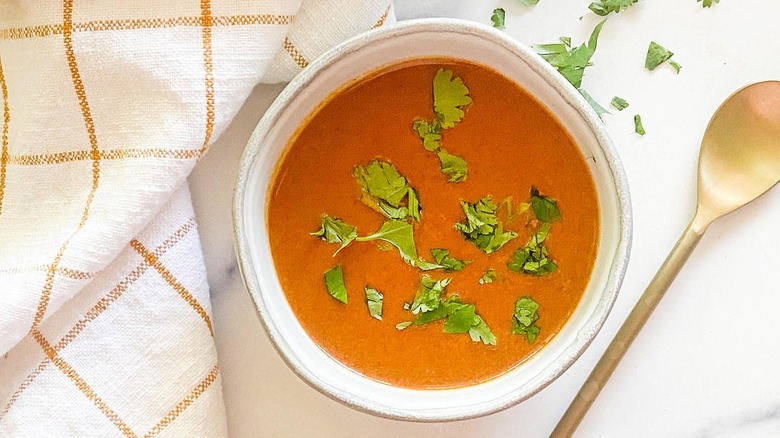 Miriam Hahn/Mashed
For many dishes, the dressing that you drizzle on top or use as a dip is just as important as the meal itself. No one likes a dry, bland meal, but with the variety of dressing and sauces to choose from, it's a bit daunting to try to find the perfect one. Of course, you don't have to limit yourself to just one dressing, but it is a good idea to have a go-to dressing that will perfectly complement a number of staple meals. If you're still searching for that perfect sauce, then this peanut lime dressing may be exactly what you're looking for.
Peanut sauce is a common condiment amongst many Asian cuisines, and for good reason. The rich, nutty sauce is incredibly delicious and pairs well with foods like chicken, noodles, and spring rolls. Fortunately, you don't have to go to your favorite restaurant every time you want to enjoy a peanut dressing, because recipe developer and wellness coach Miriam Hahn has a homemade peanut lime dressing that will satisfy your craving. 
"This sauce is so flavorful," Hahn says of this recipe. "It definitely has the peanut butter flavor front and center, but matched with the sourness of the lime and the sweetness of the maple syrup, it is a perfect mix of savory tastes!" If you love peanut sauce and want an easy and flavorful homemade version, keep reading to learn how to whip up this peanut lime dressing.
Gather the ingredients to prepare peanut lime dressing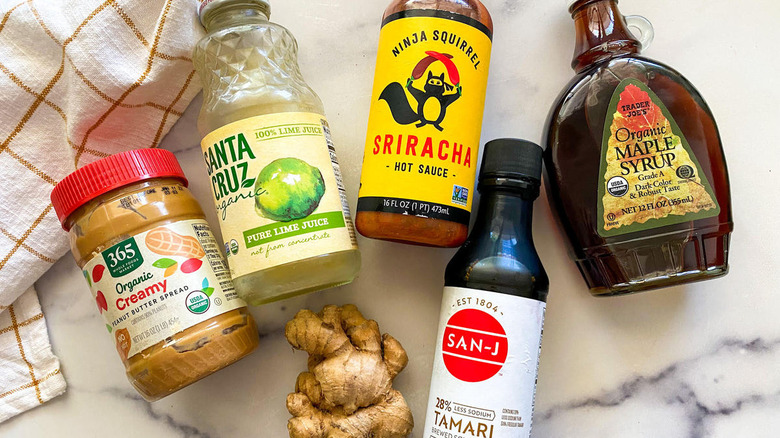 Miriam Hahn/Mashed
Even though it's incredibly simple to make, this peanut lime dressing has a unique combination of flavors, so you'll want to make sure that you have the right ingredients on deck. The star of the show is, of course, peanut butter, so make sure you have some creamy peanut butter on hand. You'll also need soy sauce, Sriracha, water, lime juice, maple syrup, freshly grated ginger, and optionally some fresh cilantro for topping. 
Hahn notes that you can easily sub the Sriracha for a similar hot sauce such as Tabasco or Cholula, and yield an equally delicious result. Additionally, you can use almond butter instead of peanut butter, and if you have a nut allergy, you can skip these altogether and opt for something like sunflower seed butter instead.
Whisk the ingredients together in a small bowl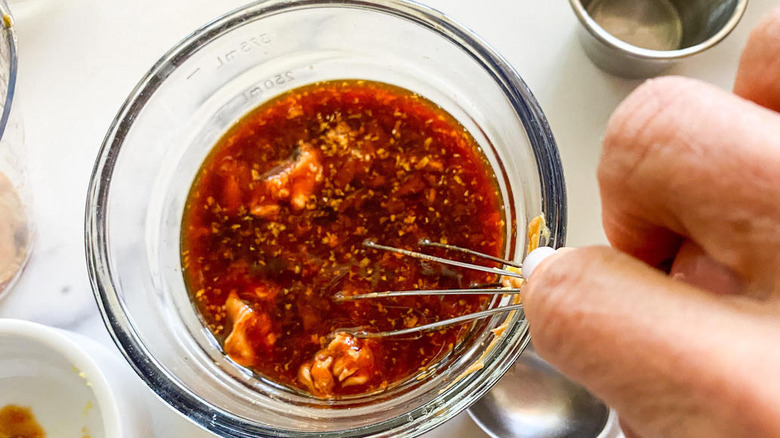 Miriam Hahn/Mashed
Once you have all of your ingredients sorted, you can make the peanut lime dressing. Start by grabbing a small bowl and adding in the peanut butter, soy sauce, water, Sriracha, lime juice, maple syrup, and ginger. Whisk all of these ingredients together to form a smooth, even dressing. If you want the dressing to be a bit thinner, you can simply add a little more water to reach your desired consistency. Once the dressing is all whisked together, it will have a brownish-red color, and it should be nice and smooth — perfect for drizzling and dipping!
Peanut lime dressing adds flavor and nutrition to your meal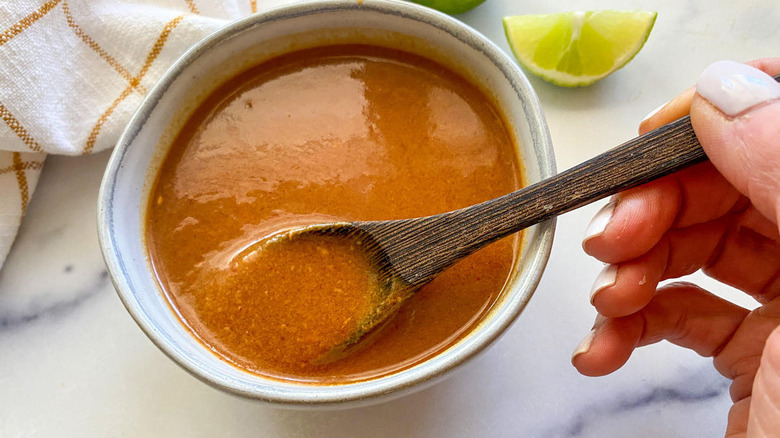 Miriam Hahn/Mashed
Peanut lime dressing is a condiment, meaning that you aren't going to eat it on its own. Instead, the sauce complements plenty of foods and dishes, making it an ideal addition to help round out your next meal. The main ingredient of this peanut lime dressing is peanut butter, which is loaded with fiber and protein (via WebMD). Thanks to the addition of lime juice and ginger, this dressing also has plenty of fresh ingredients. Because it is a bit calorie and fat-dense, this sauce is the perfect topping for dishes that don't have as many calories or as much fat, like salads, spring rolls, or grilled chicken.
Top your favorite dishes with this peanut dressing, and enjoy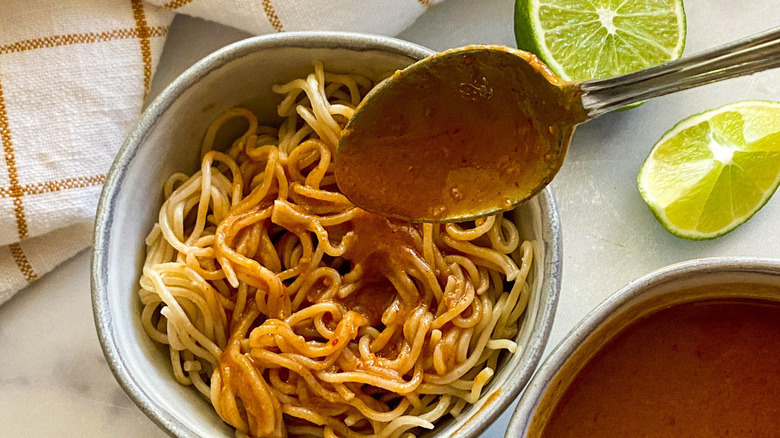 Miriam Hahn/Mashed
As soon as you're done whisking the peanut lime dressing, you're ready to enjoy! This recipe is so wonderful, because it requires just a few ingredients and only a few minutes of your time. Best of all, it pairs wonderfully with countless dishes, and Hahn says that she most enjoys this sauce with stir fry, ramen, tofu, and Asian salads. "You can pop in some tofu in the air fryer, cook up some four-minute ramen noodles, and whisk up this sauce, and have dinner in 15 minutes," Hahn explains of this simplicity of this dish. "Sauces can take a pretty basic meal and make it fabulous!"
Easy Peanut Lime Dressing Recipe
If you love peanut sauce and want an easy and flavorful homemade version, this peanut lime dressing recipe is for you.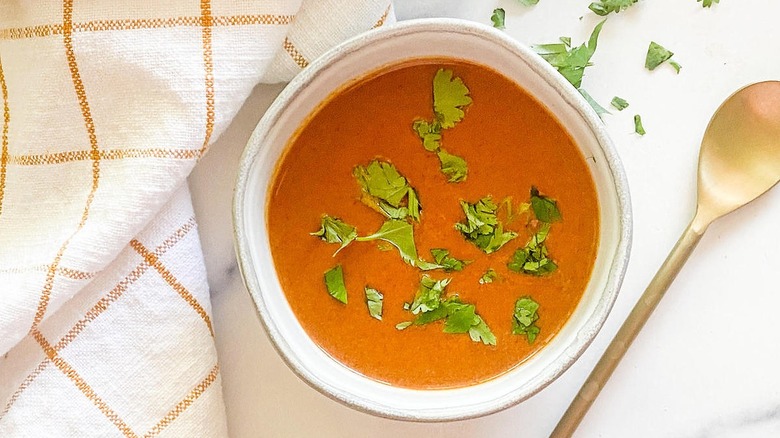 Ingredients
¼ cup peanut butter
¼ cup soy sauce
2 tablespoons Sriracha
2 tablespoons water
2 tablespoons lime juice
2 tablespoons maple syrup
1 teaspoon fresh ginger, grated
Optional Ingredients
Directions
Add the peanut butter, soy sauce, Sriracha, water, lime juice, maple syrup, and freshly grated ginger to a small bowl, and stir well with a whisk until smooth.
Serve as desired, and enjoy!
Nutrition
| | |
| --- | --- |
| Calories per Serving | 268 |
| Total Fat | 16.8 g |
| Saturated Fat | 3.4 g |
| Trans Fat | 0.0 g |
| Cholesterol | 0.0 mg |
| | |
| --- | --- |
| Total Carbohydrates | 23.9 g |
| Dietary Fiber | 2.0 g |
| Total Sugars | 16.1 g |
| Sodium | 2,132.5 mg |
| Protein | 9.9 g |