Rachael Ray Fans Are Loving Buddy Valastro's 'Shagadellic' Sweet 16 Cake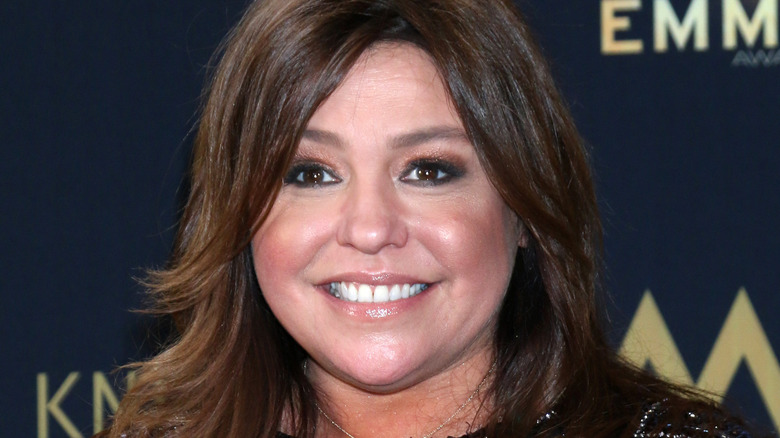 Kathy Hutchins/Shutterstock
Rachael Ray kicked off the 16th season of her long-running television show in style with a shagadellic rainbow cake created just for her by her personal friend and renowned cake maestro Buddy Valastro. In a video shared on the "Rachael Ray," Valastro hinted at his inspiration as he began to adorn the two-tier cake with an array of bright frosting colors. "We're children of the same era, right? Who doesn't remember those crazy shag carpets, right? And those crazy colors, right? So this is like a shagadellic-style cake," he explained.
Instagrammers had all good things to say about the mod cake wrapped up in a swirling rainbow of yellow, blue, pink, orange, and green frosting. Responding to a photo posted to Instagram by "Rachael Ray," @allengodin commented, "Gorgeous colors," and @lmarie1957 offered well wishes, writing, "Happy anniversary beautiful angels love you all." Comments also included plenty of emoji — hearts, rainbows, cakes, and clapping hands.
Rachael Ray and Buddy Valastro have a groovy friendship
While Valastro's shagadellic cake was the star of the celebration, his heartwarming tribute to his long-time friend deserves a mention. "What people don't know about you is how wonderful you are, how hardworking you are, and amazingly talented," Valastro told Ray (via Rachael Ray Show). "I love you and I'm so proud of you. To another hundred years of doing this!"
"You are amazing and I'm so, so proud," he continued. "I mean, 16 seasons, people don't realize how hard that is, and rare. And the truth of it, the secret to your success is you. Because your story is inspirational—if I would have told you when you were 20 and you were in the grind and trying to make it happen, that this is who you were going to be? You'd pinch yourself."
In a sweet moment (see what we did there?) toward the end of the video, Ray, who was broadcasting from her home in Upstate New York, waved her husband, John Cusimano, into the frame. As he set eyes on Valastro's kaleidoscope creation, Cusimano gushed, "Wow! Hey Buddy. That's amazing."
Sounds like we may be seeing more of Ray's home and husband this season. According to the "Rachael Ray," filming for Season 16 will take place in her residence and in her New York City studio. Stay tuned.