Duff Goldman's Chili Dog Recipe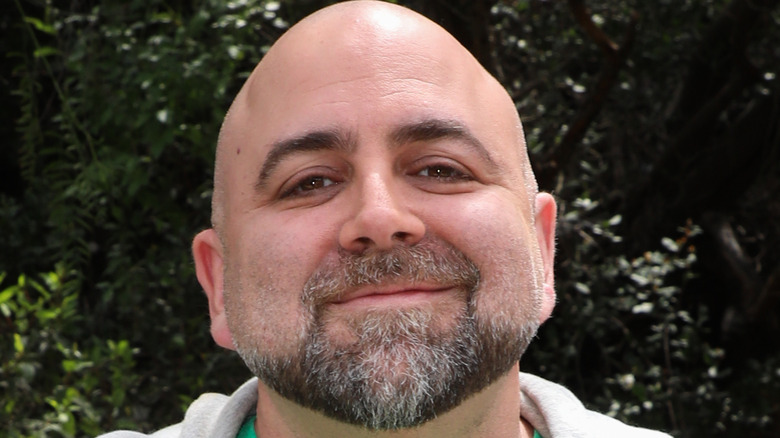 Paul Archuleta/Getty Images
Fans of the Food Network's Duff Goldman probably already know just how much he loves the Baltimore Ravens. And now that NFL football has kicked off for the season, Goldman is making his plan for game day recipes. He recently spoke with Mashed about one of his favorite game day foods.
"One of my specialties is my chili," Goldman said. He really loves making hot dogs, so this year he's decided to amp them up with his chili recipe. "I actually didn't grow up in Baltimore. I grew up in Massachusetts. In Mass, when you have a lobster roll, what you do is you take the bun and you dunk it in butter and you grill it," he explained. "What I'm going to do is some butter dunked buns grilled. Grill the hot dogs, and I like my hot dogs to be pretty burnt, pretty crispy on the outside, like really over grilled," Goldman added.
To top it all off, he adds just a touch of mustard and his Texas chili. "No beans, because beans is dumb on chili. Also, I don't put ground beef, I only put chuck. So you chop the chuck up really small, really fine. You don't want huge chunks on top of a hot dog. Then the chili goes on top of the mustard, goes on top of the hot dog," Goldman said. All of that adds up to what he calls "a very, very, very savory hotdog," which is exactly what we all need for game day.
Duff Goldman's Chili Dog Recipe
Duff Goldman spoke with Mashed about game day foods, and gave us his very own recipe for his favorite -- chili dogs.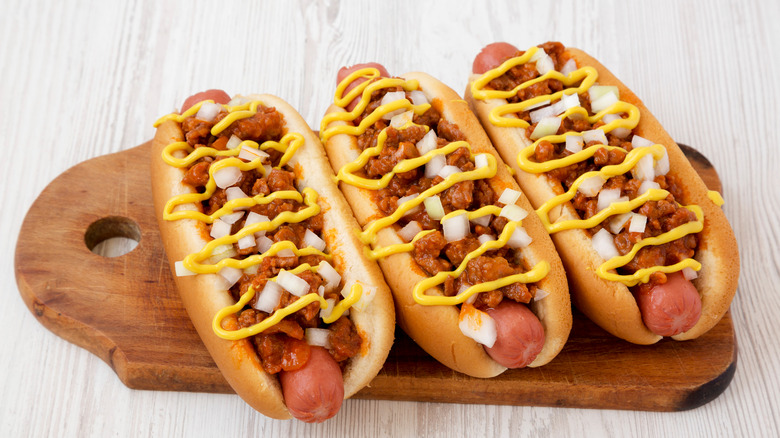 Ingredients
3 oz dried whole chilis (he uses a combination of Anaheim, guajillo, ancho, costeno, and California)
Salt to taste
2 teaspoons ground cumin
1 yellow onion, chopped fine (divided)
2 tablespoons white vinegar
5 tablespoons of lard (or 5 tablespoons of olive oil)
2 ½ pounds ground chuck
3 cloves of garlic, minced
2 cups beef stock
2 cups water
¼ cup yellow corn meal (or masa harina)
2 tablespoons brown sugar
Directions
Preheat the oven to 300 degrees. Place dried chilis in one layer on a baking sheet and roast them until fragrant, 10-15 minutes. These shouldn't brown, so if they start turning color, remove them from the oven.
Boil 6-8 cups of water. Put the roasted dried chilis in a big bowl and pour the boiling water over them. Cover with a towel and let sit for 25 minutes.
When the chilis are soft, cut them lengthwise and scrape the seeds and the membranes out and discard. Put the harvested chili meat in a blender. Add salt, cumin, a few tablespoons of the chopped onion, and the white vinegar. Blend on high until you have smooth, thick paste. Set aside.
In a large stock pot, melt the lard on medium high heat. Add the ground chuck and remainder chopped onion and vigorously stir. You want the ground beef completely broken down so it fits on a chili dog. Once the beef and onions are well cooked and a little caramelized, add the garlic and cook for 3 more minutes, then add the chili paste, beef stock, and water, reduce to a simmer.
Cook for about 90 minutes (at least), on low. You will be reducing the liquid while creating slow, complex flavors. Taste the chili as you go and adjust flavors with vinegar, brown sugar, salt, and cumin as you see fit.
When your chili looks nice and dark red and tastes delicious, add the cornmeal and stir well. This will help thicken the chili.
Serve immediately.
Nutrition
| | |
| --- | --- |
| Calories per Serving | 122 |
| Total Fat | 6.1 g |
| Saturated Fat | 2.4 g |
| Trans Fat | 0.1 g |
| Cholesterol | 38.8 mg |
| | |
| --- | --- |
| Total Carbohydrates | 3.9 g |
| Dietary Fiber | 0.4 g |
| Total Sugars | 1.5 g |
| Sodium | 286.3 mg |
| Protein | 13.1 g |