Bravo Just Revealed Where Top Chef Season 19 Will Be Filmed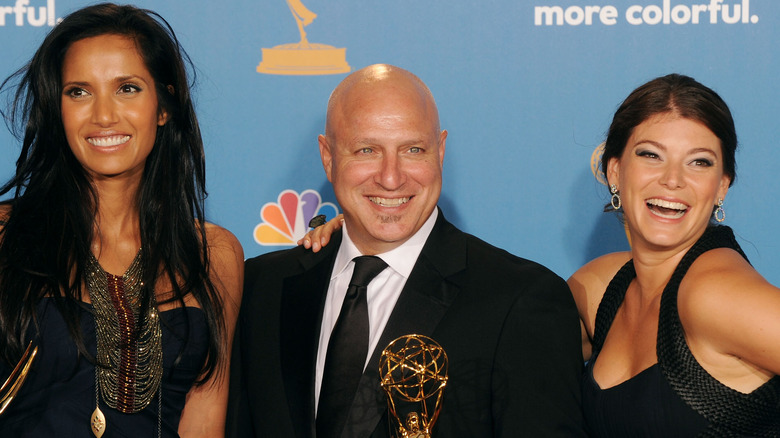 Jason Merritt/term/Getty Images
Not long ago, we announced the release date for Season 19 of Bravo's "Top Chef," along with a variety of other juicy details about the much-anticipated next season of this perennially popular and highly prestigious cooking competition. At the time that our story went to press, Bravo had not yet actually committed to a Season 19. However, based on the runaway success of Season 18 and the fact that "Top Chef" had recently swept the Emmy nominations with five, including best reality competition and best host (i.e., Padma Lakshmi, Tom Colicchio, and Gail Simmons, collectively), it seemed reasonable to speculate that a new season announcement would be imminent. Although, as it turned out, none of those nominations resulted in a win at the 2021 Emmy Awards (via Television Academy), we're already over it now that Bravo has given "Top Chef" fans something entirely new to obsess over. 
Today, September 21, Bravo announced that "Top Chef" Season 19 has already started production! And you'll never guess where it's being filmed. Here's a hint: This city earned the nickname "Space City" in 1967 because of its connection to a variety of NASA activities, and its name has become the code name that astronauts use to address NASA when communicating from space (via World Atlas).
So, who's ready for the big reveal?
Top Chef is headed to this city in the Lone Star State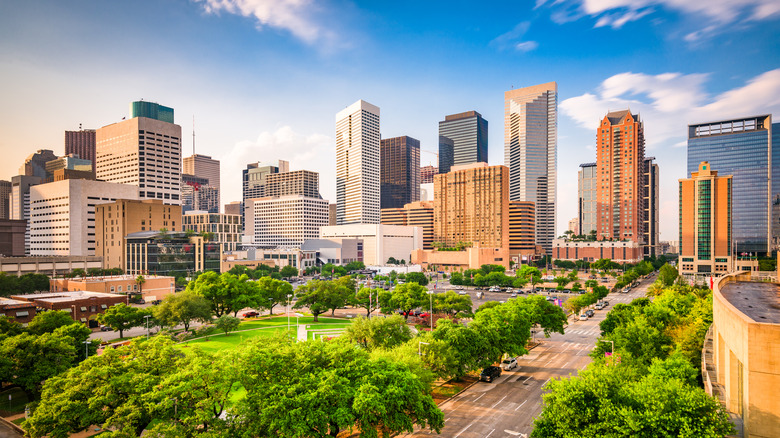 Sean Pavone/Shutterstock
According to Bravo's Daily Dish, production of "Top Chef" Season 19 has kicked off in America's fourth largest city, Houston, Texas. Apparently, the network was attracted to the "racial and ethnic diversity of Houston's population," as "represented in the city's vibrant culinary scene." In other words, the powers at Bravo have determined that Houston is the "perfect backdrop to inspire our next wave of cheftestants." 
Season 19 of Bravo's "Top Chef" won't be the first time that the series has spent time in the Lone Star State. Season 9 was filmed in various locations across Texas, including San Antonio, Dallas, and Austin, according to the Cinemaholic. But it does represent the first time the multi-Emmy-nominated series will be set in Houston. Founded in 1837 and named for the Texas Revolutionary War hero, Samuel Houston, whose victory at the Battle of San Jacinto earned Texas its freedom from Mexico (via Best Hotels Home), Houston is located in Southeastern Texas, has a population of 2.3 million, and takes up 669 square miles of Texas turf.
"We hope to showcase the rich heritage of Houstonians through the food that defines them," Bravo said in a statement of its choice of venue for the 19th season of "Top Chef." Would anyone like to take bets on how long it will take before someone utters the phrase on-air, "Houston, we have a problem" (via NASA)?