Why South Korean Food Company Bibigo Just Signed A $100 Million Deal With The Lakers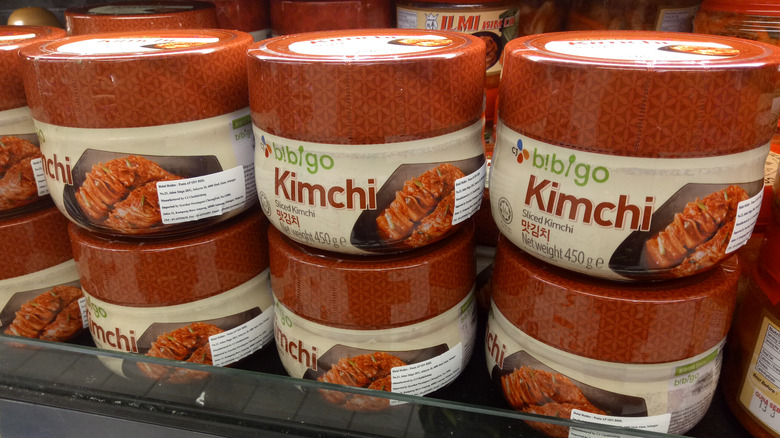 MUHAMMAD FARID/Shutterstock
If you love whipping up classic Korean recipes at home, you most likely have come across some of Bibigo's signature items. This food company makes ketchup, gochujang, and Korean barbecue sauce, in addition to frozen items like mandu, wontons, and fried rice (via Bibigo). The brand has found the perfect niche with its unique ingredients, but wants to take the business to the next level through an NBA deal that has turned a few heads.
According to the Los Angeles Times, the Lakers announced that Bibigo signed a five-year sponsorship contract worth $100 million with the basketball team, and the brand's name now appears on team jerseys. The sponsorship marks a major moment for the team — this is the first international partnership in Lakers' history, and the team now plans to promote Bibigo in courtside advertisements, on social media, and through virtual fan campaigns, per Fox. The South Korean food company's presence in the NBA has opened the floodgates for even more sponsorship deals and expands Bibigo's presence in North America.
A historical and delicious partnership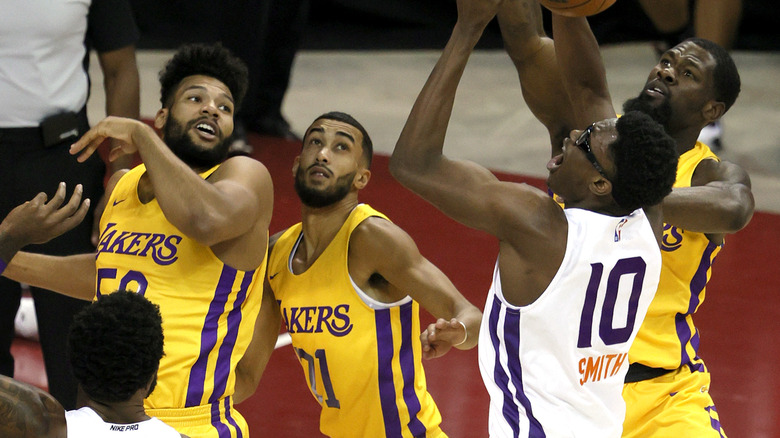 Ethan Miller/Getty Images
The Lakers have a particularly strong presence online and claim 60 million followers across their social media platforms, per the Los Angeles Times. The team's popularity, particularly with the youth, attracted the attention of Bibigo. The partnership starts during the 2021-2022 season. In addition to advertising Bibigo, the agreement includes collaborating on an art campaign showcasing the work of BIPOC artists in the greater Los Angeles area and displaying basketball-themed murals across the world, according to The Lakers. 
The team also can't wait to help promote the Korean food brand. "As Korea's leading food brand, Bibigo is always looking for opportunities to innovate and expand their brand, and the Lakers are excited to help them to not only expand their global recognition, but to provide the opportunity to reach new fans," Tim Harris, the Lakers' Business Operations president, said in an official statement.
With a partnership as strong as this, you can expect to see more Bibigo branding courtside in the near future. With any luck, you might even see some celebrity endorsements of the brand's dumplings or kimchi in the future. This sponsorship marks a historical moment in Lakers' history and has the potential to raise awareness of Korean food products across North America.