Perdue Has Good News For Fans Of Its Thanksgiving Dinner-Inspired Nuggets
Who doesn't love Thanksgiving? Many of us have fond memories of the day when gigantic floats fill the streets of New York and football games take over TV screens. There truly isn't anything better than a holiday dedicated to stuffing our faces and celebrating everything we're thankful for, while also being surrounded by family, friends, and loved ones. Not to mention the incredible food; from mashed potatoes and homemade gravy to pumpkin pie and cranberry sauce, we get to enjoy our favorite versions of these traditional staples year after year. And let's not forget about the crown jewel of every Thanksgiving meal: the turkey.
While it may be downright delicious to eat, no one can deny that cooking a whole turkey is one of the most laborious dishes to prepare on Thanksgiving day. Between diligent stuffing, constant brining, and nonstop temperature checks, cooking a turkey can be extremely time consuming. In fact, many amateur home cooks are too intimidated to even attempt this daunting task. But you can't have Thanksgiving without turkey, right? Well, if you are one of many mere mortals who isn't up for the turkey challenge, fear not! Perdue has just the snacky solution for you.
Perdue Thanksnuggets are the perfect holiday appetizer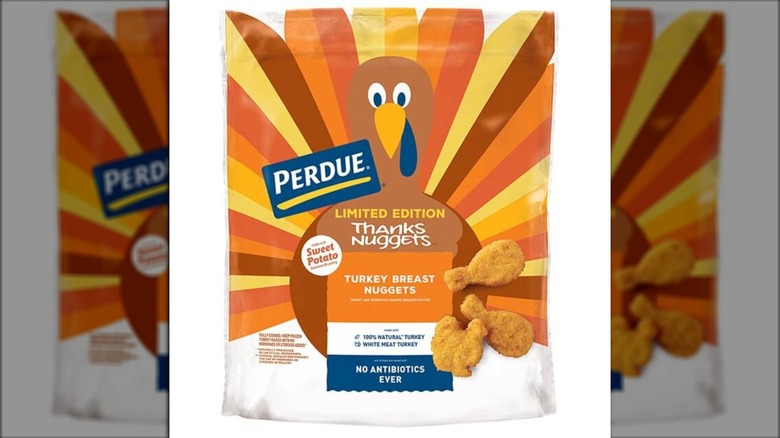 Perdue
While the brand may be known for its chicken, Perdue Farms also processes other types of meat, including, you guessed it, turkey. The Maryland-based company is bringing back its beloved Thanksnuggets due to crazed demand last holiday season. According to a Perdue press release, the limited-edition snacks combine antibiotic-free turkey with sweet potato-seasoned breading to create a special Thanksgiving-themed snack.
"Demand" is no joke: Last year, it only took three minutes for the nuggets to completely sell out online. "We were so excited by the overwhelming response to our limited-edition Perdue Thanksnuggets last year that we knew we had to bring them back and ensure more consumers could get their hands on a bag," shares Jon Swadley, vice president of marketing at Perdue. Now, you'll be able to find the turkey bites nationwide at select stores, including Walmart, Kroger, and Sam's Club; find out where else on Perdue's website.
These sweet and savory, crowd-pleasing nuggets can be enjoyed by adults and children alike, and they're especially perfect for any picky eaters around the Thanksgiving table. After all, if there's one thing that everybody loves, it's nuggets. Stop by your local supermarket for a chance to purchase this limited-time Thanksgiving goodie.