Andrew Zimmern Just Posted A Sweet Tribute To Willie Garson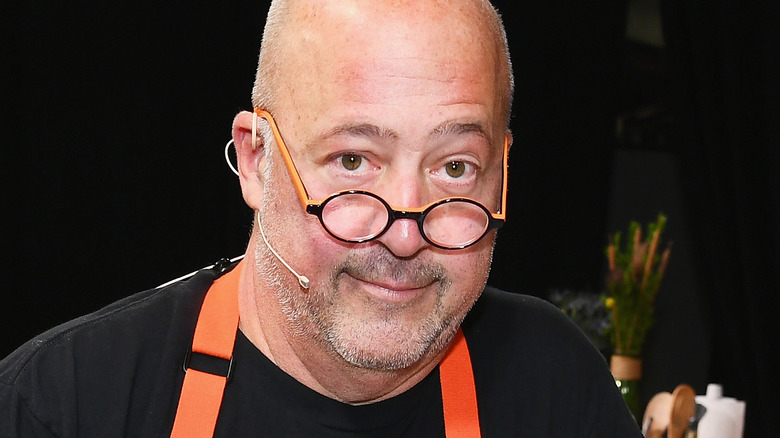 Dave Kotinsky/Getty Images
The death of 57-year-old character actor and professional poker player Willie Garson was announced on September 21 by Garson's son, Nathen, and confirmed by his longtime manager, John Carrabino, according to Deadline. Garson appeared in over 75 films and more than 300 episodes of television programming, according to Parade, but is probably best known for playing Stanford Blatch, the witty bon vivant and BFF of Sarah Jessica Parker's iconic Carrie Bradshaw character on HBO's "Sex and the City" and its two related feature films. He was also a member of the cast of the franchise's latest incarnation, the upcoming small-screen series, "And Just Like That," which had only recently begun filming, via US Weekly. News of Garson's passing appears to have come unexpectedly, except perhaps to Garson's closest friends and family. Moreover, the news appears to have left Garson's millions of fans both stunned and bereft, according to E! Online. 
Of course, it was not just the fans who were affected by Garson's untimely death. The news also apparently sent "shockwaves" throughout the entertainment industry (via E! Online). Indeed, all it takes is a quick scroll through Instagram or Twitter to get an inkling of just how well-loved and well-respected Garson was among his peers. Even those who may not have had a close friendship with Garson appear to be deeply affected, and that includes Andrew Zimmern, whose sweet tribute to Garson via Twitter is sure to bring a tear to the eye of many a follower. 
Andrew Zimmern's tribute recalls happier times with Willie Garson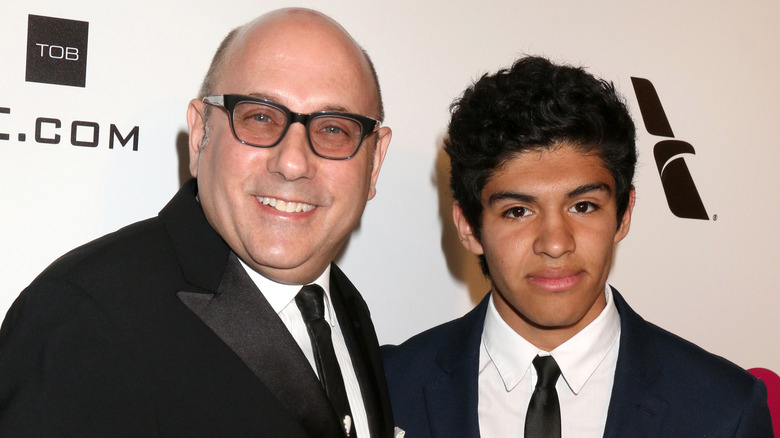 Kathy Hutchins/Shutterstock
One can only hope that Willie Garson, who, according to WWD, died after a battle with pancreatic cancer on September 21, had some idea of how beloved he was — and not just by his friends and family (including his son, Nathen, pictured above), but also by his fans and his colleagues in the entertainment industry. Apparently, Garson meant a great deal to many people, including some who didn't necessarily know him personally or who had only been acquainted with him briefly. One of those people is Andrew Zimmern, who posted a loving tribute to Garson on Twitter that recalled a lighthearted time the two of them spent together many years ago, tooling around Los Angeles in Garson's BMW. 
"I'm stunned," tweeted Zimmern, who appeared to have just learned the news after having been in a college lecture during the hours before. "I remember when I was in LA years ago and spending a weekend running around town with him in his old 2002tii ... I never laughed as much in my life... all love and hugs to family and other friends." Judging by the 1200+ likes and various comments, Zimmern's followers appear to have genuinely appreciated the sweet anecdote, which offered an unexpected opportunity to get to know Garson just a little bit better.