We Tried Ben & Jerry's New Ice Cream Flavor: Here's What You Need To Know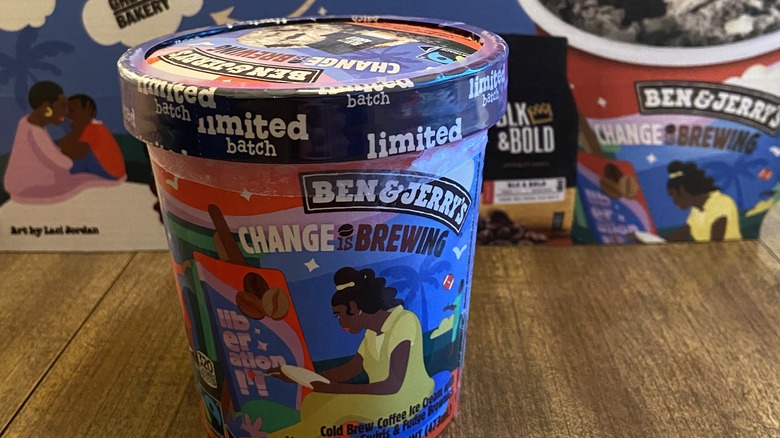 T.S. Lowry/Mashed
Ben & Jerry's is known for its out-of-the-box ice cream flavors –– from Chocolate Therapy to The Tonight Dough, this ice cream company gets wild with its names in all the right ways. This is why ice cream aficionados (who doesn't like some form of ice cream?) do a happy dance when Ben & Jerry's releases a new ice cream flavor. Well, fans of the delicious treat can rejoice as Ben & Jerry's has another ice cream flavor: Change is Brewing, a cold brew coffee ice cream with proceeds going to charity.
The Limited Batch flavor is simply delicious, but it's so much more than that. In a press release, Ben & Jerry's said, Change is Brewing "was created to help transform the nation's approach to public safety to one that priorities community needs" (via PR Newswire). It went on to say the ice cream flavor "is part of Ben & Jerry's ongoing work to advance racial justice, calling for the nation to divest from a broken criminal legal system and invest in services that help communities thrive, like mental health treatment, counseling, substance use treatment, and healthcare."
We tried (more like devoured) the new Ben & Jerry's ice cream flavor. Here's what you need to know before eating it yourself.
Here's what's in Ben & Jerry's new ice cream flavor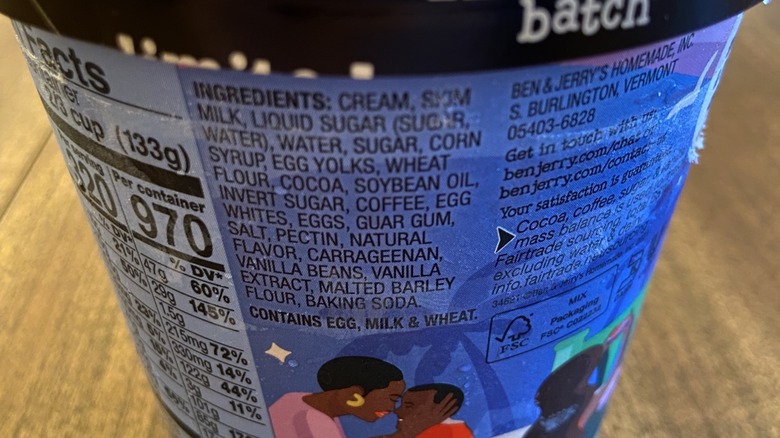 T.S. Lowry/Mashed
Ice cream is a magically delicious dessert, but it's usually, to say the least, flooded with ingredients. And most of these ingredients aren't of the healthy variety. So if you're trying to eat a strictly clean diet, you may need to sit this one out.
With that in mind, having a treat every now and then isn't a bad thing. And Change is Brewing can satisfy any sweet tooth as it's packed with a plethora of flavors, from cold brew coffee to fudge to marshmallow. As with most ice creams, Change is Brewing has a laundry list of ingredients, such as cream, skim milk liquid sugar, and the list goes on and on and on. It's also important to note that this ice cream flavor contains eggs, milk, and wheat, so if you have an allergy to any of those ingredients, then this ice cream may not be for you.
Nevertheless, Change is Brewing is a cold brew ice cream consisting of marshmallow swirls and fudge brownies. The coffee flavor is from BLK & Bold, the first Black-owned nationally distributed coffee company, and the fudge brownies are provided by Greyston Bakery, a noteworthy longtime Ben & Jerry's partner.
Change is Brewing will be available as a limited batch flavor, and for a reasonable price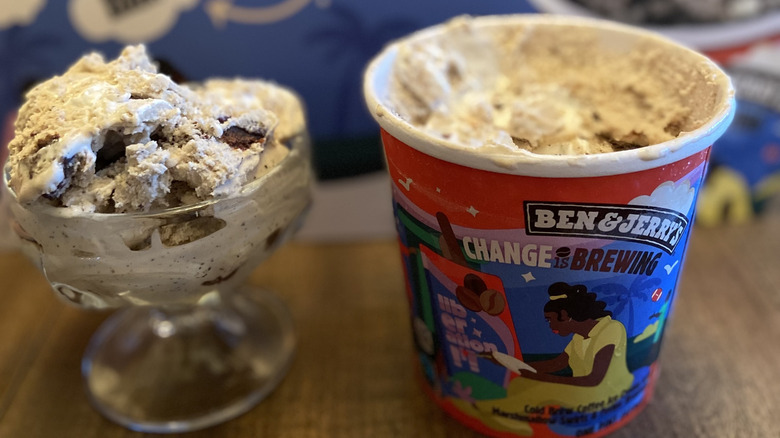 T.S. Lowry/Mashed
According to the Ben & Jerry's press release posted on PR Newswire, Change is Brewing will be available on store shelves for a suggested price of $4.49 to $5.69 — about the same price you can expect to shell out for any flavor of Ben $ Jerry's. Change is Brewing will be available as a Limited Batch flavor at participating Ben & Jerry's Scoop Shops and at stores, so if you see it, grab it quick. Even more noteworthy, a portion of the proceeds from the sale of the ice cream flavor will go to grassroots groups working to transform public safety in America, according to the company.
Considering that each purchase of this ice cream flavor helps to support a good cause, the price of the ice cream doesn't seem too steep. Ben & Jerry's consistently brings a great product to frozen sections, so shoppers can rest assured knowing that Change is Brewing is up to company standards in the taste department.
How it compares to other Ben & Jerry's flavors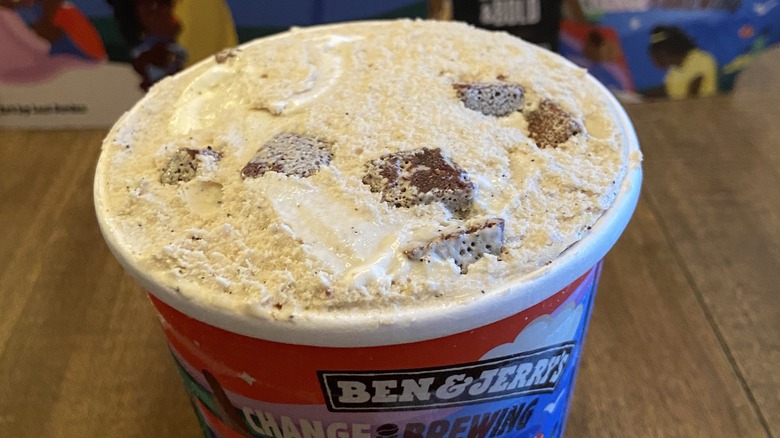 T.S. Lowry/Mashed
Although Ben & Jerry's classic flavors Half Baked and Chunky Monkey are forever fan favorites, this new flavor stands beside them –– if you like hints of coffee flavoring in your ice cream, that is. Change is Brewing has a burst of flavors, yet the coffee addition from BLK & Bold helps it bring something special to the frozen section.
Though Change is Brewing doesn't have, say, cookie dough bits, its brownie fudge chunks are more than efficient and the marshmallow swirls keep it honest. In fact, the brownie chunks would satisfy sweet cravings on their own. That said, it's hard to go wrong with Ben & Jerry's ice cream as there's typically a flavor for everyone –– and, let's be honest, the ice cream mainstay has some really out-there flavors. We understand if ice cream eaters have a go-to flavor, but if you want to try something new, then this cold brew ice cream flavor won't disappoint. It is a really, really good coffee-flavored ice cream, and can go up against any of Ben & Jerry's more notable flavors.
How healthy is Ben & Jerry's Change is Brewing?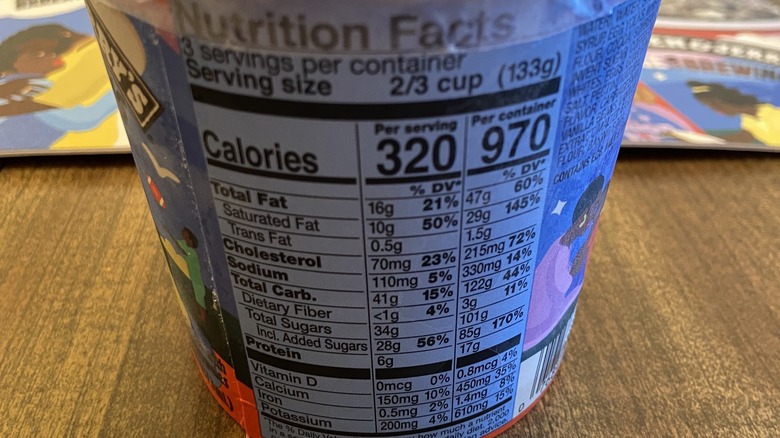 T.S. Lowry/Mashed
Though this ice cream flavor is delicious, it's not necessarily for the more health-conscious minds. Coming in at 320 calories per serving (three wonderful servings per container) and 970 calories per container. And no, we won't judge you if you eat it by the container. This ice cream also packs 16 grams of fat per serving, 41 grams of carbohydrates, and 34 grams of sugar. On a positive note, Change is Brewing has 6 grams of protein per serving, making it totally worth it as, dear ice cream eaters, protein is an essential macronutrient.
Of course, its protein contents might not outweigh its other important macros, yet the ice cream's nutrition facts shouldn't shock anyone who's ever had ice cream before. Ice cream is scrumptious thanks in part to its sugar content, after all.
Each serving also consists of calcium and potassium, as well as a smidgen of Iron and Vitamin D. With all of that said, people don't typically eat ice cream for its health benefits, and you should go into this purchase knowing that Change is Brewing is more about its taste –– all while supporting a good cause.
When it comes to taste, Change is Brewing is worth every penny –– and then some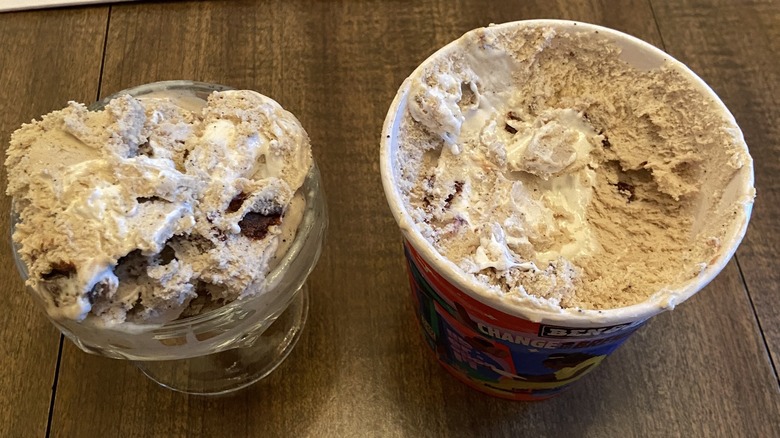 T.S. Lowry/Mashed
Just like the description of the ice cream suggests, this cold brew coffee ice cream has hints of coffee flavor and blasts of marshmallow and fudge brownies. Though, the coffee flavor is tempered by the sweetness of the ice cream, as well as the fudge brownie chunks and marshmallow swirl.
As expected, the brownie chunks are to die for, providing a nice chewy texture to each bite. Though some coffee-flavored ice creams can be too strong for non-coffee drinkers, Change is Brewing is more about its sweetness than coffee flavoring, though said coffee flavoring is delicious and packs just enough taste to know it's there. The coffee flavor complements the ice cream.
Needless to say, this is a perfectly splendid Ben & Jerry's ice cream flavor. And huge brownie points (see what we did there?) for this ice cream flavor that stands for something worthwhile. If you're looking to try a new Ben & Jerry's flavor, then we encourage you to act fast –– as this is, after all, a limited flavor –– and we hope you enjoy every bite of a Change is Brewing pint!