This Sandwich Shop Has The Worst Quality Bread According To 31% Of People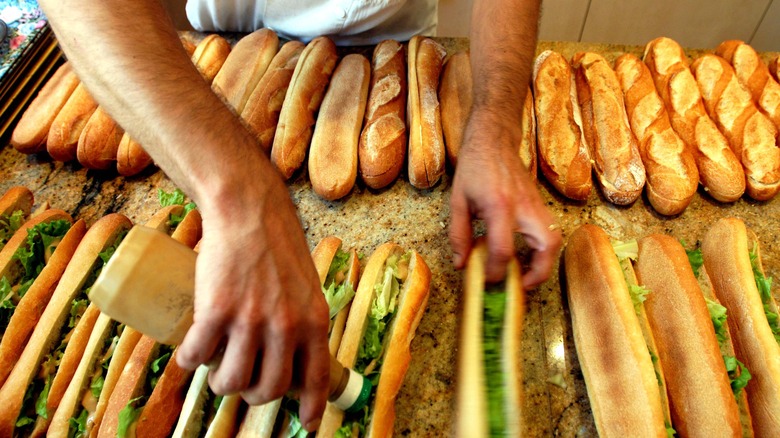 Bloomberg/Getty Images
While it might be premium meats, cheeses, fresh vegetables, and the right mix of condiments that really make a sandwich great, there's no denying that the bread can make or break a sandwich. Getting a sandwich that is held together by a flavorful, high-quality bread with a good crust can truly set the best apart from the worst. That's why Mashed decided to take a poll to find out which sandwich shop chain had the worst quality bread.
A total of 657 people in the United States responded to the poll. The options included Quizno's, Subway, Jimmy John's, Blimpie, Firehouse, Penn Station, and Jersey Mike's. Of the seven options, there was a clear "winner" when it came to the chain with the worst bread.
This might not come as a surprise, though, as one country even ruled that this chain's bread really isn't bread at all.
Subway is the chain with the worst bread, according to those polled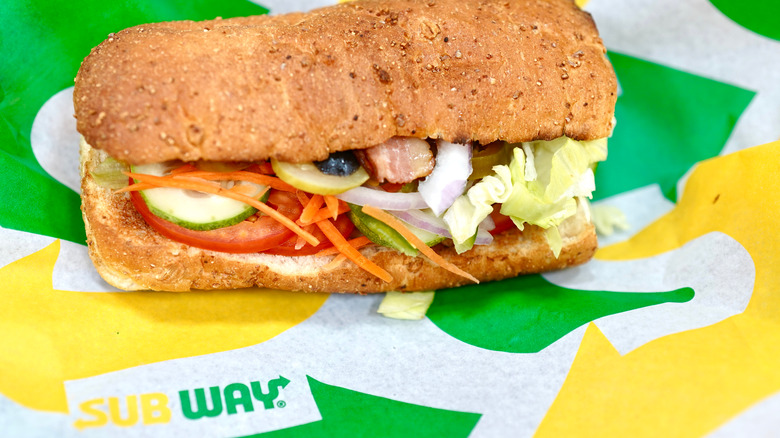 Prachana Thong-on/Shutterstock
That's right. Subway — whose bread an Irish court ruled had too much sugar in it to even be called bread (via Independent) — was named in our poll as the chain with the worst bread. Of the seven choices, 31% of respondents said Subway was the sandwich chain with the worst bread. 
This may have something to do with that distinctive smell you are hit with as soon as you walk into a Subway restaurant (via Vice).
Subway was followed by Blimpie, with roughly 22% of respondents declaring that it was the sandwich chain with the worst bread. The third spot went to Quizno's with 14% of the vote, followed by Penn Station with 12%, and Jimmy John's with 11%.
Of the options given in the Mashed poll, the sandwich chains voters thought had the best bread were Jersey Mike's (7%) and Firehouse, which only 3% of voters deemed as having bad bread.