What Nailed It! Supervising Culinary Producer Kim Seeley Wants Contestants To Remember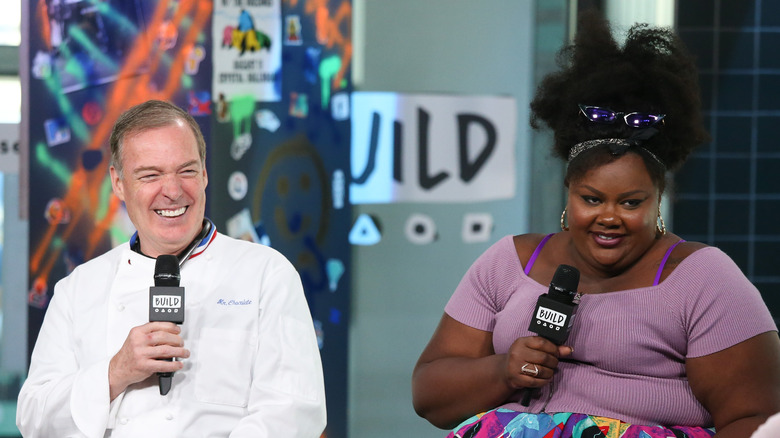 Rob Kim/Shutterstock
When it comes to cooking competition shows, "Nailed It!" is a breath of fresh air. While most cooking shows are cut-throat and intense, "Nailed It!" is lighthearted and comedic, almost encouraging epic fails and kitchen disasters. As fans of the hit-Netflix show already know, "Nailed It!" follows novice bakers as they attempt to recreate edible masterpieces for a chance to win $10,000. Described as "part reality contest, part hot mess," executive producer Jane Lipsitz believes the "feel-good spirit" of the show is what makes it work (via Netflix). "It's simple, and it's feel-good, and it's funny," she shares with the Los Angeles Times. "And I think it feels like this is a time that people really just need that."
Today, the Emmy-nominated show is such a success that there are now international spin-offs, including a "Nailed It! Mexico," as well as Spanish and French versions of the show (via Insider). With the recent premiere of Season 6, Supervising Culinary Producer Kim Seeley spoke with Delish about what makes "Nailed It!" consistently relevant and what she wants future contestants to keep in mind as the show moves forward.
Kim Seeley keeps things fresh on Nailed It! by looking to TikTok and Pinterest
While we love watching co-hosts Nicole Byer and Jacques Torres guide amateur bakers through their culinary journies, there is so much more that goes on behind the scenes of this popular bake-off competition. Indeed, Kim Seeley is one of the many masterminds behind "Nailed It!" that helps the show go on. The creative genius spends her days stocking the studio's pantry with ingredients, accumulating cake mix supplies, and — most importantly — brainstorming creative challenges for the show's contestants.
Seeley got her start in the world of cooking competition shows when she was hired as the first on-air sous chef for "Hell's Kitchen" almost 20 years ago. Today, Seeley is 100% focused on the success of "Nailed It!" The brilliant executive producer keeps up with the latest trends in food and cooking to help inform her new exciting ideas for the show. "[After five seasons], we start with bigger concepts and ideas. We look at stuff that people are doing online on TikTok, on Pinterest, on all the different places the people go for inspiration," she shared with Delish.
Seeley tries to avoid recreating challenges that the viewers have already seen dozens of times. "Anything that's not cake often throws contestants for a loop because I think they all come onto the show with the mindset of like, 'I'm going to make a cake' and forget the challenges can be anything in the world." It sounds like Neeley has some tricky new challenges up her sleeve!