Trader Joe's Fans Are Unimpressed By Its Pumpkin Bisque
It's officially time to say goodbye to summer. With the ceremonial first day of autumn now behind us, people have an excuse to pull out their cozy sweaters and Halloween decorations — even if it's still a little too early. From leaf peeping to sitting in front of the fire, there are so many wonderful fall traditions that we finally get to indulge in. While there are many things to love about fall, nothing beats the food. Naturally we have apples and pumpkins, and everything we can possibly make out of those fall staples. But we also have comfort food dishes and warm drinks, like butternut squash soup, pot roast, and hot toddies.
Harvest season is when soups and stews reign supreme, and pumpkin bisque is the ultimate quick and easy dish. Creamy, rich, and flavorful, this versatile comfort food works as both an entree or a side dish. Although you only need a few simple ingredients to make this tasty meal at home, all too often we're in a rush to get dinner on the table. Luckily, Trader Joe's just came out with a pre-prepared version of this soup, which can be whipped up in a jiffy!
However, some Trader Joe's fans are less than impressed by this bisque in a bottle. Keep reading to find out more about this controversial product.
The pumpkin bisque is definitely not the Trader Joe's product of the season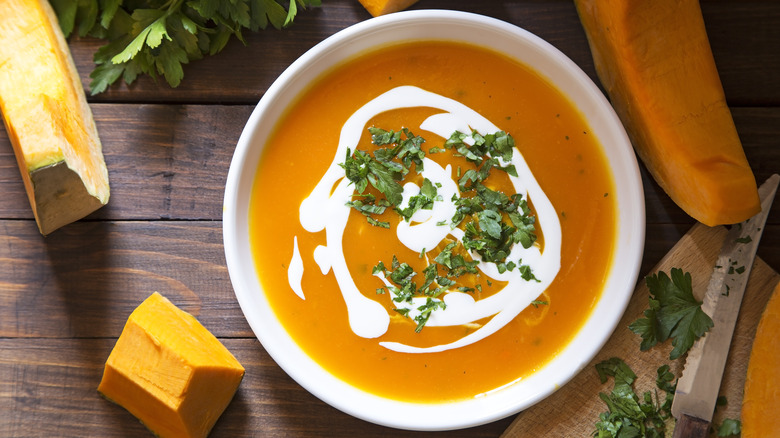 Shutterstock
Most of the time, we can count on Trader Joe's to never steer us wrong. From their delicious chicken dumplings, to their supreme Everything But the Bagel Seasoning, this popular grocery store continues to impress its devoted fans time and time again. Even Antoni Porowski, the food and wine expert on "Queer Eye," can't get enough of TJs. "Trader Joe's is just one of the few brands that I feel have very successfully come up with their own line of products," he shared with Thrillist.
While Porowski is certainly not wrong, the Trader Joe's pumpkin bisque has been getting pretty mediocre reviews. User @traderjoelist posted an Instagram of this fall-themed product on their page — while some fans loved it, others were not so enthusiastic. One user responded, "Pumpkin bisque was so bad...very bitter. Was disappointed!", while another wrote, "I hated the bisque...Tasted like mustard & Catalina salad dressing!" Yikes.
According to the Trader Joe's website, this soup consists of pumpkin puree, heavy cream, honey, cinnamon, nutmeg, as well as the "not-so-secret ingredient" tahini, the condiment that "pulls all the flavors together." While this sounds decent enough, this limited-time product was also featured on Eat This Not That's list as one of the "Worst Trader Joe's Fall Items" due to its staggeringly high calorie count. Hey, we can't win them all, right, TJ?