Chick-Fil-A Is Testing A New Autumn Spice Milkshake. Here's How To Try It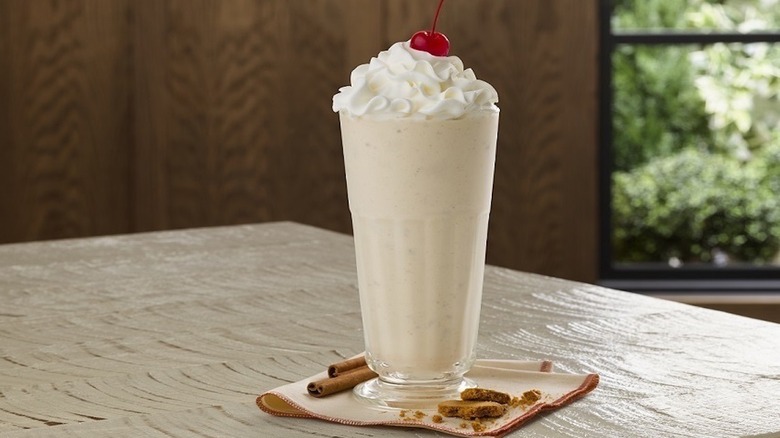 Chick-fil-A
It is now officially fall, which means that pumpkin spice season is in full swing. Menus everywhere are now boasting classic fall items like pumpkin muffins, pumpkin pies, and of course, pumpkin spice lattes, along with other seasonal classics like apple cider. But if you find traditional autumn flavors like pumpkin spice or apple cinnamon just a little too bland and predictable for your taste, then Chick-fil-A has just released the perfect seasonal menu item for you. 
The chicken brand has just announced that it will be spicing up its offerings this fall with its tasty new Autumn Spice milkshake. This sweet ice cream dessert features a base of vanilla soft serve and a blend of rich spices like cinnamon, cardamom, and orange, which deliver a complex blend of classic fall flavors, enhanced with crumbles of crunchy speculoos cookies, and all topped with whipped cream and a Maraschino cherry for the perfect finishing touching, according to QSR Magazine. However, there is a catch. As of right now, this sweet Autumn Spice milkshake will only be available at select Chick-fil-A locations in Salt Lake City, Utah.
Chick-fil-A's new Autumn Spice milkshake will only be available in Salt Lake City
The Autumn Spice milkshake is currently still in its testing phase, which means it will only be available at a limited number of Chick-fil-A restaurants. Salt Lake City was selected as the lucky testing site because, of all the cities in the United States, this city is the biggest fan of Chick-fil-A milkshakes, with residents drinking over 1.5 million Chick-fil-A milkshakes in the last year alone, per QSR Magazine. Their enthusiasm for the product has paid off, but fans can hope that if the testing goes well, it may soon be released at Chick-fil-A locations nationwide.
"We're excited to offer guests more menu variety this year, and that includes testing out new fall flavors like the Autumn Spice Milkshake. Our guests look forward to our seasonal milkshakes every year, and we're excited to put Salt Lake City's tastebuds to the test with this delicious blend of rich, autumn-inspired flavors," Beth Hefner, a member of the Chick-fil-A Menu Development Team, said of the new item in a press release. So if you happen to live in the Salt Lake City area, you can take advantage of the chance to get your hands on this delectable autumn treat while it lasts. But don't wait, since it will only be available from September 27 through October 30, while supplies last.