For Baking Cakes, One Mixer Stands Above The Rest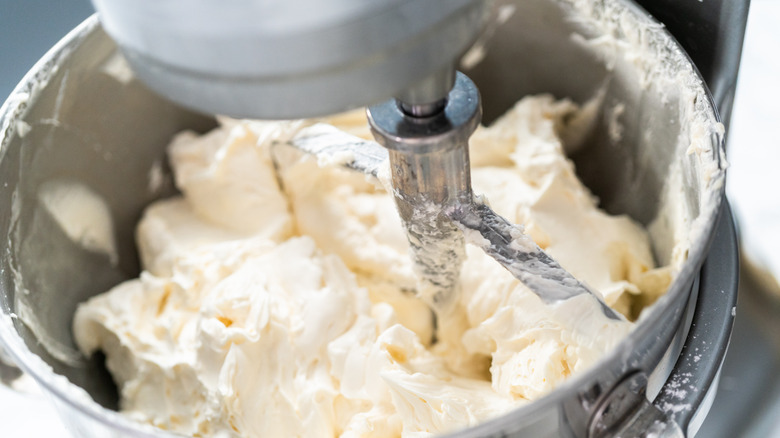 Arina P Habich/Shutterstock
We may receive a commission on purchases made from links.
It's time to ditch the idea that cakes should only be made and enjoyed at celebrations. Cake is delicious, fluffy, and offers so many variations that it's nearly impossible to find a person who doesn't like at least one type. So why not make it a regular part of our baking repertoire? Who says cookies and brownies should always be the go-to homemade treat?
But, if we're going to give cakes the credit they're due, we have to make sure we've got the right tools on-hand at all times. Besides eggs, flour, and sugar, we need a solid standing mixer to make cakes correctly. 
"Prior to mechanical mixing," Serious Eats explains, "Americans made cakes much like bakers in the Old World: sponge cakes made from egg whites and yolks whipped separately by hand, then combined with fat and flour folded in at the end." When mixing technology advanced, it allowed bakers to use "higher proportions of butter,"  which ultimately blessed us with "the richer style of cake and frosting we find in American bakeries today."
A stand mixer isn't just a matter of convenience, it's actually integral to the type of cakes we make today. With so many options out there, buying the right stand mixer can seem like a daunting task, but one model shines a little brighter than the others.
COOKLEE Stand Mixer is perfect for homemade cakes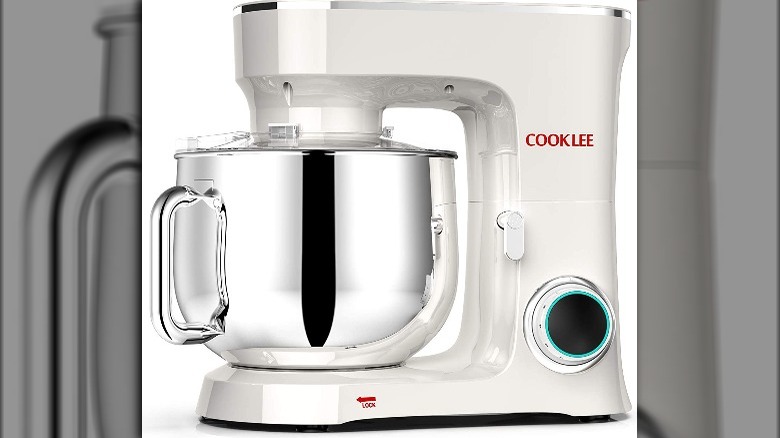 Arina P Habich/Shutterstock
The tools you use to bake a cake are arguably as important as the fresh eggs and softened butter you mix together. When it comes to baking cakes, the COOKLEE stand mixer is one of the best options out there.
With a 9.5-quart large stainless steel bowl, this mixer has enough capacity to take on whatever culinary project you're embarking on that day. Each mixer comes with a dough hook, flat beater, wire whisk, and a pouring shield to avoid any mess or mixing issues.
The COOKLEE stand mixer has 10 speeds to accommodate any recipe and is well-suited for "mixing bread dough, thick batters, meringues, and whipping cream, plus lower speeds for stirring and finessing your most delicate concoctions," according the product description.
However, the best element might be the fact that all the attachments are dishwasher safe. Most would agree that cleaning up is the worst part of the baking process, and with the COOKLEE stand mixer, at least you'll know your kitchen will be back to sparkling in a shorter amount of time.
The COOKLEE Stand Mixer is powerful and sleek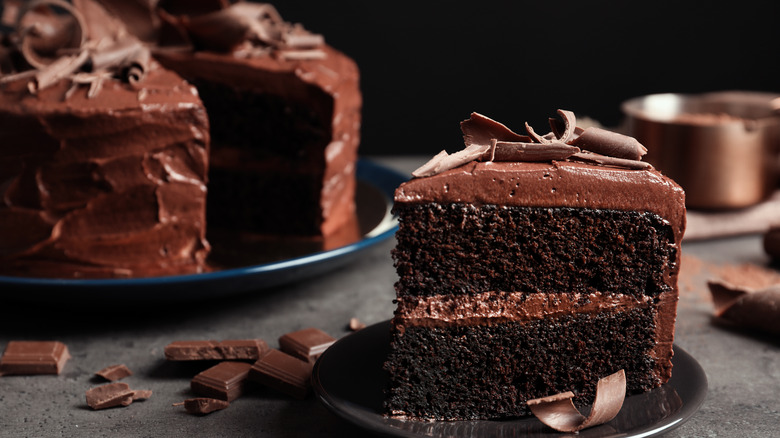 New Africa/Shutterstock
The COOKLEE has a sleek and elegant design, sure to fit the style and decor of any kitchen. With its understated chrome and cream finishing, this stand mixer will look good on your counter as it mixes your doughs and batters.
It has 660 watt motor power, stands at 16.6 x 10.6 x 14.2 inches, and weighs 12.3 pounds. Additionally, the power chord is 52 inches long, meaning no matter where or how many outlets you have in your kitchen, you should be able to find a suitable place to plug in your mixer.
While the COOKLEE is powerful and thoughtfully designed, the brand knows that sometimes things go wrong. For this reason, they offer 24/7 support online. "We can offer a full five-year quality guarantee," the product description page notes. While it's likely you won't need to reach out, it's nice to know they're there if something comes up.
The COOKLEE Stand Mixer has consistently high reviews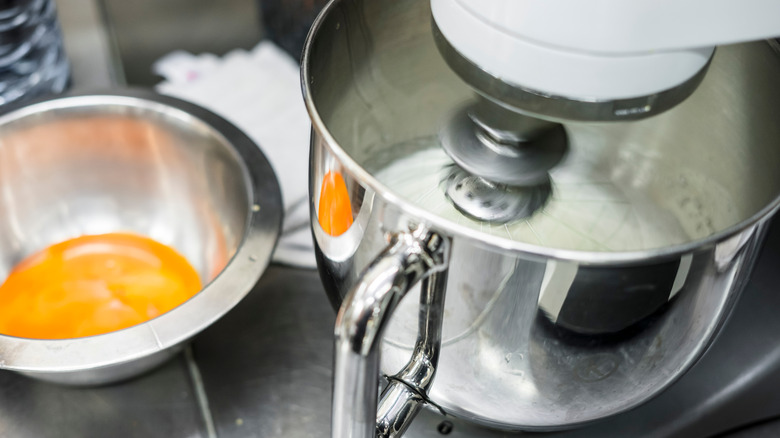 Sopotnicki/Shutterstock
While the details and product specifications are enough for most to see why this mixer is such a good choice, buyers can purchase with confidence knowing the COOKLEE Stand Mixer has consistently high ratings and reviews.
With over 2,000 reviews on Amazon that average out to 4.5 out of 5 stars, most customers who buy the COOKLEE mixer are extremely satisfied with their purchase. 72% of Amazon buyers rated it 5 stars! As one reviewer wrote, "'The main part I like is the power this one has along with ten speeds ... the most I have ever seen, and the highest does come in handy sometimes. The mixer does not move, the suction cups on the bottom of the mixer work real well." 
"This mixer has changed my cake baking and bread making life from manual labor to a kitchen goddess," another purchaser shared.
At $129.99, the COOKLEE mixer gets similar reviews to a KitchenAid mixer, but at less than half the price (via Crate & Barrel). Other mixers that are in the same price range as the COOKLEE don't have nearly the same number of happy reviewers or similar features like the COOKLEE's 10 speeds. So, if you're a fan of affordability, elegant design, and high-quality consistent performance, the COOKLEE Stand Mixer may just become your new favorite kitchen appliance. 
Purchase the COOKLEE Stand Mixer on Amazon for $129.99