Paula Deen And Husband Michael Melt Hearts With 'Lucky In Love' Photo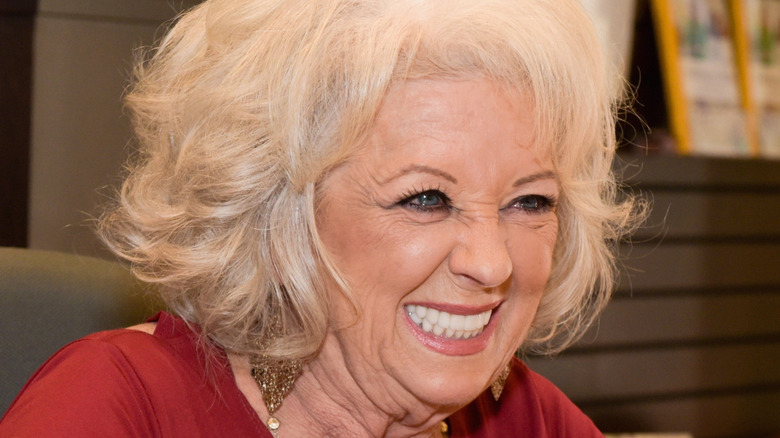 Tara Ziemba/Getty Images
Paula Deen is no stranger to home chefs and food fans. Most prominently known for her southern cooking prowess, Deen first wowed fans with guest appearances on Food Network, quickly making enough of a splash to score her own show, "Paula's Home Cooking," on Food Network in 2002, according to Biography. In 2007, Oprah called her the "Queen of Southern cuisine." She is now known for her fried chicken and other variations of "soulful, sinful Southern cooking."
And although she has had her fair share of controversy (having been caught making racist remarks attaching nostalgia to times that others would say are best left in the past), Deen's star continues to rise, and she has even managed to transform her appearance after her Type 2 Diabetes diagnosis, offering lighter recipes in lieu of calorie-laden ones. And what of her love life? After some trial and tribulation she has found a cure for heartache, too. So while she may be melting less butter, she is still managing to melt some hearts and one of her latest Instagram posts with her husband sure proves it.
A modern love story
Paula Deen is technically not a Deen anymore. She married her first husband, Jimmy Deen, at the age of 18, and after 24 years together, decided to call it quits. The unhappily married couple called for a divorce in 1989. But Deen's love story did not stop there. About 15 years ago, she met her now-husband Michael Groover through her dogs. According to Delish, Groover lived next door and Paula's dogs escaped into his yard. The two went out the next day.
After all that time together, Deen recently posted an Instagram photo of herself and Groover with the caption "Y'all, we are lucky in love!" prompting fans to share stories of their partners as well. The photo features Deen and Groover holding signs, with hers reading "love you" and his reading "love you more." It's amazing to see that after such a long span of time and some heartbreak, Paula and Michael have been able to find each other and keep the spark going.