Arby's New Sandwich Serves Some Seriously Smoky Flavor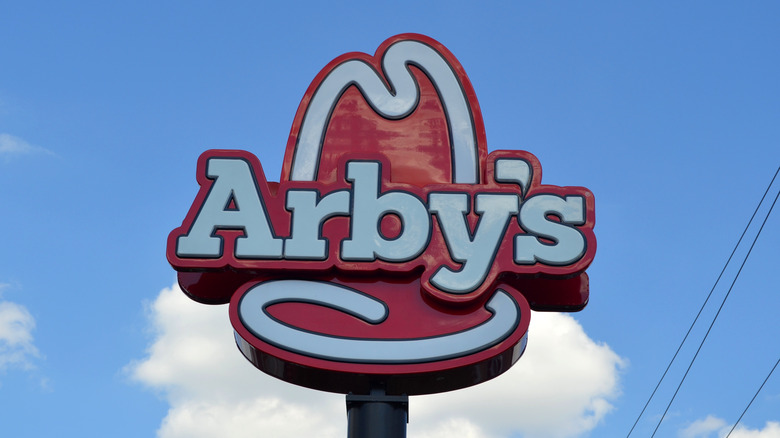 Shadowspeeder/Shutterstock
When it comes to delivering massive sandwiches filled with meat, few chains can hold a candle to Arby's. This brand excited fans when it released two powerhouse meals back in 2020 — the Spicy Prime Rib Cheesesteak and Classic Prime Rib Cheesesteak. Both options got diners' mouths watering and didn't disappoint when it came to delivering flavor (via Guilty Eats). While these sandwiches packed in the protein, Arby's found a way to get even more meat into a meal with the latest offering that guarantees to get any carnivore excited to eat at the chain.
According to Chew Boom, Texas barbecue fans can satiate any cravings with Arby's latest creation — the Real Country Style Rib Sandwich. The sandwich comes loaded with smoked pork rib, melted smoked Gouda, crispy onions, mayo, and smoky barbecue sauce on a toasted bun. Anyone who loves the taste of food cooked over an open fire can find something to love about this extra smoky offering. The pork ribs bring something extra to the meal, as they come straight from Arby's East Texas smokehouse after getting smoked over hickory wood for eight hours. The sandwich sounds amazing, but the deal doesn't end there.
Authentic Arby's barbecue flavor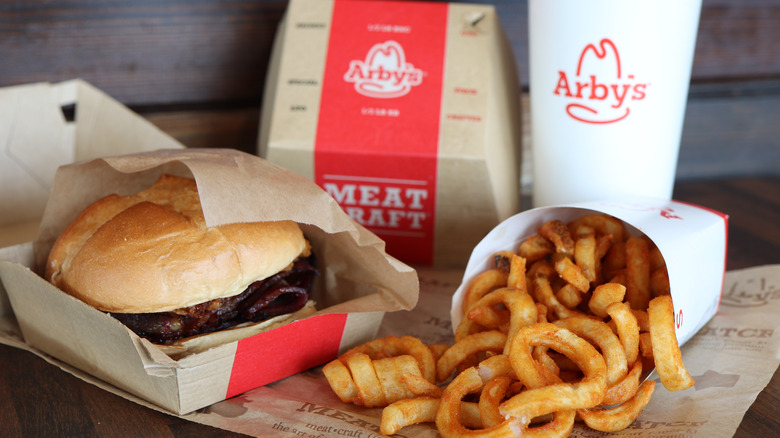 Deutschlandreform/Shutterstock
Anyone who wants to get their hands on the new Real Country Style Rib Sandwich doesn't have to look far. Chew Boom reports that all participating Arby's should carry the sandwich, but make sure to get a move on. The meal only graces menus for a limited time, and you wouldn't want to miss all the flavor loaded into this one-of-a-kind offering. You can get the sandwich as a standalone item, or pair it up with crinkle fries and a drink.
In addition to announcing the release of the sandwich, Arby's also included the nutritional content of the item, revealing that the Real Country Style Rib Sandwich contains 500 calories, 23 grams of fat, 48 grams of carbohydrates, 12 grams of sugar, 1,450 milligrams of sodium, and 28 grams of protein. For a menu item like no other that guarantees to get you excited for some authentic East Texas flavor, you can't go wrong grabbing one of these sandwiches. Just make sure to act fast and don't get left in the dust on this deal.