Trader Joe's Shoppers Can't Agree On Its New Kimchi & Tofu Soup
For a distinct, flavorful culinary experience, you can't go wrong with soup featuring kimchi and tofu. Soondubu jjigae, a Korean version of this soup, can excite any palate thanks to its spicy broth that infuses the tofu with a tingly flavor and can fill you up thanks to hearty amounts of vegetables and protein, per Chowhound. While it's easy to enjoy this one-of-a-kind soup, finding the item at a restaurant or making it at home proves a bit more challenging. Luckily, Trader Joe's has stepped in with their own kimchi and tofu soup.
Instagrammer @traderjoeslist discovered the grocery chain's Kimchi & Tofu Soup during one of their latest grocery runs and couldn't help but show off the new product. They posted a picture of the find alongside the caption, "NEW KIMCHI & TOFU SOUP $3.49 I'll say it again.... Soup season is here! I picked this #new soup up in my weekly #traderjoes haul and I am so excited to try it! The ingredients are clean and I love the flavors of kimchi so my hopes are high for this one!" The post has attracted a ton of attention, garnering over 6,000 likes and a flood of comments.
A Trader Joe's soup that has divided fans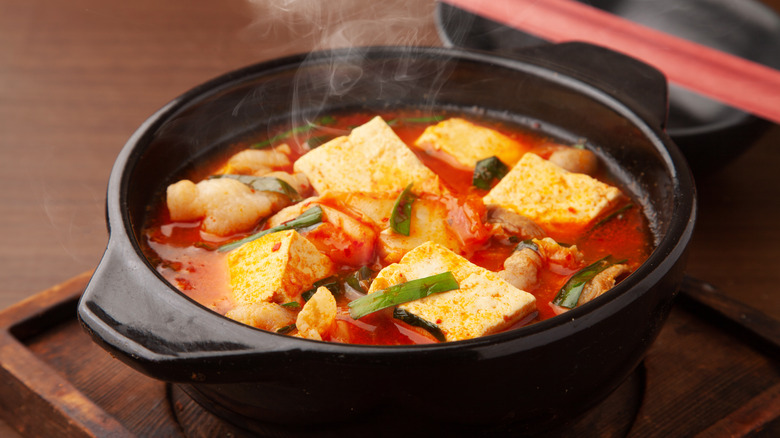 sasazawa/Shutterstock
While the new soup has the power to turn some heads, not every shopper has fallen in love with the product. Some commenters can't get enough of the new food, with replies ranging from "This one is sooo good," all the way to "It was pretty tasty. The black rice adds some texture. There's also a little heat," per the Instagram post. Others didn't feel wowed by the offering, stating, "I have feelings about this and they're not good," and "I didn't like it! I had made this from scratch about a week prior and it didn't even take too long. Highly recommend just making your own!"
The soup has clearly created some strong opinions among shoppers. Next time you make a Trader Joe's run, make sure to try out this flavorful offering and see which side of the debate you fall on. With any luck, you might just find your new favorite meal that can compete with some of the best soondubu jjigae around.