30-Minute Tuna Pot Pie Casserole Recipe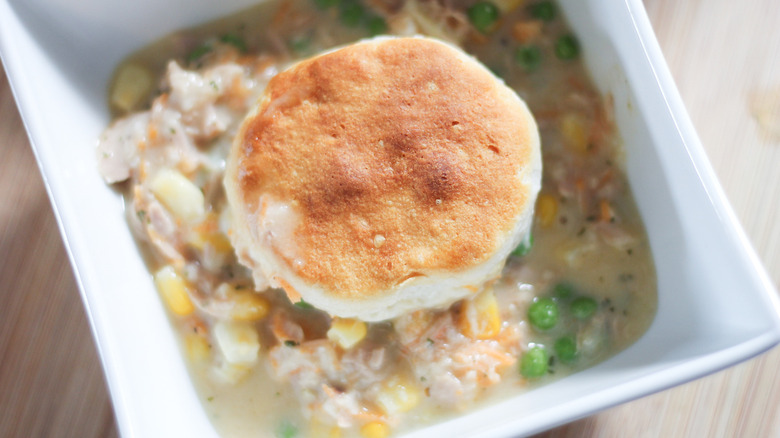 Melissa Olivieri/Mashed
There are plenty of types pot pie recipes that you can enjoy, but chicken pot pie has to be one of the most popular of its kind. However, if you are a pescatarian or don't love chicken as much as tuna, then we have just the recipe for you! This tuna pot pie casserole is like a chicken pot pie, but the chicken is swapped for canned tuna. It's a total comfort dish, and it tastes fantastic. The casserole is topped with biscuits and it has peas and corn as well as a great gravy. Let us tell you — there's a whole lot to love about it! Another great thing is that the meal takes just 30 minutes to make, so that you can whip it up in a snap!
Recipe developer Melissa Olivieri came up with this innovative dish and she loves the ease of it. "I love the simplicity of the recipe and the fact that it is so full of flavor — the addition of the biscuits really makes this a delicious comfort food dish that the entire family will enjoy," she shares. 
Keep reading to find out how to make what's sure to be your new favorite casserole dish!
Gather the ingredients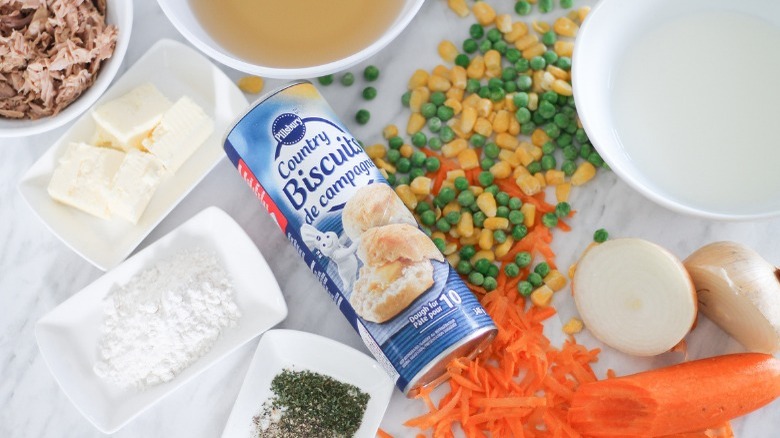 Melissa Olivieri/Mashed
Are you ready to get things started? The first thing you will need to do is to make a grocery list and gather all necessary items to make this tasty tuna pot pie casserole. For starters, you will need to get two cans of tuna and some butter. Next, pop by the produce section and grab a small onion. You'll also want some fresh carrots. You will also need a few everyday household items like flour, salt, and ground pepper. 
In addition, the recipe calls for some dried parsley flakes, vegetable broth, and milk. Pop by the frozen section and grab some peas and corn. Last but not least, you will need a package of store-bought biscuit dough. Now, it's time to begin.
Preheat the oven and cook the onions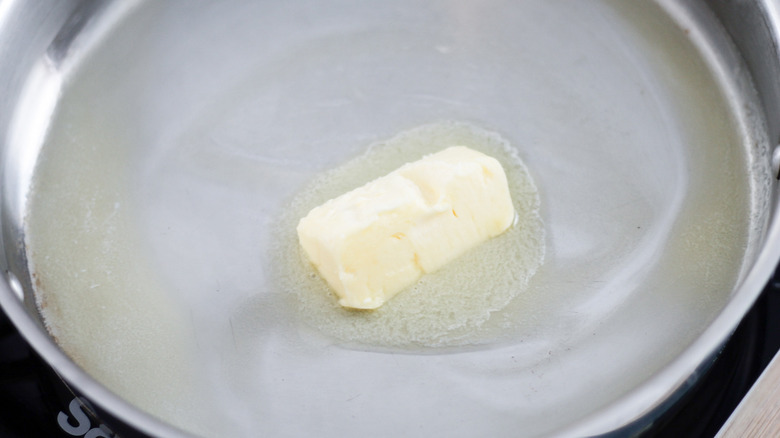 Melissa Olivieri/Mashed
The first thing you will need to do is turn on your oven, so it gets nice and hot as you do the rest of the prep work. Turn the dial to 375 F. It's important to preheat the oven ahead of time, so it's at the right temperature when you're ready to put the casserole in. If it's not at the proper temperature, it won't cook correctly. 
In the meantime, grab an ovenproof pan and toss in the butter. Grate your onions and carrots, and then throw your onions into the pan. Cook them until they're softened. "For the onions, you just want to give them a sauté in the hot butter for about 3 minutes to ensure they are softened — because we use the grater on them rather than dice them, they cook faster and are less noticeable in the final dish (a win for families with picky eaters!)," Olivieri says. 
Stir in spices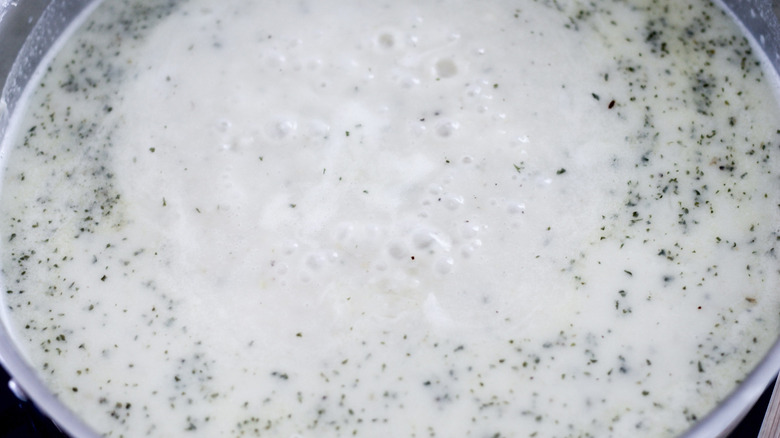 Melissa Olivieri/Mashed
Once your onions have softened, it's time to add a little bit of flavor to the mixture. Go ahead and toss in the flour, salt, pepper, and parsley flakes. 
As the mixture cooks, it should create a thick paste that's similar to a gravy. Let everything cook for 30 seconds so it combines well. Then, you can add in the milk and vegetable broth. Let it simmer until it gets thicker. This will only take about a minute. "My biggest tip is to watch the thickness/consistency of the roux and sauce mixture (if you like your pot pie filling thicker, then be sure to omit some of the liquid and [do the] opposite if you prefer it thinner)," Olivieri advises. 
Remove from heat and add biscuits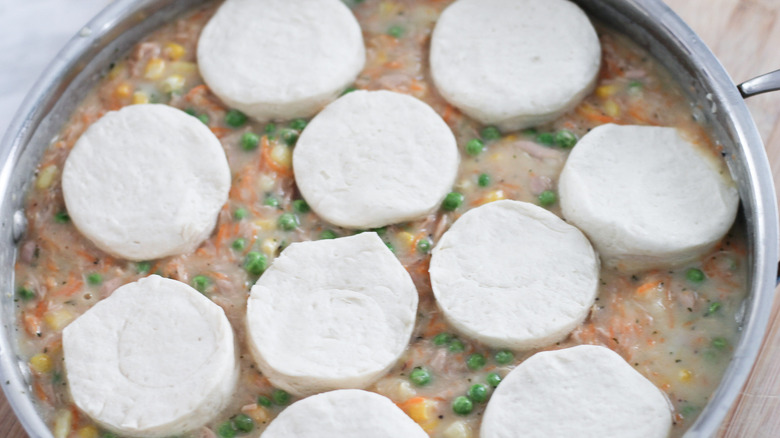 Melissa Olivieri/Mashed
Now, it's time to remove the mixture from the heat. Then, throw in the veggies and tuna and give it a few good stirs so everything combines well. Are you ready to add the biscuits? Aka one of the best parts of the recipe? Grab them from the can and place them evenly on top of the pot pie mixture. 
All the prep work is done and now you can bake the dish. Since you already have the casserole in an ovenproof pan, simply pop it in the oven. Set your timer for 12 to 14 minutes and cook until the biscuits are golden and cooked through. "The biscuits will start to look golden on top before they are completely cooked through so you want to make sure you leave the dish in there until everything is good to go," Olivieri notes. "If you think they are getting too dark on top then you can cover in foil once the initial browning of the biscuits is done." 
Remove from oven and enjoy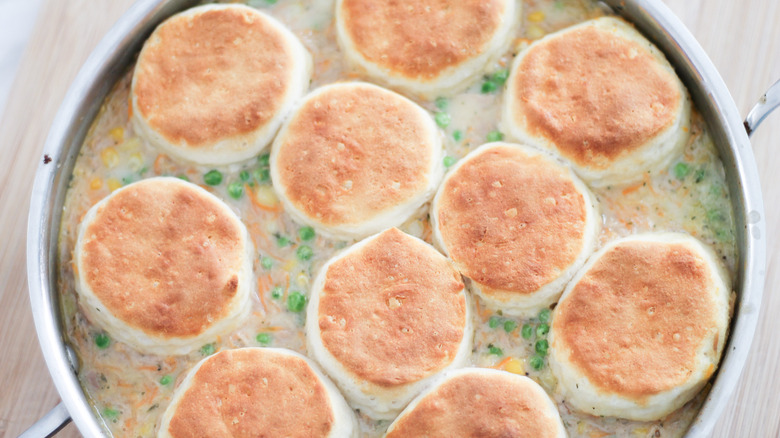 Melissa Olivieri/Mashed
Once your timer dings, take the casserole out of the oven using oven mitts. Place the dish in a safe spot and allow it to cool for 10 minutes. As the pot pie cools, the mixture should thicken. Then, serve and enjoy! 
As far as leftovers go? "I like to reheat the leftovers in the oven to give the biscuits a nice crisp on top again — but if you are pressed for time (or don't want to heat the oven) just pop the leftovers in the microwave to reheat!" Olivieri says. "The dish will keep for 3 days in the fridge, which makes it a great recipe for those who like to meal prep." 
A delicious, one-pot meal that's ready in 30 minutes? We'll take it!
30-Minute Tuna Pot Pie Casserole Recipe
This tuna pot pie checks all the boxes for total comfort food -- and as a bonus, it's ready in just 30 minutes, making it a perfect weeknight meal.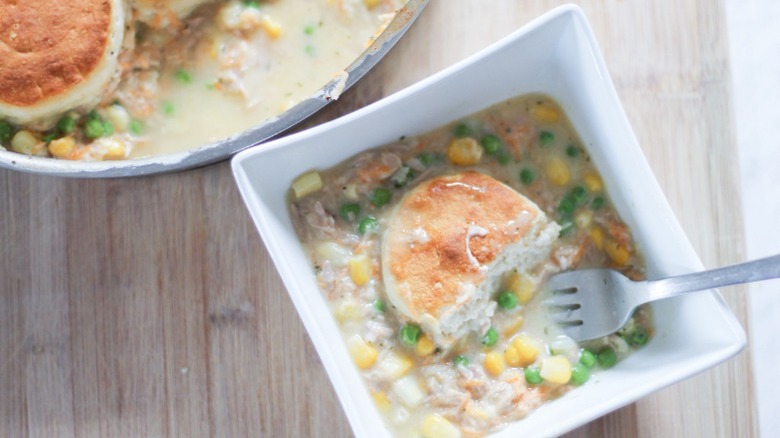 Ingredients
¼ cup butter
1 small onion, grated
¼ cup flour
¼ teaspoon kosher salt
¼ teaspoon ground pepper
½ teaspoon dried parsley flakes
½ cup milk
1 ½ cups vegetable broth
1 cup carrot, grated
1 cup frozen peas
1 cup frozen corn
2 (6-ounce) cans tuna
1 (12-ounce) package store-bought biscuit dough (biscuits separated)
Directions
Preheat the oven to 375 F.
In a large ovenproof pan, heat the butter over medium heat.
Add the onions and cook until softened.
Stir in the flour, salt, pepper and parsley flakes. Let cook for 30 seconds.
Add the milk and vegetable broth and simmer until thick, about 1 minute.
Remove from heat and add in the carrots, peas, corn, and tuna, mixing well.
Place the biscuits evenly spaced on top of the pot pie mixture.
Bake for 12 to 14 minutes, until the biscuits are lightly golden and cooked through.
Allow to cool for about 10 minutes to let pot pie mixture thicken.
Serve and enjoy!
Nutrition
| | |
| --- | --- |
| Calories per Serving | 352 |
| Total Fat | 11.3 g |
| Saturated Fat | 5.9 g |
| Trans Fat | 0.3 g |
| Cholesterol | 42.8 mg |
| | |
| --- | --- |
| Total Carbohydrates | 44.1 g |
| Dietary Fiber | 3.9 g |
| Total Sugars | 4.6 g |
| Sodium | 623.0 mg |
| Protein | 19.5 g |