29% Of Shoppers Think This Is The Worst Halo Top Ice Cream Flavor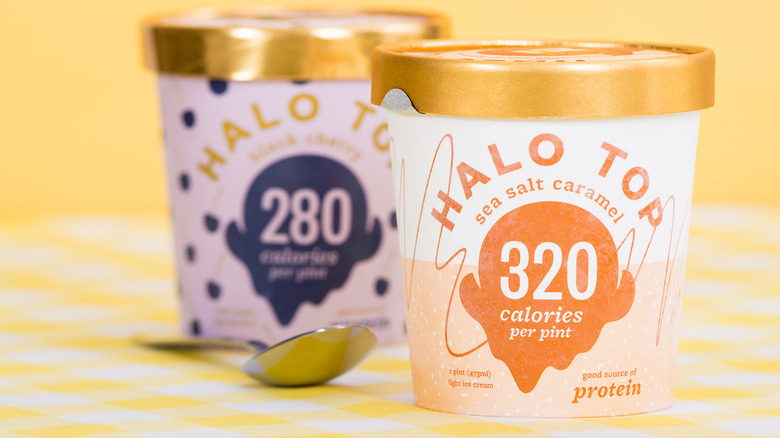 Leena Robinson/Shutterstock
Ice cream can be a rather tempting option when you're having a bad day and need a pick-me-up. It's such a convenient dessert too: all you have to do is scoop a generous amount into a bowl and dig in with a spoon. One of the most innovative brands in the market is Halo Top, a company that claims to provide the deliciousness of ice cream with lesser calories. As their website states, "we liked ice cream so much, we wanted to eat it more. So, we created delicious, creamy light ice cream that's 280-380 calories per pint, so we could do just that."
The brand managed to do something right, because many customers love the brand's range of flavors. According to the company, Halo Top was the top-selling ice cream in the country in 2017. Nowadays, there are plenty of different options to choose from such as pumpkin pie, birthday cake, candy bar, vanilla bean, and more. Which flavor is the least preferred option among customers, though? We decided to find out. 
The Oatmeal Cookie version didn't get much love
Some of the most interesting flavors from Halo Top were scrutinized in a Mashed survey that included 593 participants across the U.S. The least favorite pick was the oatmeal cookie flavor with 29.34% participants voting against it. Meanwhile, other lesser popular options were pistachio, which 21.59% of people chose as their least-liked flavor, which was closely followed by key lime pie, which 20.74% disliked. After that came mint chip, with 16.19% of the votes, and vanilla bean (7.42%). Strawberry was the Halo Top flavor most people liked, as only 4.72% of voters marked it as their least favorite.
According to Halo Top, the oatmeal cookie flavor has 19 grams of protein in each pint, and claims to "have all of the flavor of fresh-out-of-the-oven cookies at only 300 calories per pint." Unfortunately, its flavor profile doesn't seem to impress. A Redditor wrote that they didn't find it unbearable but it also didn't feel extraordinary. They wrote, "Oatmeal cookie was alright. Not gross but meh." Oh well.