Arby's Is Bringing Back This Cheesy Fan-Favorite Sandwich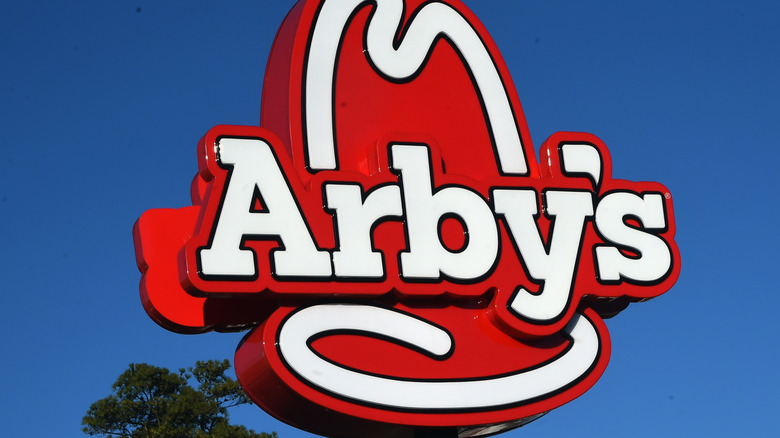 Rick Diamond/Getty Images
Whether you love it or hate it (or love to hate it), when a beef craving hits, you know that an Arby's is never too far away. In 1964, Arby's was founded in Boardman, Ohio, by Leroy and Forrest Raffell, also known as the Raffell Brothers. The two brothers used their sibling duo initials "RB" as inspiration for the name Arby's, and the rest is history (via Money Inc). Today, there are 3,400 Arby's locations scattered across the world, which can be found in Qatar, Turkey, and in the United Arab Emirates (per Arby's). Known for its highly stacked roast beef and golden curly fries, Arby's also sells enough milkshakes every month to fill an Olympic sized swimming pool (via Mental Floss). The global deli franchise also holds not one, but two world records — the longest TV commercial and longest curly fry (38 inches, for those curious).
Known as America's tastiest roast beef joint since 1964, Arby's serves up solid deli-style sandwiches, from the Ham and Swiss Melt to the Roast Beef Classic. If you were one of many Chicken Cheddar Ranch sandwich fans, you're in luck!
Arby's is bringing back the Chicken Cheddar Ranch sandwich for the Everyday Value mix-and-match deal
Arby's fans were shocked and disappointed when the Chicken Cheddar Ranch sandwich was a taken off the menu. But it's finally time for all of them to wipe away their tears. Not only is the Chicken Cheddar Ranch sandwich back, but its also part of the two for $6 "Everyday Value" mix-and-match deal. This means that Arby's customers can purchase two items on this limited menu for the affordable price of $6.
According to Brand Eating, the returning crowd pleaser features two fried chicken tenders, sharp cheddar cheese, shredded lettuce, tomato, and Parmesan peppercorn ranch sauce, sandwiched between a toasted sesame seed bun. If you purchase this cheesy sandwich on its own, it will set you back $4.49. However, if you're buying for two (or feeling extra hungry), you can purchase this sandwich along with either the Beef N' Cheddar, the Classic Roast Beef, or another Chicken Cheddar Ranch sandwich for only $6.
The Chicken Cheddar Ranch sandwich is replacing the Premium Chicken Nuggets on the Everyday Value menu for a limited-time only. If you are a longtime lover of this fan-favorite sandwich, don't miss out on the opportunity to snag one before it's gone!