Doritos Fans Need To Know About Buffalo Wild Wings' New Spicy Sauce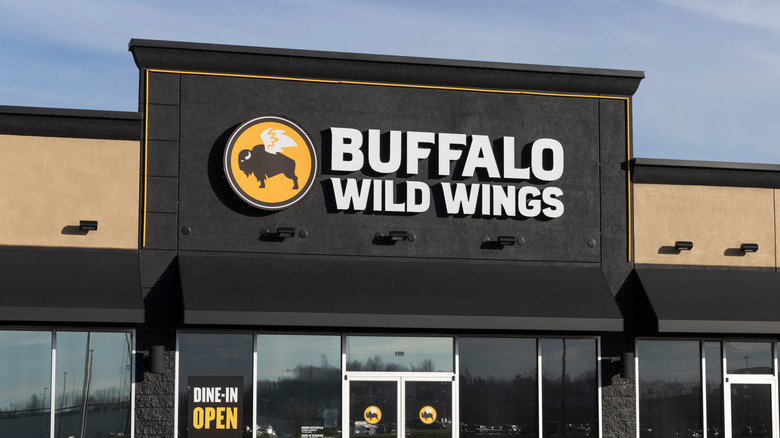 Jonathan Weiss/Shutterstock
When it comes to harnessing flavor, few snack brands do it better than Doritos. The chip brand has defined itself through some signature styles, like their Salsa Verde or Nacho Cheese tortilla chips. While the company has won its way into consumers' hearts thanks to these products, sometimes Doritos teams up with restaurants and other food companies to create mash-up items with some serious flavor potential. The chip brand's latest collaboration has the potential to turn more than a few heads — Buffalo Wild Wings now plans to offer a Doritos Spicy Sweet Chili Flavored Sauce at locations nationwide, per Chewboom.
The new sauce combines the tastes of soy sauce, brown sugar, onion, garlic and paprika together to create a one-of-a-kind wing experience. While the taste is on point, Buffalo Wild Wings went one step further and tops their wings with crushed Doritos Spicy Sweet Chili chips and serves up each order with a small bag of the same snacks. Like all great deals, this one has a catch and you have to act fast if you want to take advantage of it.
A Doritos experience only Buffalo Wild Wings could dream up
According to Chewboom, you have to get a move on if you want to grab some Buffalo Wild Wings that come with the sauce and chips. The restaurant chain only plans to promote the sauce for a limited time, and once it disappears, no one knows if it will return. In the meantime, you can order this signature topping in-person, online, or through the eatery's phone app. Make sure to plan accordingly — the premium sauce costs an extra dollar. The new sauce releases today, so you have no excuse to sleep on this deal, per Inspire.
The collaboration between brands just made sense to both companies. "People love Buffalo Wild Wings because of our bold sauces," Vice President of Brand Menu and Culinary of Buffalo Wild Wings, Jamie Carawan, said in a press release (via PennLive). "This allows us to push the envelope on flavor innovation and helps set our brand apart from the competition. We're excited to partner with another iconic brand in Doritos to offer wing lovers the opportunity to experience a familiar flavor in a new and exciting way. We can't wait to hear what they think!" If your mouth has already started watering, make sure to figure out how to get some of these signature wings into your day ASAP and enjoy all the Doritos flavor packed into each bite.