What Makes Giada De Laurentiis' Pumpkin Pie Recipe Unique
Kevin Winter/Getty Images
With the arrival of autumn, folks have begun making the switch from summertime fun in the sun to warm sweaters for cooler weather. Halloween and other autumn-inspired decor have begun to pop up everywhere along with food that fits the season like pumpkin-inspired anything. From lattes to pasta, nothing is above adding a little bit of pumpkin goodness into the mix. But there is one dish that holds the crown for sumptuous pumpkin flavors and is inextricably tied to the autumn season, and that is pie. According to Tippin's Pies, the first recorded version of a pumpkin pie dates back to the Plymouth Colony in 1621. 
From then on, it experienced several different recipe adaptations before landing on the version people love today. Home cooks and chefs everywhere have ventured off into the wonderful world of pumpkin pie in hopes of making a version that is equal parts delectable and heavenly. But, according to She Knows, famed TV personality, chef, and author Giada De Laurentiis has cracked the code on how to make a pumpkin pie that boasts an elevated flavor profile and isn't runny. So what does De Laurentiis add to her pumpkin pie? 
Mascarpone cheese adds a silky texture to dishes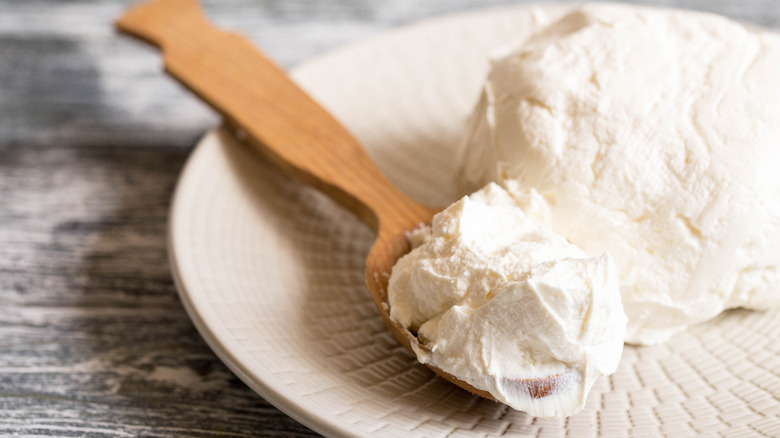 Ivanna Pavliuk/Shutterstock
Never heard of mascarpone cheese before? Well, if you've ever eaten a tiramisu, you've unknowingly consumed it. Mascarpone is a creamy and thick cheese that hails from Northern Italy's Lombardy region and dates all the way back to the Renaissance period. Due to its high butterfat content, this type of cheese adds the perfect amount of silkiness to anything you are making, which is probably why the celebrity chef host adds it to her pumpkin mascarpone pie. 
The outlet notes that mascarpone is a great addition to things that are sweet like cakes or savory like pasta, and can also work as a great thickener for soups. But mascarpone isn't the only other ingredient that the "Bobby and Giada in Italy" co-host adds to her pumpkin pie. Giadzy notes that De Laurentiis also adds lemon zest and whipped cream cheese to her pumpkin filling, not only upping the flavor profile, but also taking the level of creaminess to another level.