Cool Ranch Doritos Have A Different Name Outside Of The US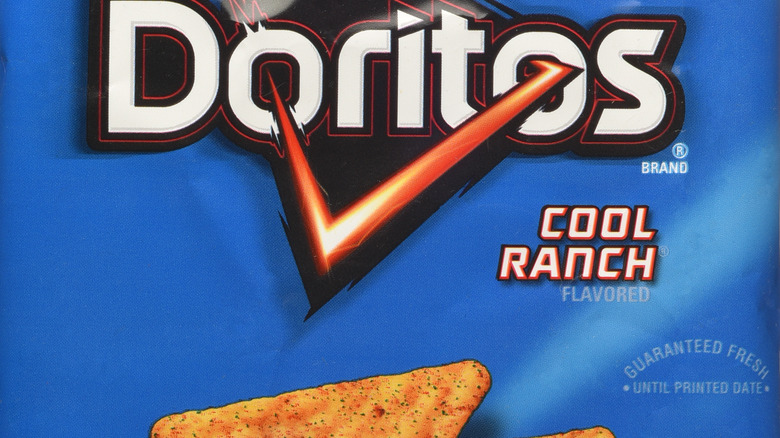 Steve Cukrov/Shutterstock
There are places in the world where Cool Ranch Doritos have gone undercover to better adapt to local crowds. Name yourself "Cool Ranch," and you'll stick out like a sore thumb in an international marketplace where the existence of ranch dressing on a supermarket shelf is about as probable as an alien sighting. Even The New York Times can anecdotally confirm that ranch dressing and peanut butter are the two foodstuffs U.S. Americans abroad long after most ardently.
Doritos, a brand that (according to Open Food Facts) markets its products in 48 countries, has done its best to adapt to an unthinkable reality where ranch dressing isn't something that everyone and their Great Aunt Tilda slathers on salads and subs and chicken wings. In much of the world including Aruba (according to Reddit), Curacao (via Instagram), Croatia (via Instagram), Italy (via Instagram), Sweden (via Instagram), Germany (via Instagram), The Netherlands (according to Delish), Iceland (according to Reddit), and even — per Thrillist — Great Britain, Cool Ranch Doritos have disguised themselves. Dorito fanatics in these countries eagerly purchase royal blue Dorito bags bearing a different, more persuasive name.
Cool Ranch Doritos have at least two different names outside the United States
Outside of the United States, Cool Ranch Doritos wear at least two different names. In most of the countries listed above, they find their homes in kitchen cupboards as "Cool American Flavour Doritos." The United States as a flavor, it seems, tastes like a mix of sour cream, mayonnaise, buttermilk, garlic, dill, and chives — which is more or less what the HuffPost says that ranch dressing is made out of.
In the U.K., however, "Cool Ranch" Doritos have taken on another identity. There, the chips are called "Cool Original" according to Thrillist, which is as confusing to us as we hope it is to you. Then, there is the curious case of Australia, where — at least anecdotally according to a Flickr user — "Cool Ranch" used to be called "Cool Tang." An old "Cool Tang" commercial uploaded to YouTube advertises the chips as "dairy and spice together," and talks confusingly about jalapeño, so we won't swear that they were, in fact, "Cool Ranch's" identical twin dressed up in a fake wig and trench coat. That's all irrelevant now. If they once did, Australian Doritos no longer need to assume an alternate identity. Just ask Doritos Australia. "Cool Ranch" is perfectly happy going by its real name in the Land Down Under.