The Truth About Five Guys' Fry Seasoning, According To Reddit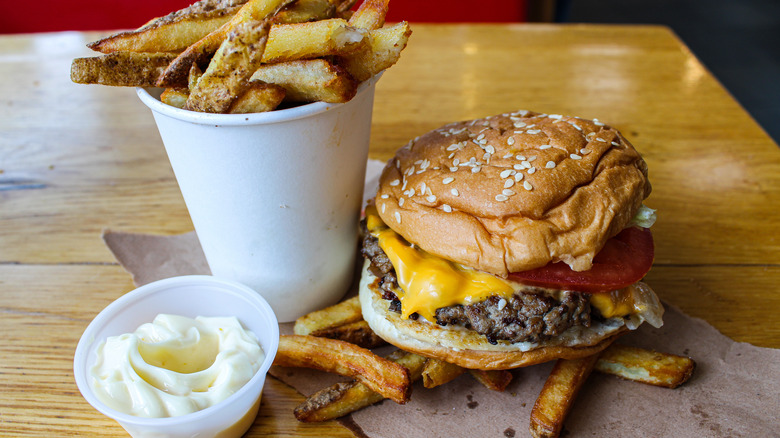 Irati Ventoso Cenzano/Shutterstock
We may receive a commission on purchases made from links.
If you thought you could only get Five Guys' famous fry seasoning in store, you're in luck because one Reddit user is convinced he's discovered the secret ingredient. The Reddit user, aftli_work, claimed that the fast-food chain uses McCormick Cajun seasoning, and other Redditors agreed, his evidence seemed to add up. Apparently, aftli_work asked for a cup of the seasoning on the side and brought it home to compare it to store bought spices.
McCormick has two varieties of Cajun seasoning, however, only one of them fits the bill. "The gourmet version and the Five Guys stuff look exactly the same," aftli_work explained. "They're both pretty coarse, whereas the non-gourmet stuff is more fine and powdery. I did a taste test — they're indeed exactly the same."
Five Guys' fries are some of the best in the business, but according to the McCormick website, the spice blend they use doesn't contain any mysterious ingredients, or even any MSG to make it taste better. Instead, the only listed ingredients are garlic, black pepper, cayenne pepper, oregano, chili pepper, sea salt, onion, paprika, and red and green bell peppers.
The ingredients in the fry seasoning
Though Five Guys is transparent when it comes to sharing ingredients and calories with customers, the nutrition information doesn't fully specify every spice in the fry seasoning. It does list some of the same ones as the McCormick Gourmet Cajun seasoning, but the last ingredient on the list simply says "spice."
Less of a secret, however, is how Five Guys actually prepares their Cajun fries. One employee, who goes by @maezthegreat on TikTok, revealed that the fries are fried two separate times, then shaken exactly 15 times to remove excess grease. Immediately afterward, they're salted, tossed, sprinkled with a generous amount of Cajun seasoning, then tossed again. As far as the ingredients of said seasoning, @maezthegreat only shared, "If you ain't sneezing, you ain't pleasing."
Of course, if you're in dire need of some Cajun fries and can't get to Five Guys, it seems the McCormick version is your best option. Fortunately, McCormick spices are available at most grocery stores, and a 2.25-ounce jar of the gourmet Cajun seasoning is priced at $4 through McCormick's official Amazon page.