Why Culvers' Root Beer Tastes Different From All Other Brands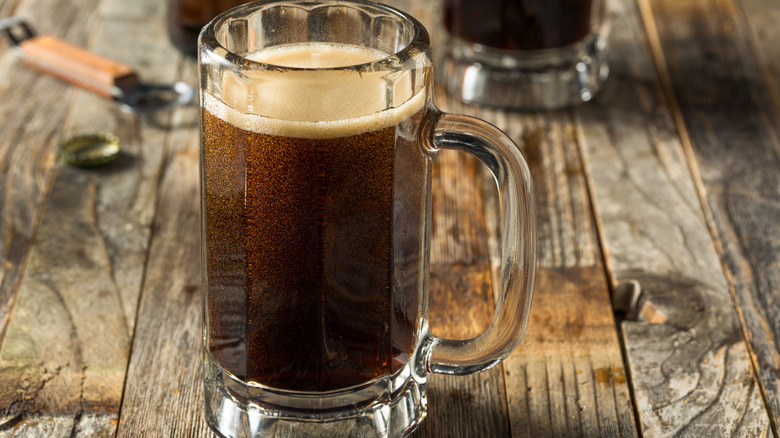 Brent Hofacker/Shutterstock
Culver's has remained a family-owned, family-run restaurant since husband and wife duo, Craig and Lea Culver, first opened its doors in 1984 in Sauk City, Wisconsin (via Culvers.com). Being a family establishment, that also meant Craig's parents, George and Ruth, played an integral role in paving Culver's path to success and popularity. In fact, Ruth was known as the "Queen of Hospitality" back in the day.
At first, Culver's was originally known for its trademarked ButterBurgers and mouth-watering Frozen Custard. Today, Culver's still offers both of those, and its Frozen Custard has since adopted a "Flavor of the Day" special where customers can order unique custard (vanilla or chocolate) and mix-in combinations with M&M's, Snickers, cookie dough, and more. Over the years, Culver's has expanded both its locations and menu, adding fan favorites like Wisconsin cheese curds, hand battered fish, and whole white meat chicken. However, Culver's signature root beer is what has customers coming back time and time again.
Craig Culver's root beer recipe is 37 years old
When Culver's first opened in 1984, customers couldn't get enough of the signature menu items: ButterBurgers, Frozen Custard, and root beer. Hamburger patties and rich ice cream may seem obvious items to put a signature spin on, but how do you tweak root beer to make it stand above the rest? Culver's founder Craig Culver had several goals for his family-owned restaurant, and one of them was having root beer on the menu (via Culver's). As someone who grew up drinking root beer all the time, offering the soft drink was a top priority.
To get the root beer's signature, unique taste, Culver reached out to a local Wisconsin supplier for ingredients, meaning no other major chain would have the same exact ingredient list. After a bit of experimenting, Culver nailed the recipe and began displaying and tapping it by the barrel in-store. According to Taste of Home, Culver's sells 315,205 gallons of root beer per year! As time's gone on, Culver's has added Root Beer Floats to their ever-evolving menu of desserts. The soda float comes with a hearty scoop of Culver's beloved creamy Fresh Frozen Custard, giving Culver's patrons two treats in one.