Copycat Starbucks Holiday Spice Flat White Recipe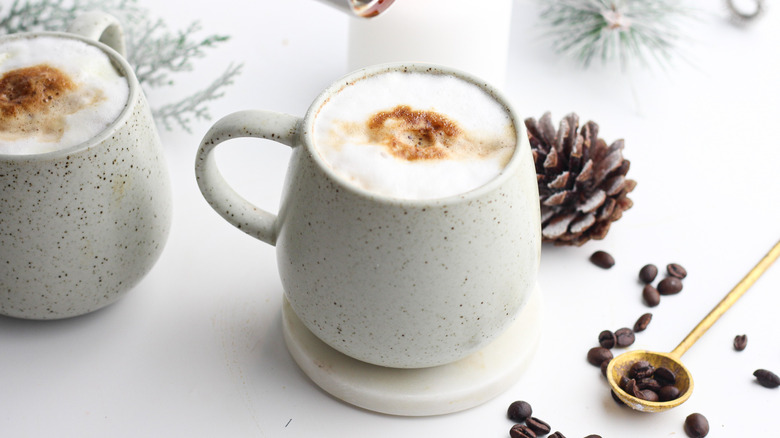 Susan Olayinka/Mashed
The holiday classic "It's the Most Wonderful Time of the Year" by George Wyle and Edward Pola got it right about, well, the most wonderful time of the year. It's spot-on to call out the "good cheer," "holiday greetings," "parties for hosting," and "marshmallows for toasting." In addition to all of that, though, we'd like to give a special shoutout to a beverage that makes the holiday season especially cozy: the Starbucks Holiday Spice Flat White. Chef and recipe developer Susan Olayinka of The Flexible Fridge is making it easy to whip up the coffee chain's seasonal favorite right at home, so in no time at all, you can get back to the holiday greetings, parties, and cheer.
"This tastes like Christmas in a cup," Olayinka says. But no worries if you don't celebrate Christmas or if you simply happen to get a hankering for a sweet, spiced beverage in the non-holiday season. Anyone can enjoy this treat anytime you're in the mood to prepare it — all you need are a few choice dried ingredients, some hot water, and a milk frother. And actually, you don't even need one of those. "If you don't have a milk frother, just use an electric whisk to create foamy milk," Olayinka advises.
Alright, enough talk. Let's jingle all the way to this tasty beverage!
Gather the ingredients for this copycat Starbucks Holiday Spice Flat White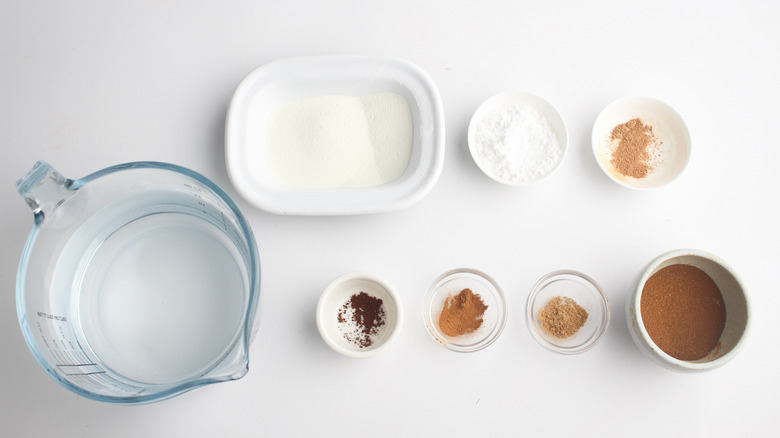 Susan Olayinka/Mashed
As noted, all of the ingredients you'll need for your copycat of this seasonal sipper are dried, except for the water itself, so you can bring along what you need to make your own Starbucks Holiday Spice Flat White just about anywhere. And what you'll need consists of espresso powder, nutmeg, cinnamon, cloves, dried ginger, skimmed milk powder, and of course, hot water.
"[There are] alternative ways of making it," says Olayinka. "You can use a different type of milk to make it vegan like oat milk. [And for] alternative spices, [consider] the addition of allspice [and] flavored sugars like vanilla sugar, orange sugar, or coconut sugar."
Make the spiced coffee base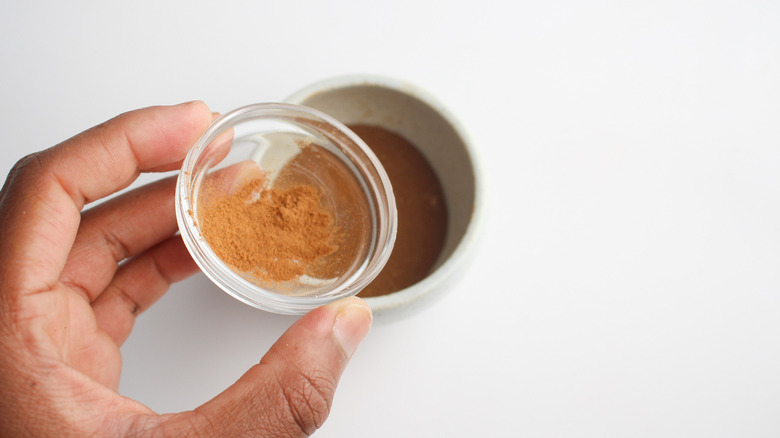 Susan Olayinka/Mashed
Start things off by heating up 3 ¼ cups of water until the water is good and hot, about 110 F or a bit less. Then, pour the espresso powder, nutmeg, cinnamon, cloves, dried ginger, and extra fine sugar into a small heat-safe pitcher or a large mug. Next, pour in ¼ cup of that hot water into the same vessel with the dried ingredients, stir to combine everything, and then set this potent blend aside.
Form and froth the milk, then make the coffee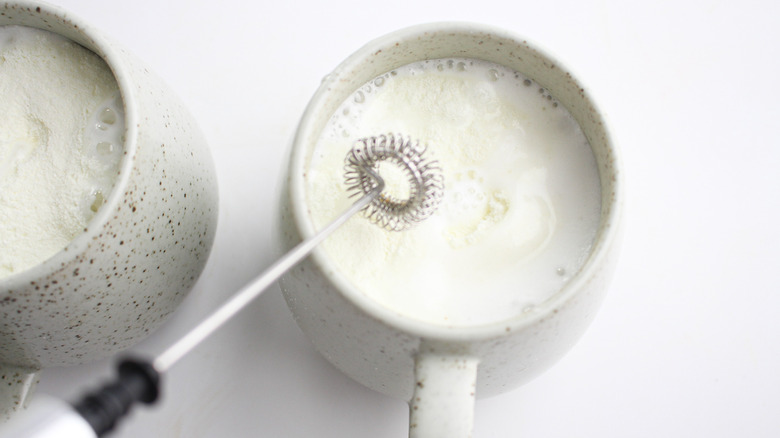 Susan Olayinka/Mashed
Next, pour the skimmed milk powder equally into two cups, followed by 1 ½ cups of hot water added to each cup. Then, use that handy hand frother to whisk and whirl the milk for one minute non-stop, or until a proper foam has been formed in each cup.
Finally, pour the spiced coffee you stirred up equally into each cup and enjoy, ideally with a little sprinkling of ground cinnamon and maybe even some cocoa powder atop each mug for a bit of added taste and a lot of added beauty.
Why is it called "Flat White?"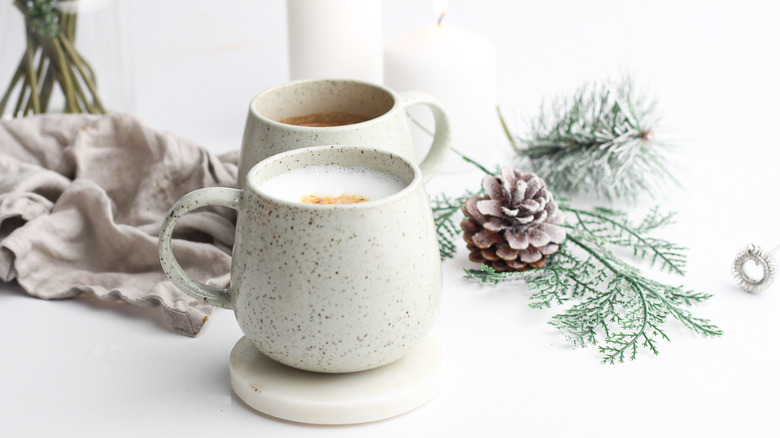 Susan Olayinka/Mashed
You already know this drink is delicious, and thanks to its unique spice blend, it tastes like the holidays in beverage form. But what is a flat white coffee anyway, regardless of season, might you ask? Don't worry, because Starbucks saw the question coming a few years back when they started introducing this new type of coffee to a North American consumer base. 
A 2015 Starbucks press release stated in part, "Since originating in Australia in the 1980s, the Flat White became a coffeehouse staple in the UK and is now a budding favorite among coffee aficionados in the United States and Canada. Starbucks customers in Australia have enjoyed the beverage in stores since 2009, and those in the UK since 2010 ... The Starbucks® Flat White is an espresso beverage made with two ristretto shots, combined with a thin layer of velvety steamed whole milk ... Starbucks baristas perfectly steam milk into creamy micro-foam and carefully free pour to allow the espresso to rise to the top of the beverage for a bold coffee flavor with a sweeter finish."
Now that you know, it's time to bookmark this recipe for this holiday season and beyond. Stay cozy!
Copycat Starbucks Holiday Spice Flat White Recipe
You'll want to have this copycat Starbucks Holiday Spice Flat White recipe on hand to make your time indoors this season especially cozy.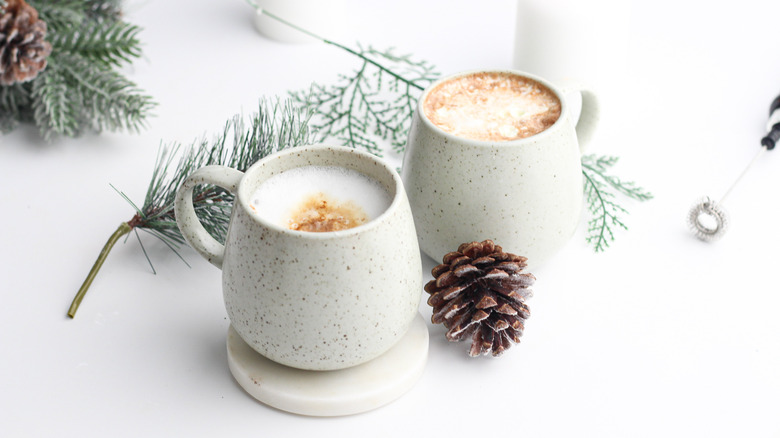 Ingredients
2 tablespoons espresso powder
¼ teaspoon nutmeg
¼ teaspoon cinnamon
¼ teaspoon ground cloves
¼ teaspoon dried ginger
2 tablespoons extra fine sugar
3 ¼ cups of hot water, divided
¼ cup skimmed milk powder
Directions
Put the espresso powder, nutmeg, cinnamon, cloves, dried ginger, and sugar into a small pitcher.
Pour 3 ¼ cups of hot water into the same pitcher, and set aside.
Pour the skimmed milk powder equally into 2 mugs, followed by 1 ½ cups of hot water in each cup.
Whisk the milk with a frother for 1 minute nonstop.
Pour the coffee equally into each mug, and enjoy!
Nutrition
| | |
| --- | --- |
| Calories per Serving | 133 |
| Total Fat | 4.4 g |
| Saturated Fat | 2.8 g |
| Trans Fat | 0.0 g |
| Cholesterol | 15.5 mg |
| | |
| --- | --- |
| Total Carbohydrates | 19.6 g |
| Dietary Fiber | 0.4 g |
| Total Sugars | 18.7 g |
| Sodium | 77.9 mg |
| Protein | 4.3 g |