Mountain Dew's New Flavor Features This Fruity Combo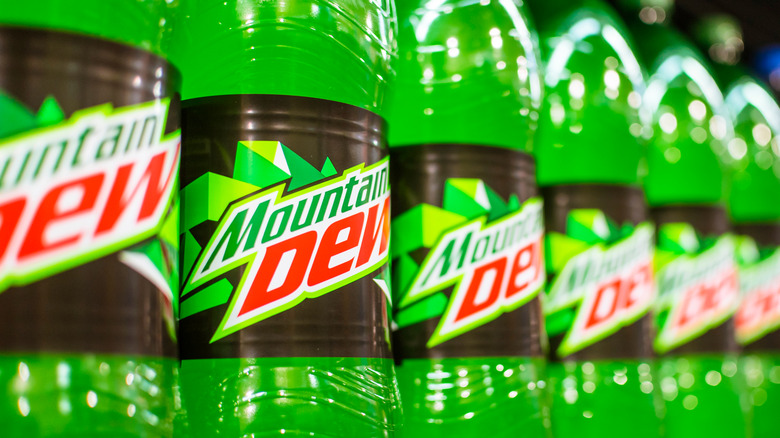 MDV Edwards/Shutterstock
Attention, Dew Nation, the day you have long been waiting for has finally arrived. At long last, Mountain Dew's brand new and highly anticipated flavor, MTN Dew Uproar, is available — as in, right now — for purchase at all 1,100 Food Lion stores in North Carolina, South Carolina, Tennessee, Kentucky, Virginia, Georgia, West Virginia, Maryland, Pennsylvania, and Delaware, according to a press release received by Mashed. Seriously, Mountain Dew lovers have been waiting on this to arrive for months now, according to Reddit's Mountain Dew subreddit community. After all, it's already been three months since users DaerthCaedus776 initiated the topic, "Anymore news about Mtn Dew Uproar?" on the subreddit. And it took nearly that long for someone to even answer.
But soon after that, the topic got rolling as community members engaged in speculating as to when the release date might be ...  until 6:30 p.m. EST, when Redditor InevitableFun6231, announced that it "just got released" (via Reddit). So what can members of Dew Nation (or the merely Dew Curious) expect of Mountain Dew's new flavor? Well, for one thing, its design features "vibrant colors and a roaring lion to capture the essence of DEW Nation's fearless and energetic spirit while highlighting the collaboration with Food Lion," according to the press release. In addition, MTN Dew Uproar features this unusual and rather intriguing fruity combo. 
Kiwi and berry lovers will be pleased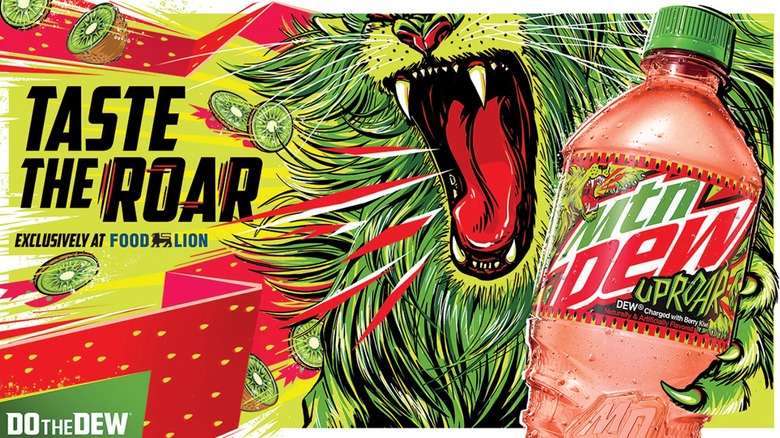 Mountain Dew
"DEW Nation is adventurous and bold, and we wanted to give our fans at Food Lion a unique flavor charged combination that reflects their discerning tastes," said Jenny Figueroa, the Senior Director of Marketing for Mountain Dew's parent company, PepsiCo Beverages North America (South Division), in a press release sent to Mashed. "A delicious mouth-watering berry kiwi flavor with a DEW twist, MTN DEW Uproar is unlike any beverage ever tasted and bound to delight fans." But there is a catch. This berry-kiwi-flavored soda can only be found for a limited time, and only at Food Lion stores. You can use the store locator to figure out where your closest Food Lion is.
With other fruit-based Mountain Dew flavors like Major Melon and Voltage already in the Dew lineup, Uproar will add something unique (via Mountain Dew). This will be Mountain Dew's first-ever new flavor innovation made exclusively for Food Lion. Seems like a match made in Dew Heaven!