The Emergency Condiment Ed Sheeran Carries With Him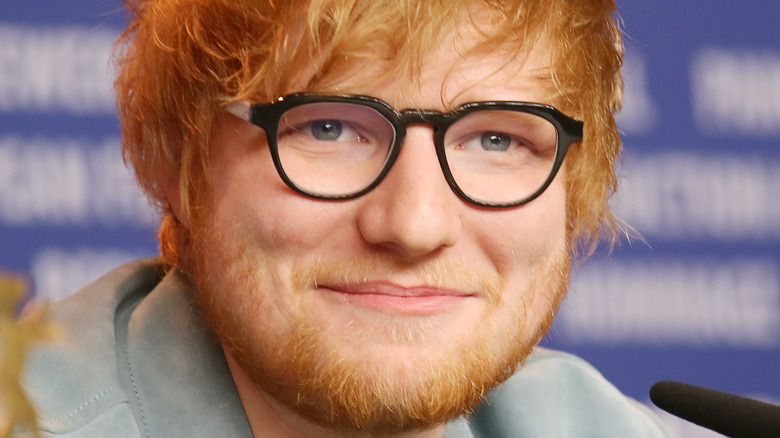 Denis Makarenko/Shutterstock
Unless you live under a rock, you are probably familiar with pop superstar Ed Sheeran. Like many musical prodigies, the English singer-songwriter's love affair with music began at a very young age. Sheeran began singing in church when he was just four years old and learned to play guitar when he was 11 (via Planet Radio). While he pursued his passion for music for many years, including releasing music on his own, his big break came in 2011 with the release of "The A-Team," the lead single from his debut studio album. In the first week of its release, the single sold 58,000 copies and was the top 10 song in eight countries. Today, Sheeran is one of the bestselling artists in the world and practically a household name.
When he's not touring the globe, Sheeran lives a quiet life at home with his wife, Cherry Seaborn, and their one-year-old daughter, Lyra Antarctica (via People). While Sheerios may be familiar with everything about his music, Sheeran's private life remains, well, private. Sheeran does have a rather well-known obsession, though — one that has nothing to do with music or performing.
No one loves Heinz ketchup more than Ed Sheeran
Ed Sheeran is obsessed with Heinz ketchup, so much so that he carries a bottle of it wherever he goes. According to Capital FM, an insider revealed that Sheeran "has run out of patience going to places that don't serve [ketchup] while he's touring." The insider went on to say that Sheeran has even "made it a duty of key members of his entourage to carry a bottle wherever he goes so he can have it with everything from his morning sausage butty to upmarket dinners." And that's only the beginning of the Grammy winner's ketchup compulsion.
Sheeran has gone on to star in a commercial for Heinz, which has received over 18 million views on YouTube. In the viral ad, the "Bad Habits" singer sits solo at an upscale restaurant. When his food is brought to him, he can't help but feel that something is missing. So he whips out a bottle of Heinz ketchup and drenches his delectable dish in the condiment, much to the shock and horror of the surrounding diners and staff. 
The 30-year-old singer has also partnered with Heinz to release a limited-edition line of "EdChup" bottles. The limited series of 150 bottles were primarily given to fans, but three bottles were auctioned off to raise money for charities. According to Forbes, the three bottles sold for a staggering price of between $1,300 and $1,800. 
The longtime Heinz superfan also has a tattoo of the Heinz ketchup logo on his bicep (via Forbes). Too much? We'll let you be the judge.