Instant Pot Butternut Squash Curry Recipe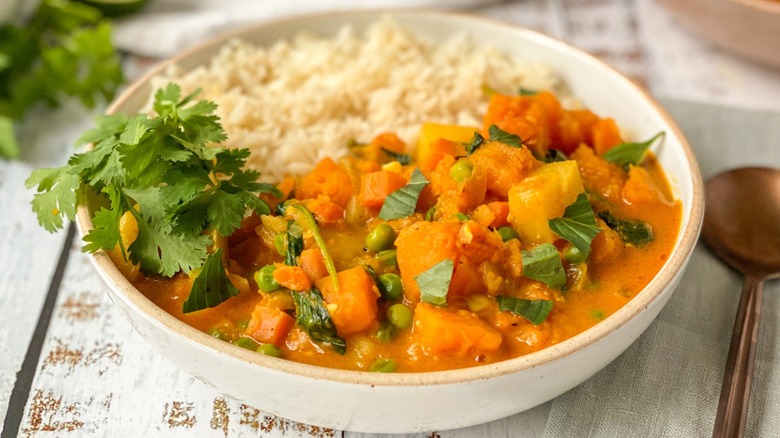 Hayley MacLean/Mashed
When we think of autumnal produce, it's pretty often that root vegetables come to mind, such as parsnips, turnips, rutabagas, beets, and sweet potatoes. Not all of fall's bounty is hidden under the ground, however. How could we possibly let the season pass without a trip to an apple orchard, or, even better, a pumpkin patch? But let's not stop there. Less celebrated than the pumpkin, but no less delicious and versatile when it comes to cooking, is the butternut squash, another of fall's fruits (ok, technically vegetables) of the vine.
Recipe developer Hayley MacLean likes to turn butternut squash into an easy Asian-inspired curry using an Instant Pot to do the cooking. She describes the flavor of this curry as "a mixture of sweet and savory with a hint of warmth," explaining that "The spices used in curry have a uniquely floral quality that gives it a really complex taste." 
As for the star of the show, she says "The squash lends a nutty, earthy flavor," and goes on to add "the coconut milk keeps it rich and creamy [so this dish] really does hit all the marks!"
Gather ingredients for this curry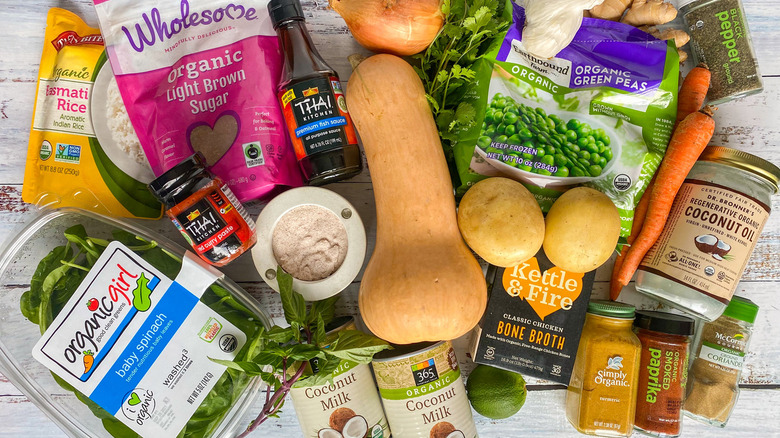 Hayley MacLean/Mashed
While this meal cooks fairly quickly in the Instant Pot, it is a complex, multi-layered dish that requires a somewhat lengthy list of ingredients. But, if you take your time in the grocery store and get everything organized before cooking (a very handy chef's tactic known as mise en place), you'll be richly rewarded when it comes time to eat. 
In addition to the butternut squash, you'll be using carrots, a yellow onion, fresh garlic and ginger, a Yukon gold potato, a lime, fresh spinach, and frozen peas. For cooking, you'll need coconut oil, coconut milk, and either chicken or vegetable broth. For spices and seasonings, you're going to gather up red curry paste, powdered coriander, turmeric powder, smoked paprika, brown sugar, and some savory, umami-rich fish sauce.
For serving the dish, you may also want some cooked rice — MacLean likes using basmati rice in particular. As a garnish, you can use cilantro and Thai basil.
Prepare the vegetables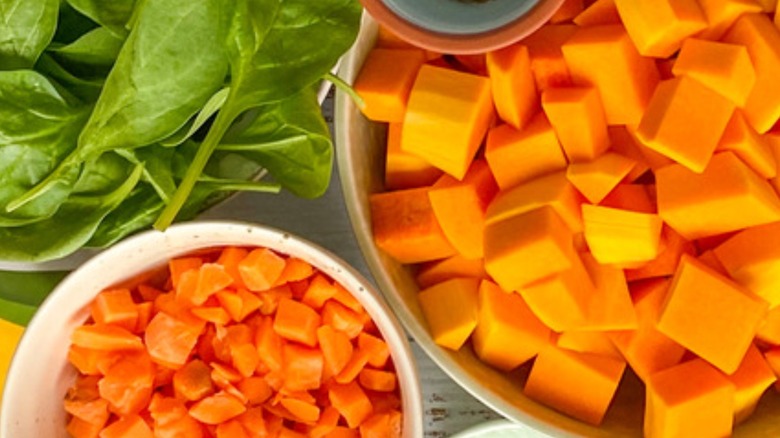 Hayley MacLean/Mashed
Yes, you surely know the drill –- any dish with a lot of veggies is going to require a fair amount of prep work. For this recipe, the squash will need to be peeled and cut into 1-inch cubes, while the Yukon gold potato will also need to be cubed to a similar size (although there's no need to peel it). You probably should also peel the carrots before you dice them, as their peel can be bitter. You definitely need to peel the onion and garlic before you chop those up, too. 
The ginger root, for a change of pace, will be grated, and you'll also juice the lime. The spinach and the peas don't need a thing until it's time to add them to the pot, though, so feel free to let those sit for just a little while longer.
Sauté the veggies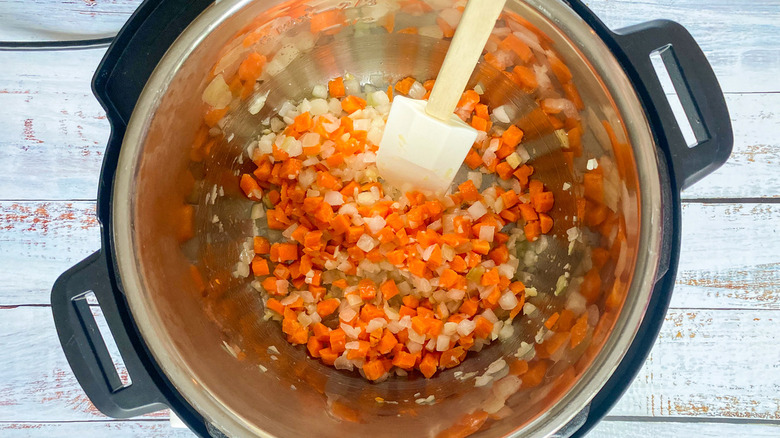 Hayley MacLean/Mashed
Scoop the coconut oil into the Instant Pot and set that appliance to saute on medium heat. When the oil is hot and appears to be shimmering, add the carrots, onion, garlic, and ginger, then cook for 3 to 5 minutes until the vegetables are slightly soft. 
Next, you'll be adding some really aromatic stuff that is bound to make your kitchen smell amazing. These ingredients are curry paste, coriander, turmeric, paprika, and brown sugar. Toss in a teaspoon of salt and ¼ teaspoon of pepper, too. Saute everything for another minute or two, at which point things should be getting pretty fragrant. At this point, it's now time to toss in the squash and potato, then stir in the coconut milk, broth, and fish sauce. With the extra liquid in the pot, make sure to deglaze by scraping up any browned bits from the bottom of the vessel.
Add other ingredients after pressure cooking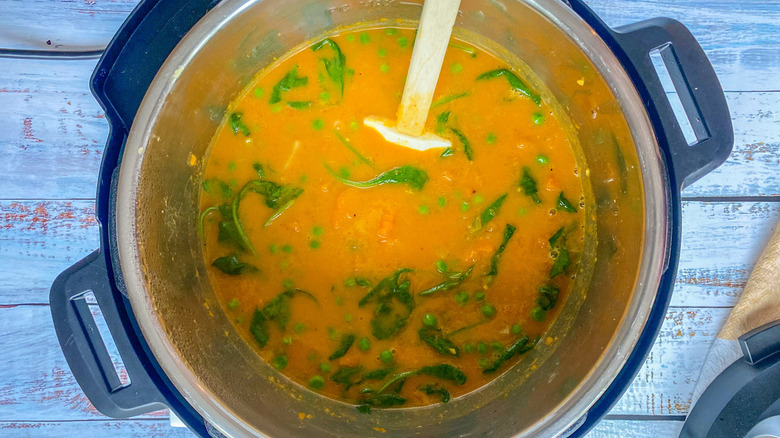 Hayley MacLean/Mashed
At long last, it's time to do the actual pressure cooking! Simply set the Instant Pot on pressure cook, high heat, and let it do its thing for 5 minutes. When the time is up, do a quick pressure release, then turn the pot back to saute and the heat down to medium. 
When the curry is simmering, add the spinach and peas and cook for just a minute or so until the spinach wilts and the peas plump up. Then, turn the Instant Pot off and stir in the lime juice as a finishing touch. If you really like that bit of acidity, MacLean says "You can even give it another squeeze of lime to really brighten it up!"
MacLean suggests serving this dish as a main course over rice, although if you are not a vegetarian you could always use it as a side dish to accompany chicken or pork. 
When it comes to leftovers, MacLean notes that freshest really is best.  "This dish definitely tastes best when it is served right when it is made," but adds that leftovers are still just fine to eat. "It heats up wonderfully the next day!" she says. Those leftovers should be good for up to 4 days in the fridge, assuming that they are stored in an airtight container. You can also potentially freeze leftovers for even later use.
Instant Pot Butternut Squash Curry Recipe
Turn the fall favorite vegetable butternut squash into an easy, Asian-inspired curry with this recipe. Even better, use an Instant Pot to do all the cooking.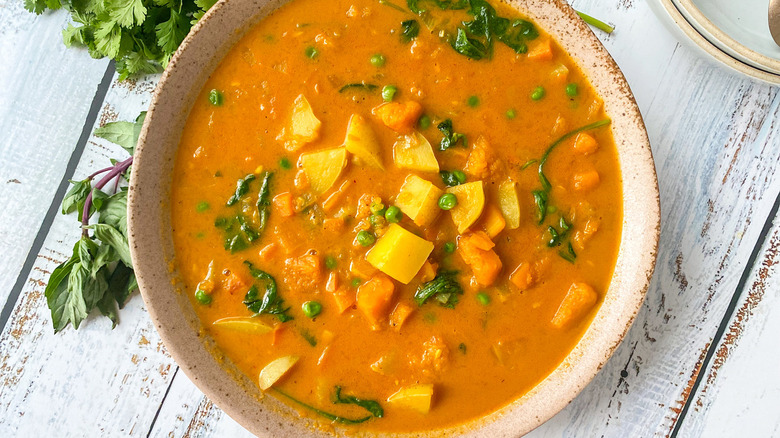 Ingredients
2 tablespoons coconut oil
1 cup carrots, diced
1 medium yellow onion, diced
5 cloves garlic, minced
1 inch fresh ginger, grated
2 tablespoons red curry paste
¾ teaspoon coriander powder
½ teaspoon turmeric powder
½ teaspoon smoked paprika
2 teaspoons brown sugar
4 cups butternut squash, peeled and cubed
1 large Yukon gold potato, cubed
2 15-ounce cans coconut milk
1 cup broth (chicken or vegetable)
1 to 2 tablespoons fish sauce
2 cups baby spinach
1 cup frozen peas
Juice of one lime
Optional Ingredients
Directions
Add the coconut oil to the Instant Pot and set to saute on medium heat.
Once the oil is shimmering, add the carrot, onion, garlic, and ginger. Cook for 3 to 5 minutes until vegetables have softened.
Add the curry paste, coriander, turmeric, paprika, and sugar to the pot along with 1 teaspoon salt and ¼ teaspoon ground pepper. Saute the spices for 1 to 2 minutes until they are fragrant.
Add the squash, potato, coconut milk, broth, and fish sauce to the pot. Stir, making sure to deglaze the bottom of the pot.
Switch the Instant Pot setting to pressure cook on high and cook for 5 minutes.
Quick release the pressure and turn the Instant Pot back to saute on medium. Bring the curry to a simmer.
Add the baby spinach and frozen peas and cook until the spinach is wilted and the peas are plump and heated through.
Turn the Instant Pot off and stir the juice of one lime into the pot.
Serve over rice, garnishing with cilantro and Thai basil if desired.
Nutrition
| | |
| --- | --- |
| Calories per Serving | 464 |
| Total Fat | 35.5 g |
| Saturated Fat | 30.9 g |
| Trans Fat | 0.0 g |
| Cholesterol | 0.5 mg |
| | |
| --- | --- |
| Total Carbohydrates | 37.4 g |
| Dietary Fiber | 6.1 g |
| Total Sugars | 6.9 g |
| Sodium | 455.2 mg |
| Protein | 7.6 g |