Slow Cooker Red Beans And Rice Recipe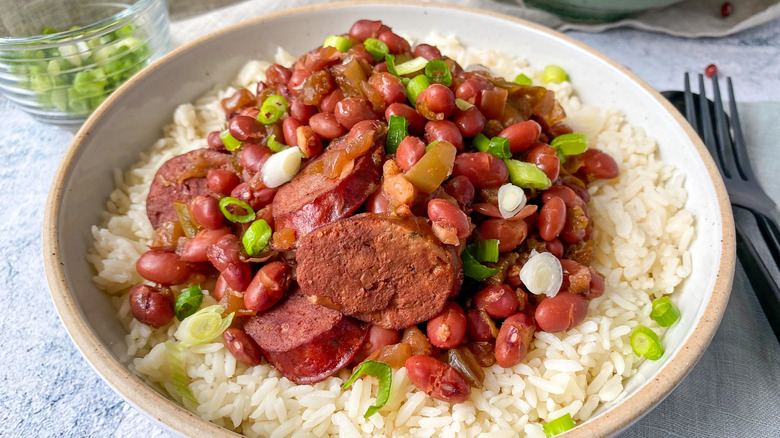 Hayley MacLean/Mashed
Red beans and rice sounds like the plainest, most basic dish in the world. Beans plus rice equals no big deal, right? Ha! Not even. Flavorful add-ins like spices, veggies, and sausage make this dish one of the legendary pillars of Creole cooking. According to "The New Encyclopedia of Southern Culture," classic red beans and rice has become a Monday-night tradition in its native New Orleans. Why Monday nights? Well, by old-time standards, cooking a pot of beans made for a relatively effortless meal perfect for wash day (also a Monday ritual in the Big Easy, by the way). Another reason this dish was best prepared on Monday was that it was frequently flavored with the bone leftover from Sunday's ham.
Recipe developer Hayley MacLean tells us that her version of this Creole classic "is a very traditional version of the recipe, down to using the holy trinity of vegetables: onion, celery, and bell peppers!" Her red beans and rice recipe is even easier than the old washday staple, though, due to the fact that it's made in a slow cooker. "Making it in the slow cooker and starting with dried beans," MacLean says, "really allows for the flavors to come together and permeate throughout the whole dish."
Make sure you've got the necessary ingredients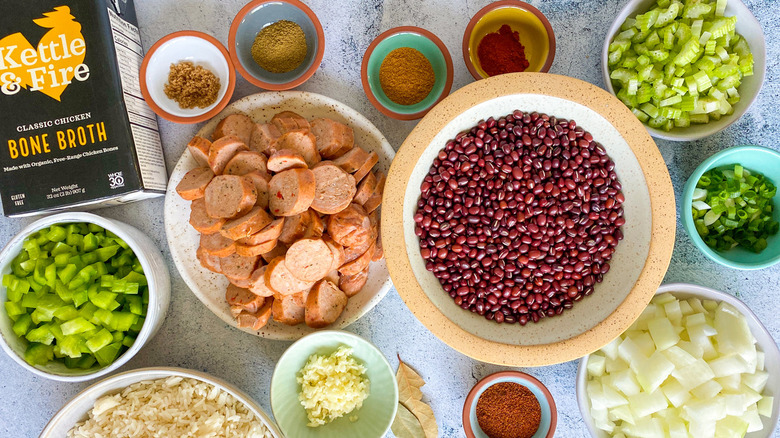 Hayley MacLean/Mashed
While this recipe doesn't require too much prep time, it does call for quite a lengthy list of ingredients so checking your cabinets and shopping for these may take some time. However, when you get a taste of the final product, you'll see that it was more than worth the effort.
The main ingredients here are dried red beans and andouille sausage, although MacLean does say "If andouille sausage is not available, chorizo can be used! Or any smoked sausage would be a good replacement." In fact, she adds, "In a pinch, even a Polish kielbasa would work!" If you do switch out the andouille for another type of sausage, try to go with a smoked variety for a more authentic flavor. You could also go super-old school and toss in a ham bone, should you happen to have one on hand.
You're also going to need that aforementioned "holy trinity": celery, a yellow onion, and one green bell pepper. When it comes to seasoning the dish, you'll need fresh garlic, chili powder, cumin, cayenne pepper, paprika, brown sugar, and bay leaves. A few cups of chicken broth will serve as a cooking medium, while the beans are typically served atop cooked white rice. If you want to make your beans and rice look pretty as well as giving them a bit more flavor, you can also sprinkle some sliced scallions over the top as a garnish.
Prepare the veggies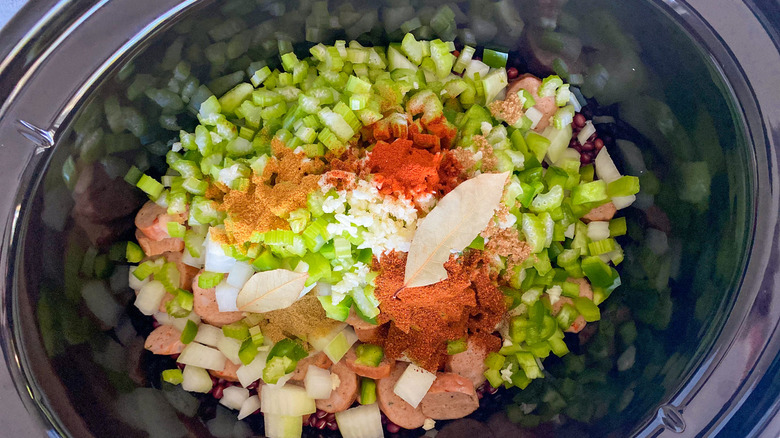 Hayley MacLean/Mashed
While the ingredients all pretty much cook themselves in the slow cooker as you busy yourself doing something else like the laundry (or, hey, taking a break on the couch in front of the TV — we won't judge), there is a bit of prep work involved before the cooking can begin. All those vegetables aren't going to chop themselves, after all. So, you're elected! Take heart, though, as this is a pretty easy step that's necessary to create a super tasty final meal.
You can start out with the easy stuff by dicing the celery and the bell pepper into medium pieces. Next, peel and mince the garlic. Now take a deep breath, and start peeling and chopping that onion, also into a medium dice. As a final step, slice up the sausage into bite-sized pieces.
Simmer the beans and spices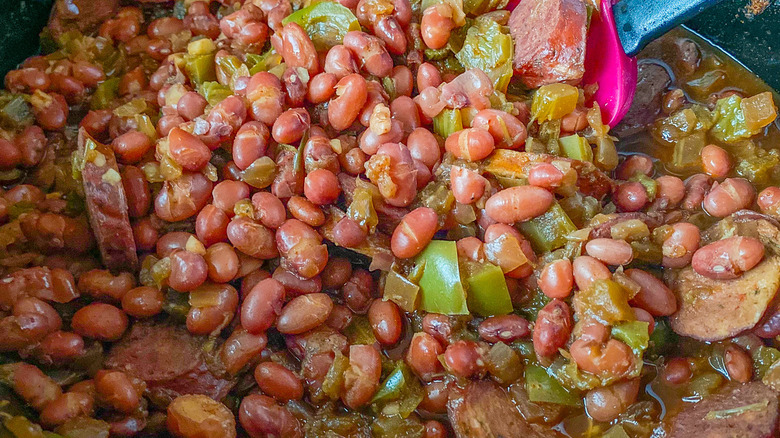 Hayley MacLean/Mashed
Now comes the easy part! Stick all of the ingredients — except for the rice and the scallions — in the slow cooker. Then, add 2 cups of water to the mix. Stir everything up to make sure that all of the ingredients are evenly distributed, then close the slow cooker. Set it on high and cook the beans for 5 to 6 hours, or until they are nice and tender.
If you want to make any tweaks to the seasonings, it's best to do so before the cooking begins. As Maclean says, "This dish does have a bit of spice and heat to it!" That can change depending on the kind of sausage you select as well, so be mindful of both the ingredients that you've bought and your own tolerance for spicy foods.
According to MacLean, "In order to increase or decrease the spice level, more or less cayenne pepper can be used." If you like milder food, you can potentially start with just ½ teaspoon of cayenne. That said, if you're a real hothead, go ahead and add another ½ teaspoon on top of what's already called for in this recipe.
Serve the beans over rice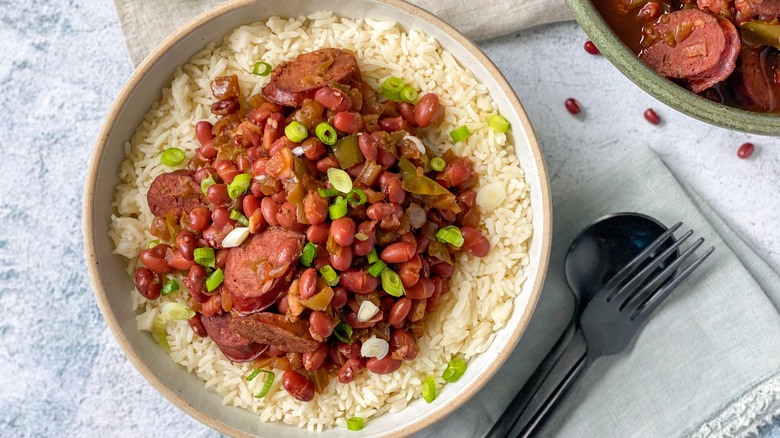 Hayley MacLean/Mashed
When the beans are in their final ½ hour or so of cooking, you'll want to start thinking about making the rice. White rice is traditional here, although you can, of course, try this dish with a variation like some basmati rice or a relatively healthy brown rice base. You could even go with even more nutritious quinoa or another ancient grain instead. And for a pop of color and some extra flavor, you can top it all with some thinly sliced scallions.
However you serve your red beans and rice, MacLean says that people will surely love it. "This dish is definitely the main event of a meal!" she says. Before you serve it, season the final dish with salt and black pepper to taste.
As for sides, you've got quite a few options. If you want to stick with a Southern food theme, MacLean suggests pairing your slow cooker red beans and rice with collard greens and cornbread. If you want a lighter meal, a green salad will also work. And are you still hungry for dessert? Well, of course, you couldn't do better than beignets, cher!
Slow Cooker Red Beans And Rice Recipe
This recipe for the Creole classic of red beans and rice is even easier than the old time staple, due to the fact that it's now made in a slow cooker.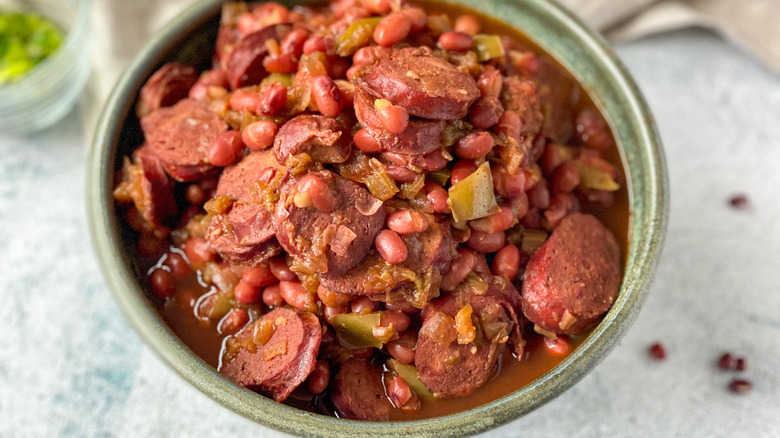 Ingredients
5 cloves garlic, minced
3 ribs celery, diced
1 large yellow onion, diced
1 green bell pepper, diced
1 pound dried red beans
1 pound andouille sausage, sliced
1 tablespoon chili powder
1 teaspoon cumin
1 teaspoon cayenne pepper
½ teaspoon paprika
½ teaspoon brown sugar
2 bay leaves
4 cups chicken broth
Optional Ingredients
Cooked white rice for serving
4 scallions, thinly sliced, for garnish
Directions
Fill the slow cooker with garlic, celery, onion, and bell pepper. Add in the dried red beans, sausage, spices, sugar, and bay leaves.
Add the chicken broth to the slow cooker along with 2 cups of water and stir to combine.
Cover the slow cooker and set it on high. Let the beans cook for 5 to 6 hours, until they are very tender.
Season the cooked beans with salt and pepper to taste.
Serve the beans over rice and garnish them with sliced scallions, if desired.
Nutrition
| | |
| --- | --- |
| Calories per Serving | 348 |
| Total Fat | 14.8 g |
| Saturated Fat | 4.8 g |
| Trans Fat | 0.0 g |
| Cholesterol | 29.2 mg |
| | |
| --- | --- |
| Total Carbohydrates | 35.4 g |
| Dietary Fiber | 12.4 g |
| Total Sugars | 3.9 g |
| Sodium | 595.7 mg |
| Protein | 19.2 g |