Best Halloween Pasta Recipe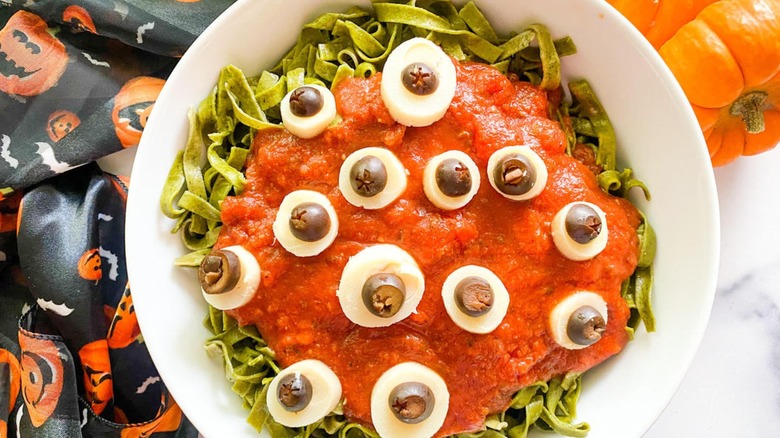 Miriam Hahn/Mashed
Halloween is one of those holidays when parents — actually, everybody — just kind of resigns themselves to the fact that not a single healthy thing will be eaten that day. Not only is Halloween all about the candy, but Halloween party recipes seem to focus on orange-and-black frosted cookies, cupcakes, and brownies as well as spooky green punch. As a brief respite from the sugar, you might find a few recipes for eyeball deviled eggs, mummy-wrapped hotdogs, or pumpkin-shaped pizzas with not a nutrient in sight.
Or, you could whip up a pot of recipe developer Miriam Hahn's monstrously good Halloween pasta. This colorful, flavorful dish is that rarest of holiday recipes — one that looks amazing, tastes great, and is good for you. Hahn says, "I was going for something that was just kind of spooky and goofy at the same time, yet still edible! I love getting creative with food for events and holidays." As a wellness coach, she's concerned that "most Halloween food consists of sugary sweets," and admits "it can be a bit more challenging to come up with entrées that carry out the theme." So how did she dream up this dish? As she tells us, "The green spinach pasta got me thinking in the spooky direction, and then eyeballs came to mind, so I put it together, and yes, I think of it as just a blob monster."
Gather the ingredients for Halloween pasta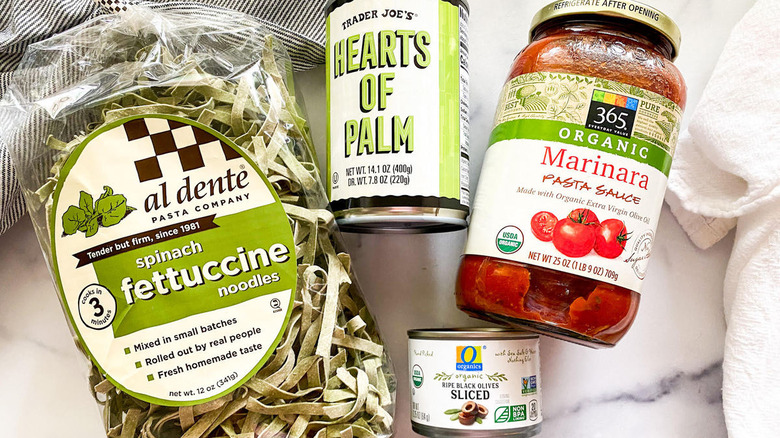 Miriam Hahn/Mashed
You won't need too may different ingredients to make this Halloween pasta. For the pasta itself, you'll be using fettuccine-type noodles, but not just any fettuccine. You'll need to find the kind made with spinach, and Hahn says it's important to make sure it's "very green in color." You'll also need canned hearts of palm and sliced black olives, some olive oil for cooking, and a jar of your favorite marinara sauce. You can use homemade marinara if you like, in which case you'll be using 3 cups of it.
Prepare the olive eyeballs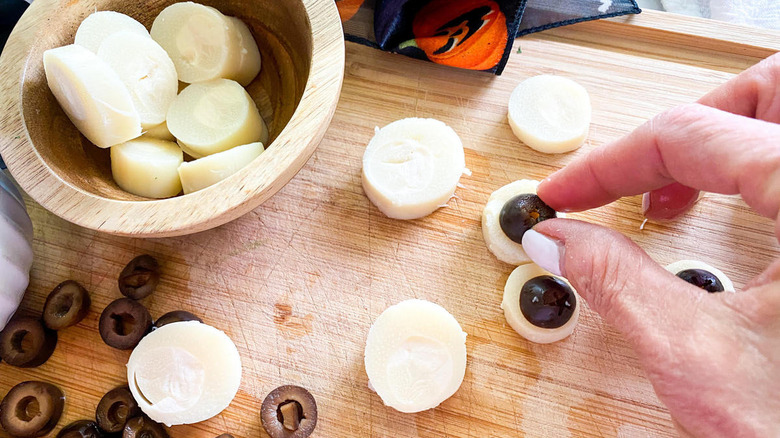 Miriam Hahn/Mashed
Whole hearts of palm come in little cylinder shapes, and you'll need to slice each cylinder into ¼-inch rounds. Next, open the can of olives, and put a sliced olive in the center of each hearts of palm slice. This will make an "eyeball." Hahn suggests, "Look for the ends of the olives in the can [since] those pieces will be solid without a center hole." Set aside your olive eyeballs for the time being, or pop them into the fridge while the pasta cooks.
Cook the pasta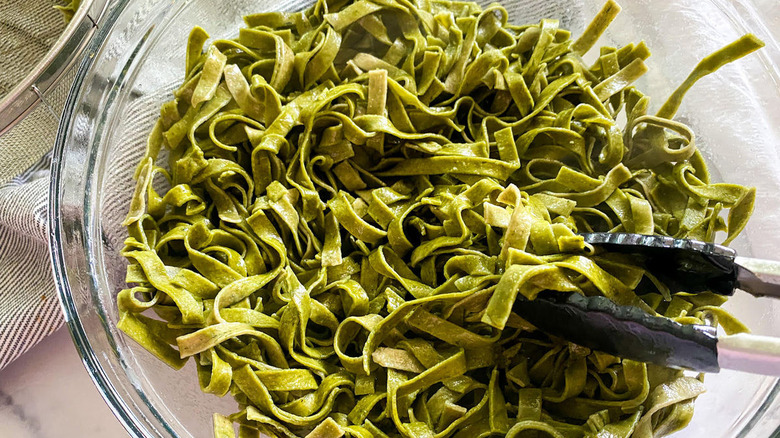 Miriam Hahn/Mashed
Boil a large pot of water (you can actually start heating it before you make the eyeballs) and, once it comes to a boil, add the fettuccine, and cook it as per the directions on the package. Just make sure you don't overcook it, since no-one likes a mushy monster! 
Once the pasta is cooked, drain it, and place it in a bowl. Drizzle the pasta with the olive oil, and then stir it up. (Hahn uses tongs for this step.) The oil helps keep the noodles from sticking together.
Dress up the pasta for Halloween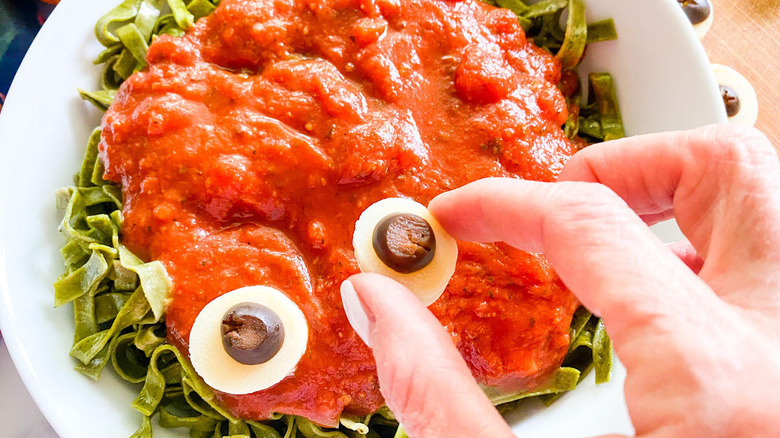 Miriam Hahn/Mashed
Divide the fettuccine up between four plates, and top each one with about ¾ cup of marinara sauce. Don't stir the sauce into the pasta, though, just let it sit on top where its vivid red hue will make a striking contrast to the bright green noodles. As a final touch, all you need to do is dress the pasta with the olive-topped hearts of palm slices. This will create what Hahn calls "a spooky concoction of monster eyeballs!" As to how it tastes, she says, "It actually tastes delicious. The pasta is made from spinach and has great flavor. I used a simple marinara that complements the pasta perfectly and the hearts of palm/olive combo goes surprisingly well." 
Not only will adults like this meal, though, but so will all of the littlest ghosts and ghouls at your house. As Hahn puts it, "This is definitely a dish kids will like and gobble up." The best part? If they fill up on pasta before trick-or-treating, they'll have less room for all that sugar!
Hahn suggests serving this Halloween pasta alongside pumpkin-shaped dinner rolls or bat-shaped biscuit and says you can even add some dry ice to a cauldron of lemonade to turn it into a witches' brew. Sounds like an incredibly festive party idea!
Best Halloween Pasta Recipe
This colorful, flavorful Halloween pasta dish is that rarest of holiday recipes — one that looks amazing, tastes great, and is good for you.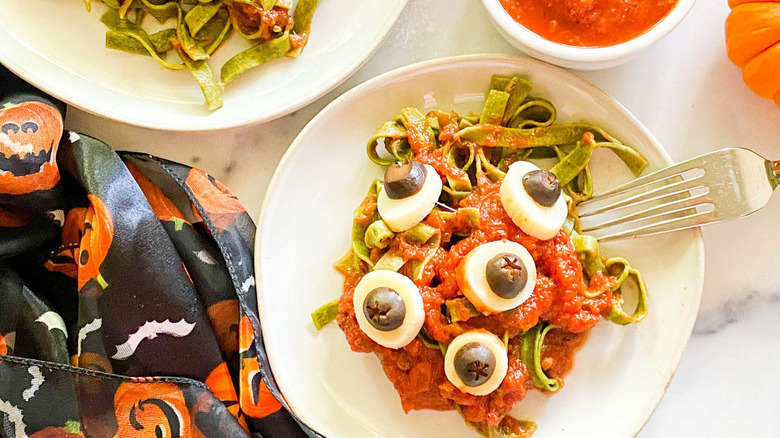 Ingredients
1 (14-ounce) can whole hearts of palm
1 (2.2-ounce) can sliced black olives
12 ounces spinach fettuccine
1 tablespoon olive oil
1 (25-ounce) jar marinara sauce
Directions
Fill a large pot with water, and begin heating it with the stove burner on high.
Slice the hearts of palm into ¼-inch round slices.
Place a sliced olive in the center of each slice to make an eyeball.
Cook the fettuccine according to the package directions, and then drain.
Put the pasta in a large bowl, and drizzle it with olive oil to keep it from sticking, stirring to distribute the oil evenly.
Plate the pasta topped with marinara sauce, but don't stir the sauce into the pasta, just leave it sitting on top.
Dress the pasta with hearts of palm eyeballs to make a monster face.
Serve, and enjoy!
Nutrition
| | |
| --- | --- |
| Calories per Serving | 478 |
| Total Fat | 9.6 g |
| Saturated Fat | 1.4 g |
| Trans Fat | 0.0 g |
| Cholesterol | 3.5 mg |
| | |
| --- | --- |
| Total Carbohydrates | 82.4 g |
| Dietary Fiber | 8.8 g |
| Total Sugars | 12.0 g |
| Sodium | 1,284.9 mg |
| Protein | 16.2 g |