The Surprising Cookie Coated Chicken Tenders Popeyes Once Served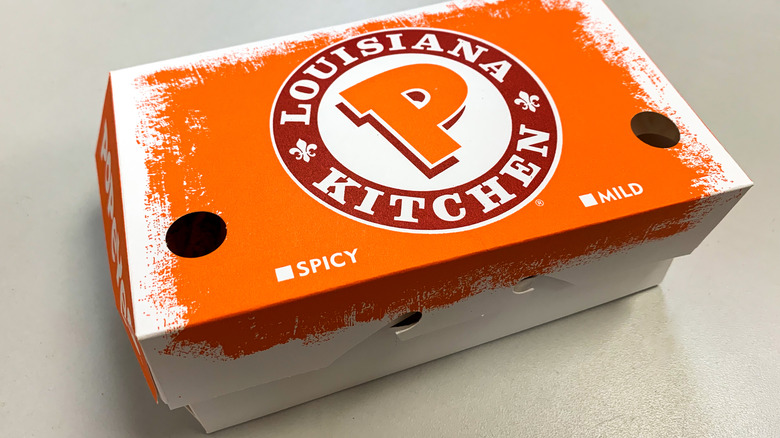 NYC Russ/Shutterstock
Popeyes is quite the restaurant chain. Per its website, the brand's origins can be traced all the way back to 1972. Its founder, Alvin C. Copeland Sr., offered customers a basic but winning dish: spicy chicken made New Orleans-style. By the mid 1980s, Popeyes already had 500 outlets in the country. A short time later, it started building its international presence as well, appealing to even more fans around the world.
The restaurant's menu remains impressive with loads of options such as Cajun fried chicken, chicken tenders, burgers, seafood dishes, and more. The tenders, per Popeyes, are "slow marinated" in a blend especially created by the brand and "hand-battered and breaded" to ensure that they are served fresh. While the dish may come across as a traditional pick, you'd be interested to know that Popeyes once pulled off an unexpected feat with chicken tenders. According to Brand Eating, the twist in the dish was basically the breading had an unexpected sweet ingredient.
Crumbled cookies were involved
In 2017, Popeyes released an unexpected, limited-time menu item that seemed fairly innocent on the outside. The Sweet & Crunchy Tenders from Popeyes were breaded using shortbread cookies and were served with a dip, the Smok'n Pepper Jam sauce. They were basically a mix of sweet and savory flavors and described as crunchy.
According to a Delish article, children especially enjoyed the treat. "I'm not saying this is the best chicken I've ever had, but it's probably in the top five," an honest 10-year-old who tested the tenders remarked. The taste of the dish could easily be compared to chicken and waffles. "Can confirm that they do taste really similarly to the chicken waffle tenders. The dipping sauce is quite good but at first the smoky scent punched me when opening the pack," a Redditor who tried the tenders wrote. Full marks to Popeyes for being gutsy enough to experiment, though!