When It Comes To Aldi Wines, This Bottle Stands Above The Rest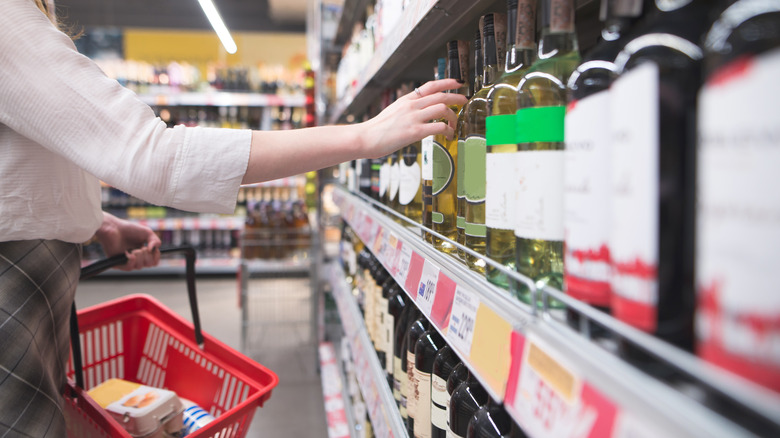 bodnar.photo/Shutterstock
When you have to select the perfect bottle of wine for an occasion, you have your work cut out for you. Price, type of grape used, food pairing, and so much more go into the decision making process when you need to figure out which wine to pull down from the shelf. Even if you know which type of alcohol you want, you might feel put off by the massive variety found at liquor stores and specialty wine shops. Luckily, one reliable grocery store always has your back and offers up a solid selection of red, white, and rosé adult beverages for any occasion.
According to Cooking Light, any wine novice or expert should make sure to pick up their next bottle from Aldi. The chain's selection of this beverage claimed over 35 awards as of 2017. Their Sargent Canyon Cabernet Sauvignon won commendations at the San Diego International Wine and Spirits Challenge, while the $12.99 bottle of Aldi's Broken Clouds Pinot Noir won the title of 2017 Product of the Year. When you visit the grocery chain, you can't go wrong when you select a wine, but one bottle definitely stands above all others.
This is the best wine at Aldi
When you think of superior wine, images of Europe spring to mind. Critics put this idea to rest and claim New Zealand's Exquisite Collection Sauvignon Blanc, Marlborough ranks as a superior all-around wine at Aldi, per Tastings. The white wine found at the retailer contains hints of lime, ginger, gooseberry, and raked in 89 points to receive a silver award from Tastings and a strong recommendation. Reverse Wine Snob concurred, highly recommending the wine and praising its notes of tropical fruit. It comes in at $8.99 per bottle, making it a real steal of a deal.
When you need a bold, award-winning wine that doesn't break the bank, you can't go wrong with a bottle of this sauvignon blanc that guarantees to turn heads and win over the toughest wine snobs. You just need to make sure you can find this bottle in your area. According to Aldi, the chain carries this wine but can't guarantee every area keeps it in stock. If you feel tempted to try this adult beverage, make sure to check the wine aisle during your next grocery run and taste why this fruity sauvignon has won critics over.