Here's What's In Burger King UK's Nearly $10 Gourmet Sandwiches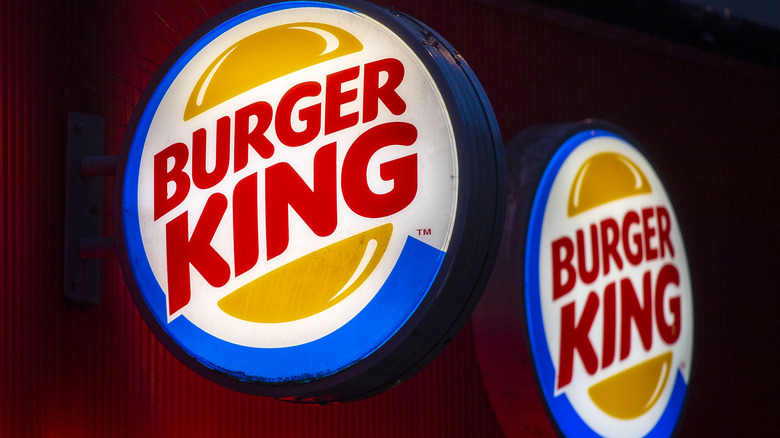 Matthew Horwood/Getty Images
There are a few things the United Kingdom is known for: afternoon tea, the London Tube, and of course, the royal family. Yet, although the Burger King may not be an official member of the British royal family, Burger King UK is now releasing two new gourmet sandwiches that are fit for royalty. The chain announced it will be adding two hearty Gourmet Kings to its menu in the UK that are sure to satisfy even the most sophisticated palates.
The smokey, savory Steakhouse Angus King will feature a flame-grilled British and Irish Aberdeen Angus beef patty, oak-smoked cheddar cheese, crispy bacon, all topped with sliced tomatoes, onions, fresh rocket (aka "a strong, peppery salad leaf"), and flavorful BBQ sauce, smothered between a toasted golden brioche bun. Its companion sandwich, the hefty Argentinian Angus King, features a flame-grilled, 100% Aberdeen Angus Beef Burger smothered with oak-smoked cheddar cheese and chili sauce, topped with layers of sliced, crispy onions, fresh rocket, and the kick of flavorful chimichurri mayonnaise atop a toasted brioche bun. 
These gourmet sandwiches will be selling for a suggested price of £6.99 each, or the equivalent of just under 10 U.S. dollars, according to Chew Boom.
Burger King app users will have exclusive access and deals
These premium Gourmet King Burgers will be released at participating Burger King locations across the UK on October 11. However, Burger King UK customers will have exclusive early access to these gourmet sandwiches beginning on October 8th if they order through the app. But that's not all. Burger King app users will also receive a free drink and fries along with their order of any Gourmet Kings Burger from October 8th through October 10th, according to Burger King UK.
"Our new Gourmet Kings collection has been in development for over a year. We took the time to create and source the perfect ingredients to complement and elevate our flame-grilled, 100% Aberdeen Angus beef," Katie Evans, the Chief Marketing Officer at Burger King U.K., said of the new release (via HypeBeast). "With oak smoked British and Irish cheddar and layers of fresh ingredients, we're delighted to finally serve the Gourmet Kings range to customers across our restaurants and via delivery." Sounds yummy!