The Spicy Popcorn Flavor Nick Jonas Loves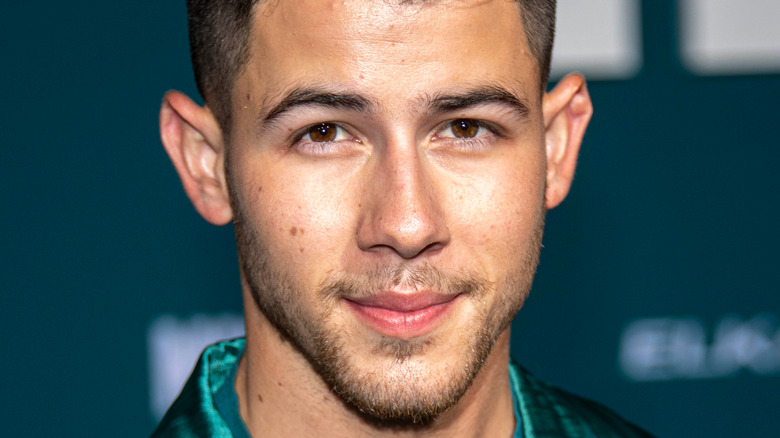 Eugene Powers/Shutterstock
In many ways, Nick Jonas is very different than the average human being. The 29-year-old made a name for himself in the music industry both as a solo performer and as a member of the Grammy-nominated group The Jonas Brothers, but that's not all. Jonas has also had numerous roles on Broadway, where Broadway Buzz says he scored his first role at the young age of 8, has been a coach on NBC's hit singing competition "The Voice," and has a number of acting credits as well (via Biography). Oh, and let's not forget his lavish wedding to actress Priyanka Chopra a few years back that dominated headlines long past when the couple said their "I Dos."
Yes, in many aspects, the "Chainsaw" singer leads a very different life than the rest of the world. However, as the tabloids frequently like to remind us, the stars are, in fact, just like us. And just like us, Jonas loves to munch on a good snack in between writing hit songs and performing on stage. So what is it that fuels the former Disney Channel star through his busiest days? A savory, spicy treat that just might become your favorite thing to munch on as well.
Sriracha popcorn is a snacking fave for Nick Jonas
When it comes to food, Nick Jonas sure knows how to put together a good meal. According to Us Weekly, the pop star is a big fan of Cuban sandwiches, loves Coors Light and good tequila, and when he's on the road with his brothers, Showbiz Cheatsheet reports that there's always Hu Kitchen chocolate backstage. But despite the sweet treat being a staple when the Jonas Brothers are on tour, the youngest member of the band prefers a snack that is more on the savory side. "I like sriracha-flavored popcorn," Jonas told Us Weekly in 2015, which appears to be quite a different flavor profile than he and his brother's newly-launched Rob's Popcorn, but still sounds quite tasty nonetheless.
If you're interested in giving the "Spaceman" singer's favorite popcorn a try during your next movie night, Ree Drummond has a fairly easy recipe that you can follow. Simply melt butter and Sriracha sauce together over the stove and drizzle over a batch of popped popcorn, making sure to toss it all together so that each piece gets evenly coated. And though you may be anxious to dig into the snack before your feature film gets underway, Jonas says that's against the rules. "No eating during previews!" he declared. We'll do our best, Nick, but no promises.