Sara Hauman's Mussels En Escabeche Recipe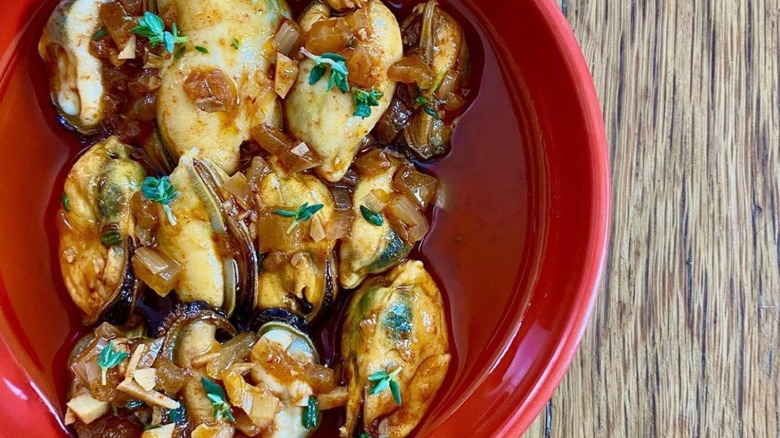 Sara Hauman
If you're like us, and can't wait to try "Top Chef" season 18 contestant Sara Hauman's upcoming canned seafood line, Tiny Fish, this simple recipe will give you a taste of what's to come. During an exclusive an interview with Mashed, Hauman revealed that for her exciting new venture, she's eschewing the familiar canned tuna, salmon, and oysters for "the weird stuff." To kickoff the Tiny Fish line, which she hopes to debut by the time the holidays roll around, Hauman plans to do a version of Spanish-style mussels en escabeche. "I would love for the focus of my line of tinned fish to be more about eating as is," she said. "I want it to be something that's really easy and delicious, you can eat it over a bowl of rice. You can use a little baguette as a napkin, so you don't get grease all over your shirt."
The decision to launch the line with a traditional Spanish tapas offering makes perfect sense considering Hauman, who is based in Portland, wants to stick with seafood sourced in the Pacific Northwest (where mussels are in abundance), plus the fact that the chef has spent ample time in Spain. That includes a season working at Basque Country sensation Asador Etxebarri, which was recently ranked third on the World's 50 Best Restaurants list.
For this recipe, Hauman uses fresh mussels which are steamed in wine and then marinated in a fabulous tangy sauce. She tosses in a welcome curveball with the addition of spicy and numbing Szechuan peppercorns. If you were looking for an excuse to throw a tapas party, this is definitely it!
Sara Hauman's Mussels En Escabeche Recipe
"Top Chef" contestant Sara Hauman offers up a beautiful Spanish seafood dish, highlighting fresh mussels with a peppery sauce.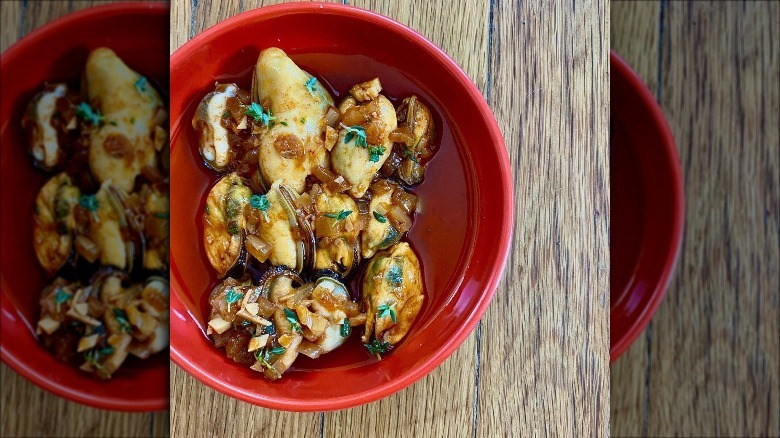 Ingredients
2 ½ lbs mussels
½ cup dry rose or white wine
½ cup white onion, small dice
1 each garlic clove, minced
¼ cup olive oil
¼ cup bacon fat
½ tablespoon sweet paprika
½ teaspoon coriander seed, crushed
¼ teaspoon Szechuan peppercorn, crushed
⅛ teaspoon cumin seed, crushed
¼ cup sherry vinegar
½ teaspoon salt
Directions
Rinse the mussels well under cold water.
Heat a large pot with a lid over medium heat and add the mussels with ½ cup of dry rose or white wine. Place the lid on the pot and steam the mussels until they have opened, around 6 or 7 minutes.
Once all of the shells have opened, pour the mussels onto a baking tray and place them in the fridge until cool.
Once cool, remove the mussel meat from the shells. Reserve the meat and discard the mussel shells and cooking liquid.
For the sauce, heat a small pot over medium heat and add the oil and bacon fat.
Add the onion and garlic and cook on medium heat until translucent in color.
Add in the paprika, coriander, cumin, and Szechuan peppercorn, then toast for 1 minute until fragrant.
Turn the heat off and add the vinegar and salt. Stir and let the mixture cool to room temperature.
Add the mussels into the escabeche and let marinate for at least a few hours in the fridge before serving.
Nutrition
| | |
| --- | --- |
| Calories per Serving | 517 |
| Total Fat | 32.9 g |
| Saturated Fat | 8.1 g |
| Trans Fat | 0.0 g |
| Cholesterol | 91.6 mg |
| | |
| --- | --- |
| Total Carbohydrates | 13.6 g |
| Dietary Fiber | 0.7 g |
| Total Sugars | 1.0 g |
| Sodium | 863.3 mg |
| Protein | 34.1 g |