Halloween Candy Eyeballs Recipe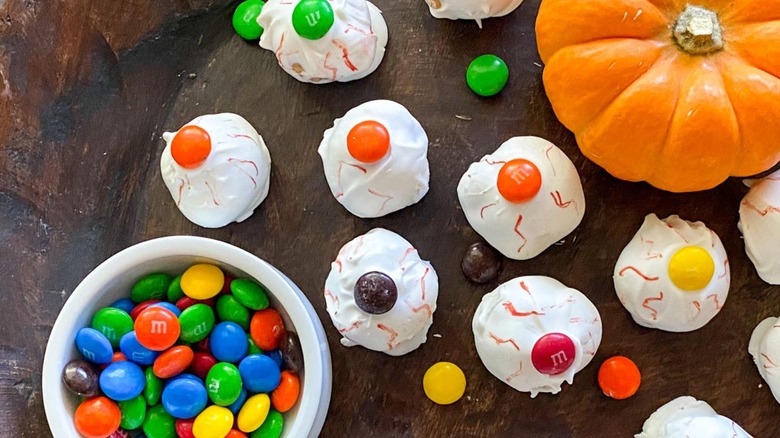 Miriam Hahn/Mashed
Halloween is almost here, and you know what that means — treats galore ... and also lots of spooky stuff everywhere you look. The best treats of all are ones that manage to combine the sweet and the scary to come up with something creepy-cute like these delicious white chocolate candy eyeballs. It's what's inside these eyeballs, though, that makes them so special.
As recipe developer Miriam Hahn of YouCare-SelfCare tells the story, "A few years ago, I was asked to bring 'scary' treats to a Halloween party, so that is when I came up with these. When I was a kid, my mom used to make peanut butter and honey freezer balls, and so I decided to try covering that with white chocolate to make scary eyes." While the thought of making filled and dipped candies may be a bit intimidating if it's something you've never done before, Hahn has included all of her tips and tricks to help make sure your "eyeballs" are a sight worth seeing. You won't believe your own eyes when you see how good they look on your Halloween spread!
Gather the ingredients for Halloween candy eyeballs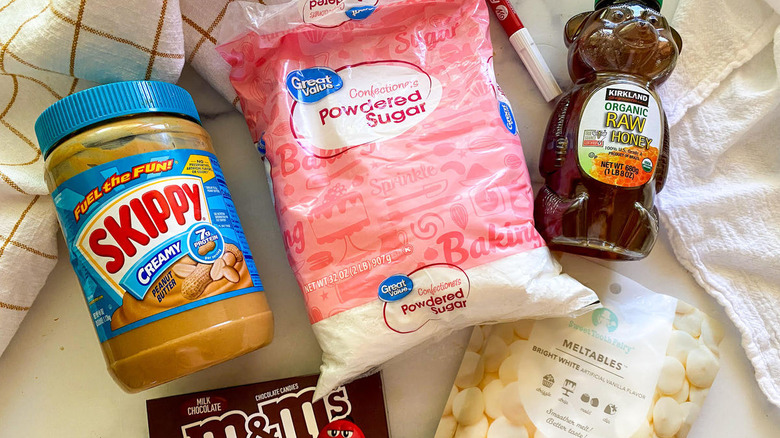 Miriam Hahn/Mashed
The filling for these eyeballs contains nothing more than ingredients you probably already have in your pantry: smooth peanut butter, honey, and powdered sugar. If peanut butter isn't a good option for you, Hahn notes, "You can sub out the nut butter. Sunflower seed butter works fine if you want to make them nut-free. You can also use almond or cashew butter," although again, in all cases, it will need to be a smooth variety.
The ingredients that will turn this filling into eyeballs, though, are a little more specialized. While Hahn says you can use plain white chocolate for a coating, she favors Meltables, a craft candy coating she purchased at Michaels. "The Meltables are definitely easier to use than chocolate ... if you can make it to a craft store, these are worth getting [since] it is super easy to dunk [the candies in] these and coat them, and they harden really nice." There are other brands sold under names such as candy wafers and candy bark, but any type of chocolate specifically made for dipping will work best for these Halloween eyeball treats.
To decorate the eyeballs, you will need red gel food coloring. Even better would be a food coloring pen, if you can find one. The centers of the eyeballs, however, are made with good old M&Ms, which are available just about anywhere anytime of year.

Make the peanut butter filling, and form it into balls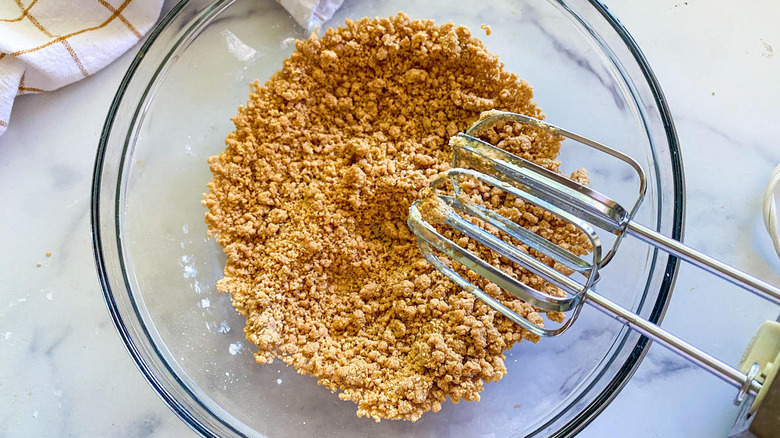 Miriam Hahn/Mashed
Start by mixing the peanut butter and the honey together in a large bowl. You may find it easier to mix them if they are both at room temperature first. Don't worry if the mixture is way too gooey for a candy filling, as the next steps are going to fix that. Once you add the powdered sugar, the filling will stiffen up quite a bit — so much so that you'll probably need to use an electric hand mixer to beat it into the peanut butter.
Next, take out a tablespoon, and measure a scoop of filling. Roll it into a ball, and place it on a parchment or wax paper-lined baking sheet. (As you won't be doing any baking, wax paper is okay to use here.) Repeat the process until you use up all the filling, at which point there should be 15 peanut butter balls. Put these in the freezer for 15 minutes to make sure they are hard enough and cold enough to keep their shape when dipped in the hot white chocolate coating.
Dip and decorate the eyeballs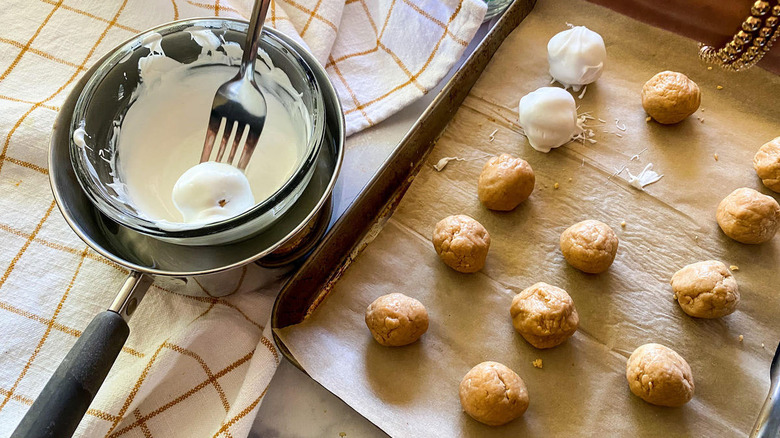 Miriam Hahn/Mashed
Just before you take the eyeballs out of the freezer, melt the chocolate coating. You can do so in the microwave, where it will take just a minute or two, or you can do so in a glass dish over a pan of boiling water. This latter method, Hahn says, should take about seven to eight minutes. Once the chocolate has melted, use a fork to dunk each ball. Once the ball is thoroughly coated, set it back onto the baking sheet.
Insert the M&Ms into each eyeball before the white chocolate sets. Once all of the eyeballs have their centers, put them in the fridge for 15 minutes so the candy coating can harden. As a final step, use the red food coloring to draw on veins to make them appear bloodshot.
These candy eyeballs make a fun family project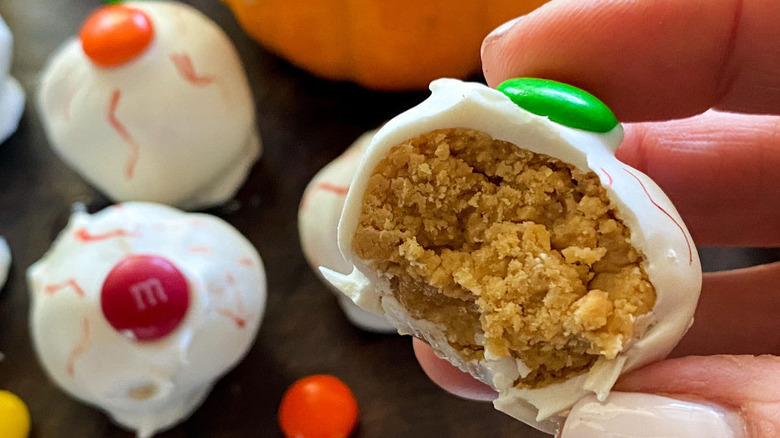 Miriam Hahn/Mashed
Hahn says that these candies work great as part of a Halloween treat platter alongside other spooky treats, but she also notes that they can make "a cute little dessert for a playdate lunch." In fact, she mentions, "The kids can even help make them. They can help roll out the balls or put in the M&Ms." These eyeballs, she tells us, make for "a fun food craft," but they're even more fun to eat. Although they're incredibly delicious, she also says they're "very rich, so one usually does the 'sweet tooth' trick." If you have any leftovers, you can store the candies in the fridge.
Halloween Candy Eyeballs Recipe
The best treats are ones that combine the sweet and the scary to come up with something creepy-cute like these Halloween white chocolate candy eyeballs.
Servings
15
Candy Eyeballs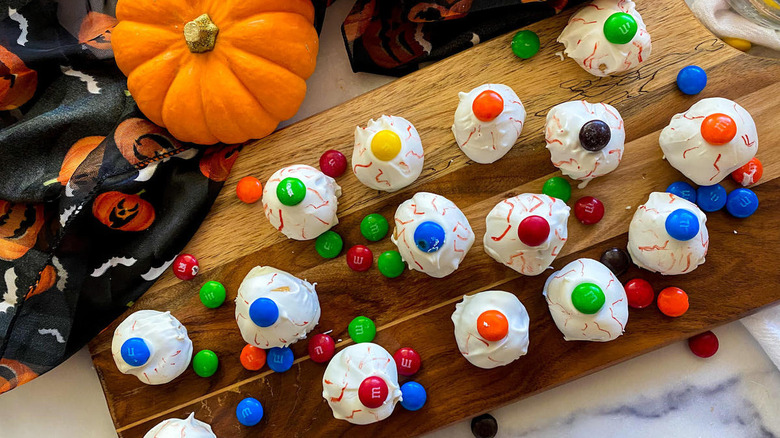 Ingredients
½ cup smooth peanut butter
3 tablespoons honey
1 ¼ cups powdered sugar
12 ounces white dipping chocolate
15 M&M's
1 red food coloring marker or red gel food coloring
Directions
Mix the peanut butter and honey in a large bowl until blended.
Add the powdered sugar to the peanut butter mixture, and beat with an electric hand mixer until it's crumbly and all of the sugar is incorporated.
Use a tablespoon to measure out each scoop of candy filling, and roll into a ball.
Place each peanut butter ball onto a small baking sheet lined with parchment paper. You should get 15 balls in total.
Place the candies in the freezer for 15 minutes.
Melt the white chocolate in the microwave or in a glass dish sitting in a pot of hot water.
Dunk each peanut butter ball into the chocolate with a fork, and then set it back onto the baking sheet. Repeat for all 15 balls.
Insert the M&M's while the chocolate is still wet, then put the eyeballs in the refrigerator for 15 minutes to harden.
When the eyeballs are firm, use the red marker to create blood vessels.