Air Fryer Bananas Recipe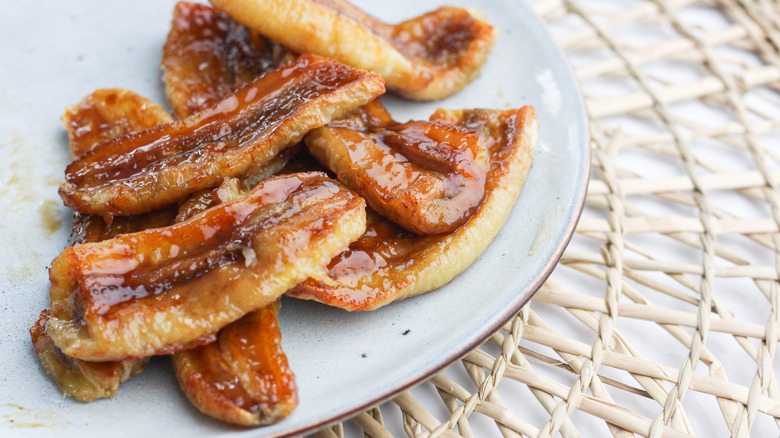 Susan Olayinka/Mashed
Air fryers have definitely simplified plenty of our favorite recipes, reducing the level of involvement required. Not to mention, thanks to the way in which air fryers function, recipes can be made with minimal fat while keeping the flavor high. Susan Olayinka is a recipe developer and food blogger at The Flexible Fridge, and making tasty meals that can be whipped up in no time is her specialty. When you have a busy home life, there's no time to spend hours in the kitchen cooking. In that vein, Olayinka put her kitchen equipment to good use and created this delicious air fryer bananas recipe that you'll be hooked on.
If you're looking for a quick dessert idea to serve at home, this is definitely an amazing idea. It's also easy to whip up with very few ingredients, which you likely already have on hand. As well, you'll find lots of ideas to pair these bananas with if you want to make an elaborate dessert to impress your guests. You'll love this sweet treat which Olayinka describes as "soft and gooey!"
Gather the ingredients for air fryer bananas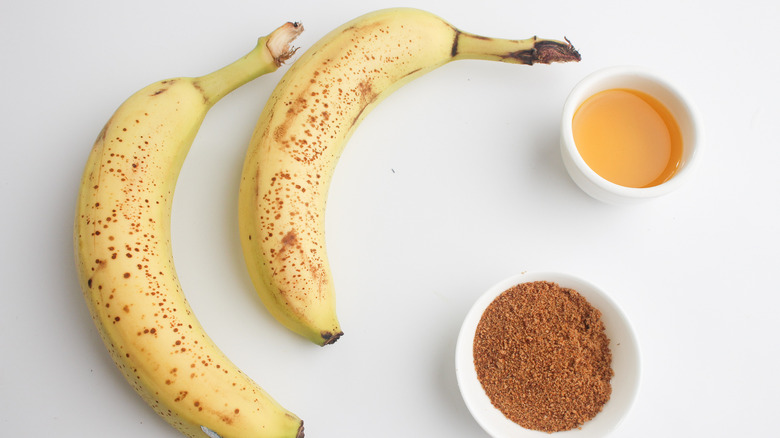 Susan Olayinka/Mashed
This quick recipe requires only three minutes of prep time, so you had better gather up your ingredients before beginning. You'll need two bananas, one for each serving. Look for bananas that are slightly spotty, avoiding any that are overly brown and soft or green on the other extreme. Next, for the air fryer, you'll need some rapeseed oil — Olayinka confirms that canola or vegetable oils would also be suitable. Finally, coconut sugar is sprinkled over the bananas to create a lovely caramelized finish. In case you can't get your hands on coconut sugar, there are various substitutes to use including light brown sugar. If you want to add extra flavor, Olayinka shares that she has successfully experimented "mainly with spices like nutmeg, cinnamon, cloves."
Slice the bananas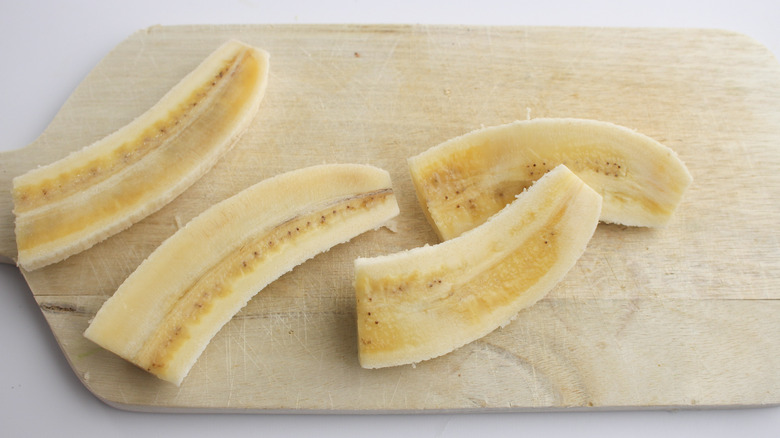 Susan Olayinka/Mashed
To start off, you'll want to prepare the bananas for this delicious dessert recipe. Remove and discard the peel, then set the bananas on a cutting board. With a sharp knife, cut each banana in half horizontally. Then, take each banana half, and slice it again, this time vertically from top to bottom. You should now have one rounded side and one flat side. Lay the bananas on a plate with the flat side facing up.
Brush the bananas with oil, and sprinkle on the coconut sugar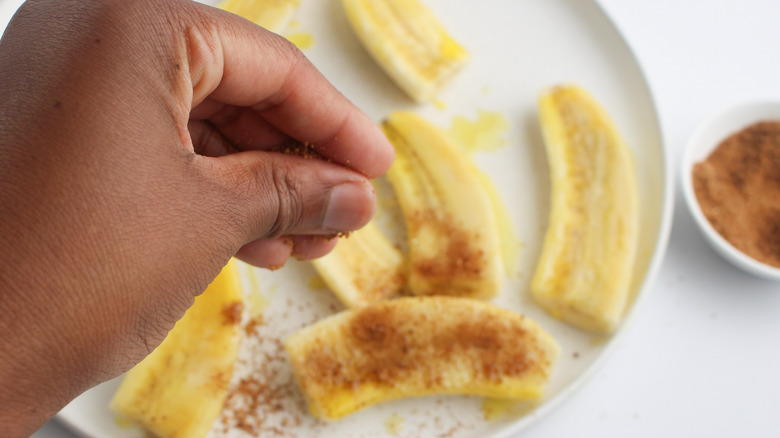 Susan Olayinka/Mashed
Now, with the help of a pastry brush, spread the rapeseed oil across the banana's flat surface. Sprinkle the coconut sugar over top, making sure to properly cover the bananas for an extra caramelized exterior. The combination of oil and sugar allows the bananas to retain moisture as they caramelize, ensuring that the inside is pleasantly soft. If you're planning to add extra spices, sprinkle them on before the next step.
Transfer the bananas to the air fryer, and cook for 12 minutes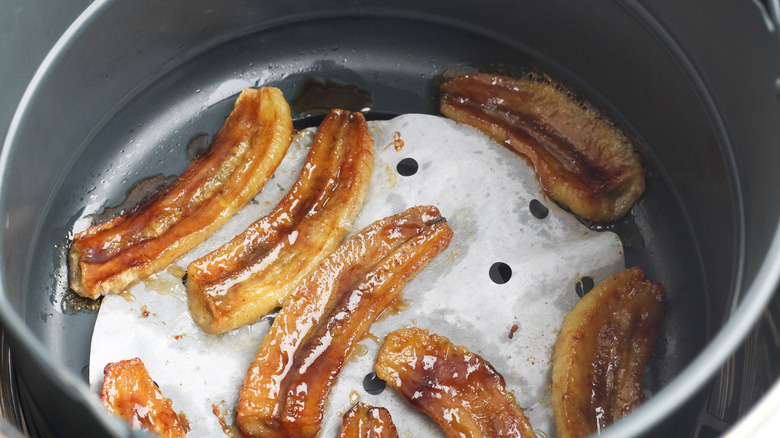 Susan Olayinka/Mashed
Once the bananas have been prepped, it's time to cook them. Line the air fryer tray with parchment paper, and transfer the bananas on top. (Be sure to select the proper type of parchment paper for your air fryer, and be sure to place the parchment paper down right before you place the bananas on top of it, according to Air Fry Guide.)
Then, set the air fryer temperature to 350 F, and cook the bananas for 12 minutes. You'll know they are ready once the sugar has melted and created a sticky caramelized coating. Turn off the air fryer, and transfer the bananas to a plate to cool slightly.
Serve these tasty bananas for a sweet treat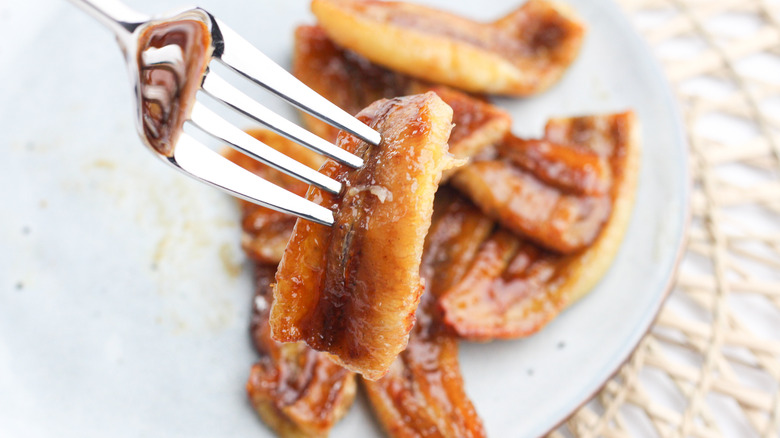 Susan Olayinka/Mashed
These delicious air fryer bananas are ready to enjoy, and the options for accompaniments are unlimited. Olayinka is a fan of serving them with "ice cream, or ice cream and waffles, or just on their own!" To upgrade your breakfast, try adding them to a bowl of cinnamon oatmeal, or serve them with peanut butter toast. Since the process is quick, and these bananas taste great warm, Olayinka recommends it's a good idea to prepare them fresh.
Air Fryer Bananas Recipe
If you're looking for a quick dessert idea to serve at home, this air fryer bananas recipe is definitely a good idea.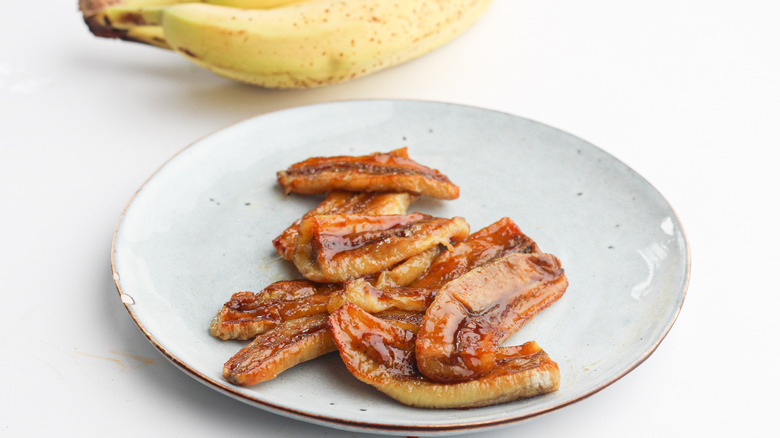 Ingredients
2 bananas
1 tablespoon rapeseed oil
1 tablespoon coconut sugar
Directions
Cut the bananas in half first horizontally, then vertically.
Lay them out on a plate, flat side up.
Using a pastry brush, brush the rapeseed oil over the surface of the banana.
Sprinkle the coconut sugar on top.
Place the coated bananas on a lined air fryer tray, and cook them for 12 minutes at 350 F.
Serve, and enjoy!
Nutrition
| | |
| --- | --- |
| Calories per Serving | 187 |
| Total Fat | 7.4 g |
| Saturated Fat | 0.6 g |
| Trans Fat | 0.0 g |
| Cholesterol | 0.0 mg |
| | |
| --- | --- |
| Total Carbohydrates | 32.4 g |
| Dietary Fiber | 3.0 g |
| Total Sugars | 20.2 g |
| Sodium | 4.2 mg |
| Protein | 1.3 g |