We Tried Burger King's New Plant-Based Chicken Nuggets. Here's How It Went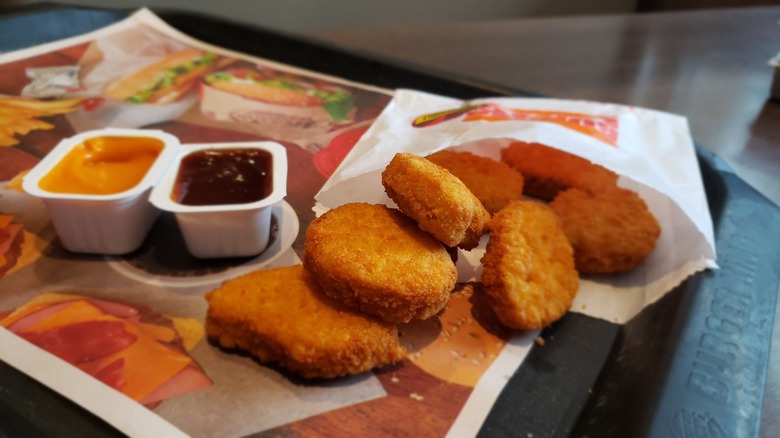 Matt Meltzer
The Burger King is expanding his kingdom. Not satisfied to be the self-proclaimed ruler of all things burger, the fast food monarch is moving to be the king of plants, too — or, at least, the king of plant-based meat alternatives.
The burger chain, which introduced the Impossible Whopper in 2019, is now rolling out a new line of plant-based chicken nuggets. In case anyone might be even a little confused, they're calling them Impossible Nuggets Made From Plants. This might lead one to wonder why they don't call their other nuggets "Made From Chicken," but that's a rabbit hole we'll save for another time.
The new nuggs rolled out on October 11 in a few test markets. And like a sneakerhead camping outside so he could be the first to scoop up a pair of new Yeezy's, we hit the nearest Burger King on opening day to give these things a shot. (Fortunately, it didn't involve camping out overnight in the drive-thru.) Here's everything you need to know about Burger King's Impossible Nuggets Made From Plants, and how they stack up to the originals.
What are Burger King's Impossible Nuggets?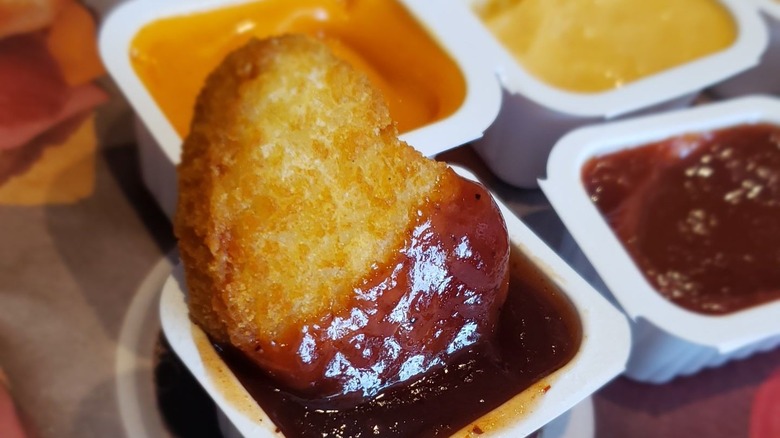 Matt Meltzer
As the quite lengthy name might imply, Burger King's Impossible Nuggets Made From Plants are a plant-based take on the traditional chicken nugget. They are a vegan alternative to the crispy fried favorite, ideal for that person trying to cut out meat, but who still wants to indulge in fast food. The nuggets are made from the same Impossible Foods plant-based protein as Burger King's Impossible Whopper (a mixture of wheat flour, soy protein, soybean and sunflower oil, spices), and a whole bunch of other ingredients.
"This isn't the first time we've teamed up with Impossible to make waves in the industry," Ellie Doty, Chief Marketing Officer, Burger King North America, said via a press release. "It's only fitting we're the first global QSR to test the Impossible Nuggets. We're excited to hear what our guests in the test markets think of this latest innovation."
They are one of two test nuggets Burger King is rolling out this week. Alongside the Impossible Nuggets Made From Plants, the chain is also testing out new Ghost Pepper Nuggets. So if you're still open to traditional chicken nuggets, but looking for some insane spice, you might want to give those a shot too.
What are they served with?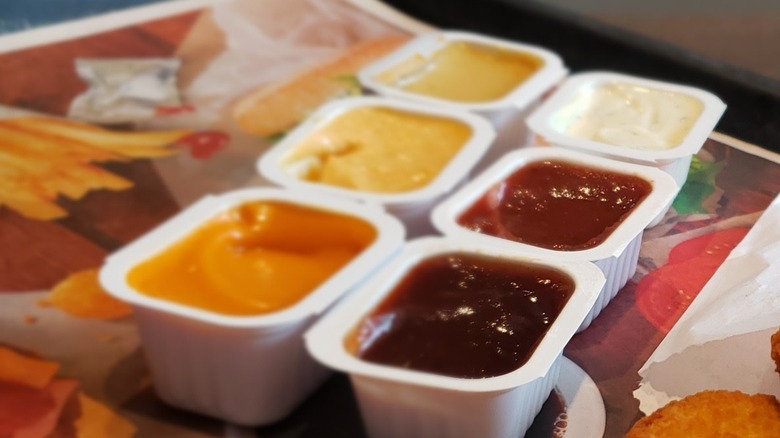 Matt Meltzer
Each order of Burger King Impossible Nuggets are served in an attractive paper bag, in orders of eight. In addition to the nuggets, you'll also be able to choose any and all of Burger King's line of signature sauces. For those unfamiliar with that particular selection of condiments, it includes Ranch, Buffalo, Barbecue, Zesty, Honey Mustard, and Marinara. And if you're feeling ketchup with your plant-based snack, well, ask nicely and they'll throw those in too.
While tasting and ranking the sauces is another story altogether, it is important to note that because these plant-based nuggets don't have quite as much flavor as their poultry-based counterparts, they take on the flavor of whichever sauce you dip them in. That is to say, they become a vehicle for the sauce, kind of a tortilla chip with guacamole or a crostini with bruschetta. So choose wisely, or choose them all.
How do they stack up to regular chicken nuggets?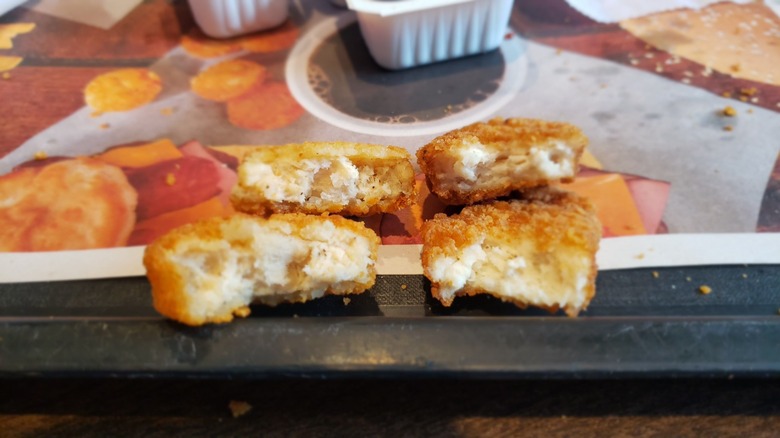 Matt Meltzer
If you've been eating fast food chicken nuggets for a while, you've probably come to realize they taste less like chicken, and more like deep-fried mush. Which bodes really well for the Impossible Nuggets Made From Plants, because the bar has now been set ridiculously low. We're happy to report that when tasted side by side, the plant based nuggets are almost indistinguishable from chicken nuggets; they too taste like deep fried mush, but a little less greasy. To that end, we might almost say the plant based nuggets are better, as they offer a cleaner, crisper flavor than the chicken nuggets. And don't leave you thinking too hard about which parts of the chicken you're eating.
When compared to the Impossible Whopper, you wouldn't even know they were made from the same thing. Part of Impossible's shtick is making whatever they create taste like the original, so they in no way taste like a flame-broiled plant patty formed into breaded-and-fried nugget. There's really no similarity here, like comparing lab-produced and chemically-concocted apples and oranges.
What do they cost?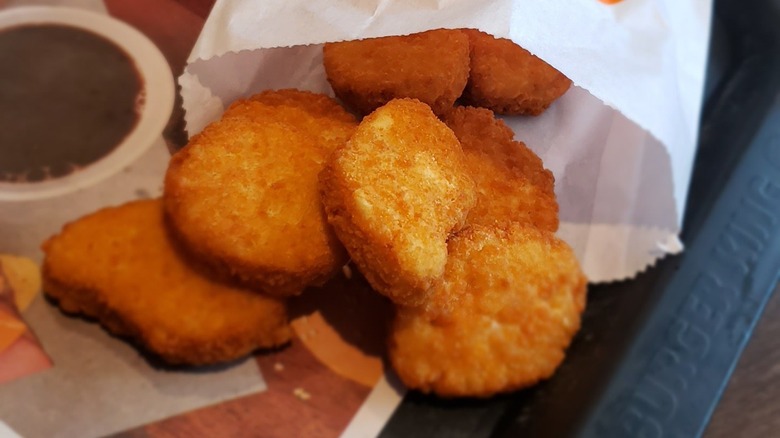 Matt Meltzer
It took us a while to discover how much the Burger King Impossible Nuggets Made From Plants cost. That's' because the things are so new, they're not in the ordering systems of most participating restaurants, and don't appear anywhere on Burger King's website or mobile app. Our order involved the cashier kindly calling the store manager, asking how much they were, and charging us for a fried chicken sandwich instead. Total cost: $3.49.
Now, that's considerably more than a eight-piece order of traditional chicken nuggets, which clock in at $1.49. This somehow feels a little better, though, because the research, development, and ingredients involved in creating a plant-based nugget seem like they should cost at least 40 cents each. A piece of a once-live animal selling for less than a quarter, however, makes you think a little harder than you want to about what's in it. So consider the over-double cost your price for peace of mind.
Where can I find them?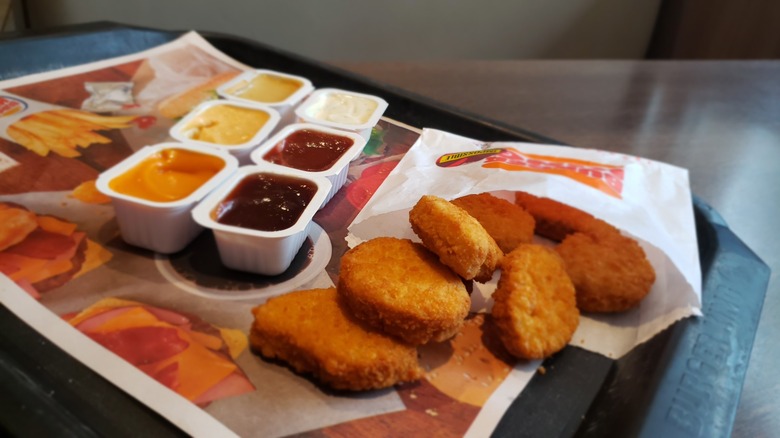 While we'd love to tell America that these new plant-based wonders are available everywhere, sadly that's not the case. Only people lucky enough to live in Boston, Miami, and Des Moines can roll into participating Burger King restaurants and order these babies. So, if you're the kind of person who likes to base their fall weekend getaways around limited-time fast food promotions, well, Des Moines, like Paris, is never a bad idea.
When announcing their new nuggets, Burger King said they'd be available for a "limited time." When pressed for exactly how limited that would be, a Burger King representative told Mashed that it had not yet been determined, and since this was a market test, they were waiting to gauge response before deciding whether to roll the stuff out nationally. So, the short answer is, Impossible Nuggets may never come to a Burger King near you. Or it may be there sooner than you think. Stay tuned.
Nutrition info for Burger King Impossible Nuggets Made From Plants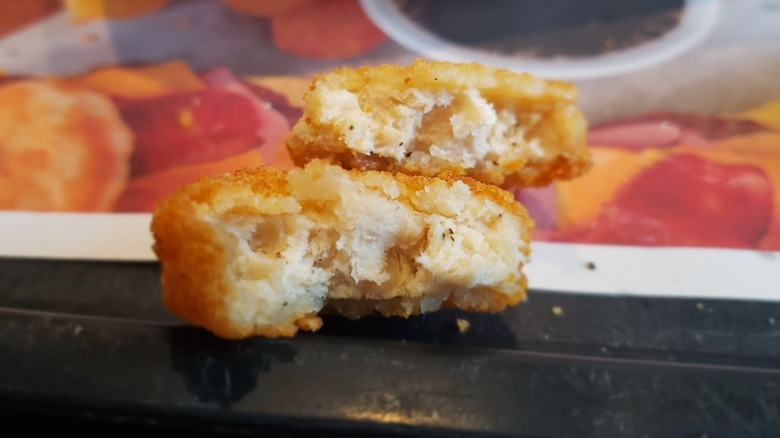 Matt Meltzer
While Burger King Impossible Nuggets are a lower-fat alternative to traditional chicken nuggets, don't walk in thinking they're anything resembling health food. Remember, they're still deep fried, and have soybean and sunflower oil "to make them juicy," according to Impossible Foods. That breaks down to 240 calories per five-nugget serving, or about 384 calories per eight-nugget order. It has about 19 grams of fat per order, 2.4 grams of saturated fat, 768 mg of sodium, and just over 30 grams of carbohydrates. Note that these are the figures provided on Impossible Foods' website, and its unclear whether they include whatever fat and calories might be added by deep frying in a Burger King fryer.
How does this stack up to regular chicken nuggets? It's pretty comparable. According to Burger King's nutrition facts, for a serving of eight chicken nuggets, you're looking at 340 calories, 22 grams of fat, 3 grams of saturated fat, 620 mg of sodium and 22 grams of carbs. So they're slightly lower in fat, but higher in sodium and carbohydrates, with slightly more calories.
The Verdict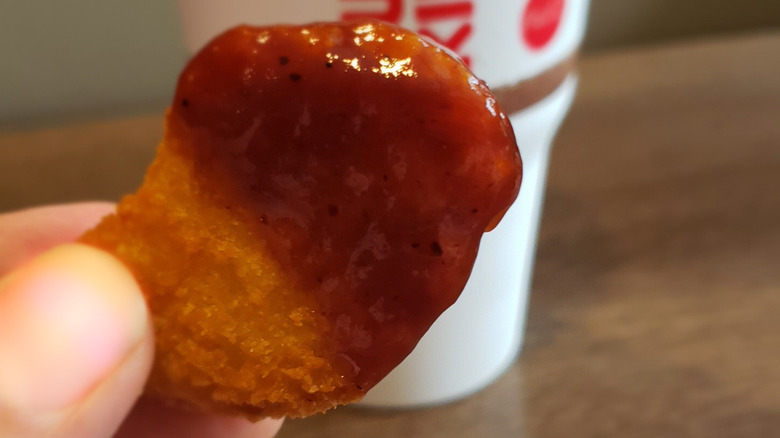 Matt Meltzer
If Burger King's Impossible Nuggets have taught us one thing, it's that plant-based food is most certainly not automatically healthy. That's not saying they don't still provide that instantly satisfying, mouth exploding joy of a crispy deep-fried food. It's just saying your stomach will punish you for these just as much as it will for the chicken nuggets.
The beautiful thing about these nuggets, though, is that they are more or less indistinguishable from their chicken-based brethren with a pretty mild breading that doesn't interrupt the flavor. The texture isn't dry at all, thanks mostly to the oil, and we wouldn't hesitate to try them again if we walked into Burger King to order something other than a burger.
Impossible Nuggets also make a pretty decent substitute for mozzarella sticks when dipped in marinara sauce. They're not as gooey or creamy, but do give you that panko-breaded texture and sweet tomato zing that come with the traditional bar snack. Burger King's Impossible Nuggets might not taste like much, but they can be made to taste like anything. And if you've got a vegan in tow on your next Burger King run, these nuggets will ensure they never feel left out.