3-Ingredient Tomato Tart Recipe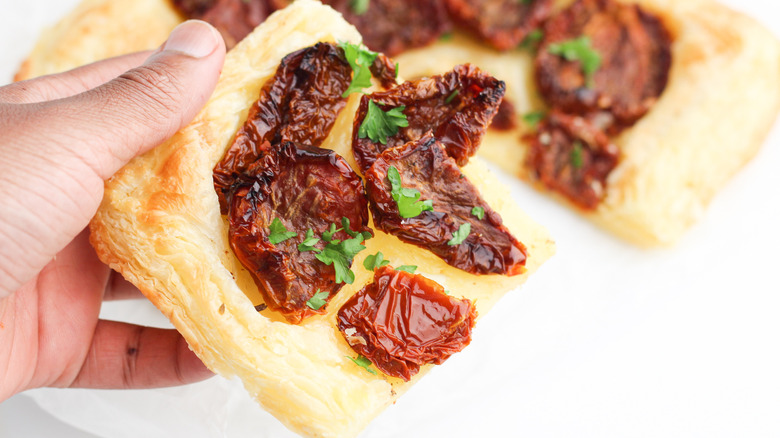 Susan Olayinka/Mashed
Welcome back to the Mashed kitchen! Today we're talking easy hors d'oeuvres. To that end, Susan Olayinka, food photographer and recipe developer from the Flexible Fridge has crafted a supremely easy puff pastry tomato tart we know you'll love! Whether you're hosting an event or serving the family, our rustic tart will tame your hungry guests before the first course hits the table.
Fashioned with pre-made puff pastry, this tart is elegantly easy and delivers maximum visual and flavor impact. Even better, it requires just three ingredients. As if that weren't enough, this recipe is fully vegetarian, making it great for mixed groups.
Generally speaking, we adore the simplicity of appetizers! Hors d'oeuvres prep the palette before a delicious meal and often serve as a complement to the main entree. And if you're feeling especially creative, you have plenty of room to improvise and swap out ingredients to your heart's content! Perhaps you'll want to add a bit of cheese like feta, some different herbs, or a spread of Dijon mustard. Customizing these pastries will be darn near effortless.
The ingredient trifecta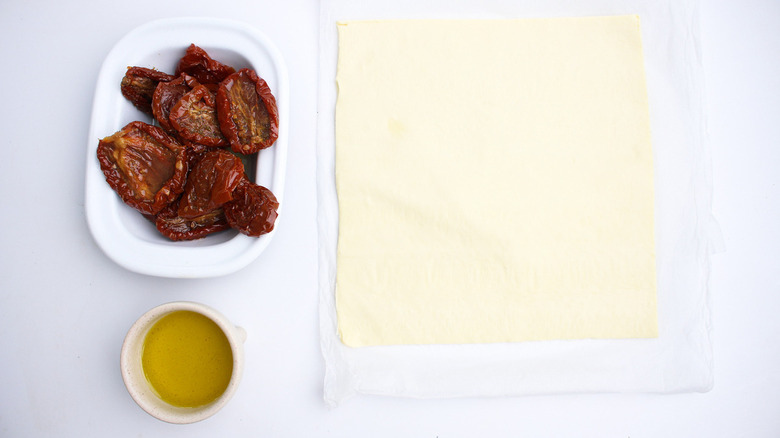 Susan Olayinka/Mashed
Even if you have to make a trip to the grocery store to grab some of these recipes, rest assured that this won't take long at all. Three simple items will get you started! First and most importantly, you'll need an 8x8 inch square of unsweetened puff pastry. Now, you can make your puff pastry from scratch if you're feeling especially ambitious, but the store-bought brands work just as well. You should be able to find a few puff pastry options waiting for you in your grocery's frozen foods section.
You'll also need 1 tablespoon of olive oil and 13 sun-dried tomatoes. Yes, that's really it. Keep in mind that the sun-dried tomatoes you get will probably have a decent amount of salt in them, so no need to fret about seasoning. Olayinka told us that homemade sun-dried tomatoes are equally flavorful as the pre-made stuff, both of which deliver rich umami flavor. "I got my tomatoes from a jar with oil in it," Olayinka told Mashed.
Crimp the pastry edges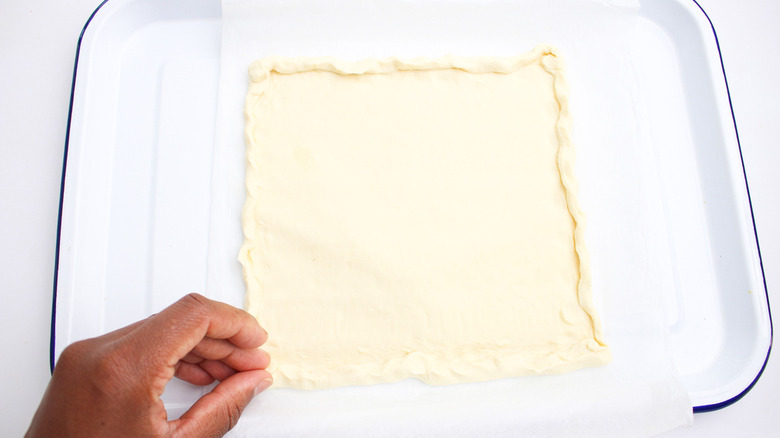 Susan Olayinka/Mashed
Now that you've assembled your ingredients, take a moment to preheat your oven at 425 F. Doing so at this point will ensure that your oven is up to temperature and ready to go once you've put together the pastry.
Set your pastry on a baking sheet lined with parchment paper or covered with cooking spray. Begin folding ½ inch of the dough edges inward. Do this along every side of the pastry, until a square frame has formed. Elevate the edges a bit by pinching them, so that they rise upward.
Olayinka is especially full of praise for the flexibility of puff pastries. "I love everything puff pastry," she says. "I think they're great for putting vegetables on." And, if you're interested in impressing a few other people, Olayinka says that puff pastry has got you covered there, too. In her words, this tomato tart puff pastry is "a good lunch option if you want to look fancy!"
Baste your pastry and place the tomatoes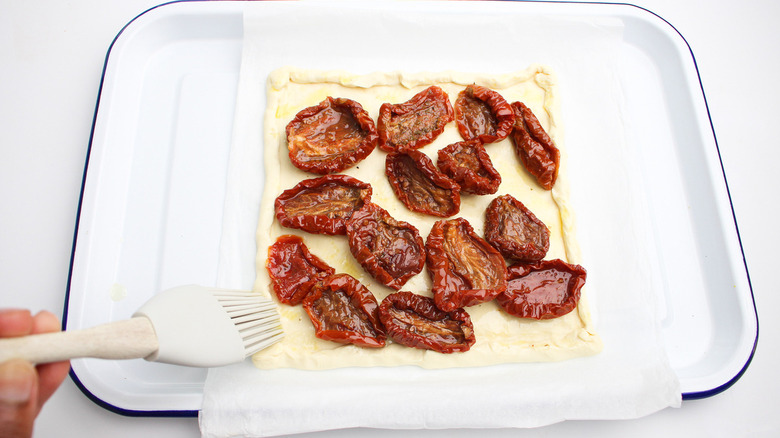 Susan Olayinka/Mashed
Next, using a pastry or basting brush, coat the puff pastry dough with olive oil. Then, place the sun-dried tomatoes neatly inside the pastry's frame. When you're happy with the arrangement of your tomatoes, pop the whole thing in the oven for a quick 20-minute bake. You'll know that the tart is finished once you see the edges of the pastry rise and turn golden brown. If you add extra toppings or want it just a bit crispier, keep it in the oven for a few minutes longer, but watch it closely to make sure nothing burns.
Olayinka told us excess seasoning really isn't required, though you're free to mix things up if you really want to do so. "As the tomatoes are quite salty it doesn't acquire any extra seasoning, but one can put chili powder or black pepper on if they so please," she says.
Garnish the cooked tart with parsley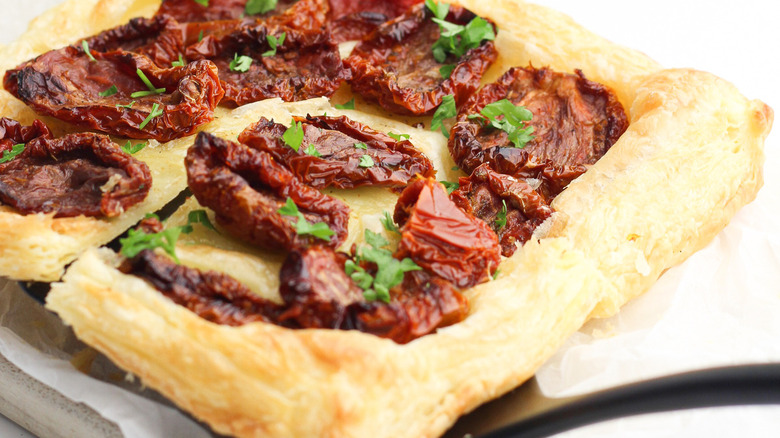 Susan Olayinka/Mashed
After it's baked for about 20 minutes, take your tomato tart out of the oven. You should then serve it immediately, cutting it into portions. "This is definitely best eaten fresh as a puff pastry base tends to go soggy after a while," Olayinka notes. She also recommends garnishing this tart with some freshly chopped parsley for a bright pop of color and additional herbal flavor. 
When you think of pastry, desserts may come to mind, but don't discount the pleasures of a simple, rustic, and savory tart. Olayinka confirmed the taste of this tomato tart is all but sweet, saying, "the addition of the sun-dried tomatoes give it a salted taste and savory [flavor] as well."
As for how to serve this tomato tart up to waiting diners, you have a few options. Olayinka recommends using this as a lunch component served with a fresh side salad, or perhaps as an appetizer course that's served before an entree.
3-Ingredient Tomato Tart Recipe
Fashioned with pre-made puff pastry, this easy sun-dried tomato tart delivers maximum visual and flavor impact. Even better, it requires just three ingredients.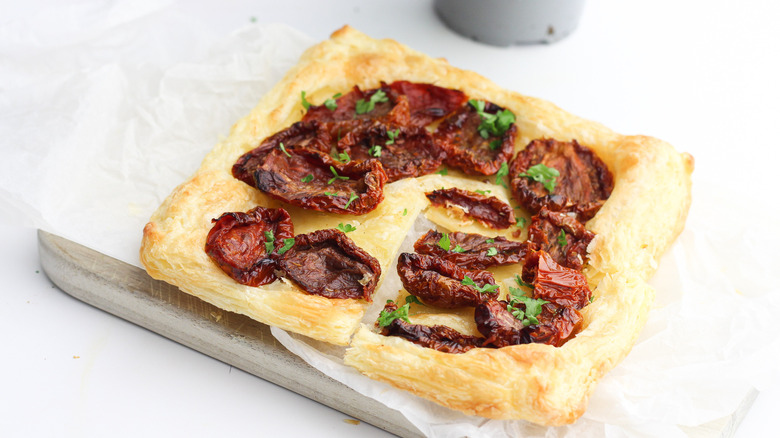 Ingredients
1 piece puff pastry
1 tablespoon olive oil
13 sun-dried tomatoes
Optional Ingredients
Directions
Cut puff pastry into an 8x8-inch square
Preheat the oven to 425 F.
Fold up the edges of the puff pastry by ½ inch. Pinch the edges so that they rise slightly.
Place the sun-dried tomatoes on the puff pastry.
Bake for 20 minutes
Serve immediately, topped with optional chopped parsley.
Nutrition
| | |
| --- | --- |
| Calories per Serving | 171 |
| Total Fat | 12.5 g |
| Saturated Fat | 2.4 g |
| Trans Fat | 0.0 |
| Cholesterol | 0.0 mg |
| | |
| --- | --- |
| Total Carbohydrates | 13.6 g |
| Dietary Fiber | 1.8 g |
| Total Sugars | 5.0 g |
| Sodium | 67.5 mg |
| Protein | 2.9 g |