You've Been Ordering Wine The Wrong Way, According To Chef Ludo Lefebvre - Exclusive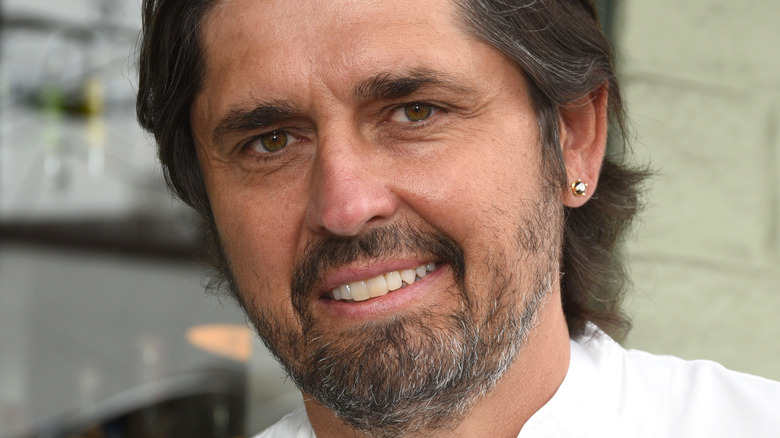 Michael Tullberg/Getty Images
Choosing a wine can feel like a shot in the dark; even if you have a decent understanding of the difference between a pinot grigio and a pinot noir, or feel pretty certain that you like reds better than whites. Unless you're a professional sommelier or spend your free time taking Napa tours, how do you really know that you're choosing the right vino to complement your dinner? Making things even more overwhelming are the humorous wine brand names — if you're out to dinner with friends, sharing a bottle of Fat Bastard or Sailor Seeks Horse might liven things up (via Bloomberg) ... but, these fun-sounding blends might pair terribly with your entrée.
You're probably overcomplicating things. In an exclusive interview with Mashed, chef Ludo Lefebvre, a veteran of "The Taste" with Anthony Bourdain and Nigella Lawson, who just launched his new Chef Ludo Lefebvre's Vin de Table Collection online, said you really should just ask the sommelier at the restaurant for advice — or order from the chef's menu. "I work with my sommelier with that. I'll create a dish and the sommelier will tell me what to pair," explained Lefebvre, who is in the process of opening a new French hot spot, Chez Maggy, in Denver, via Restaurant Hospitality. "I love to go to the restaurant and have a wine pairing — I love it! The discovery of a lot of different wines with different food" is one of the best things about dining out, Lefebvre added. "Most of the time, the sommelier and the chef know what they're doing and you're discovering a lot of wine you're not used to."
How to figure out which wine to pair with your meal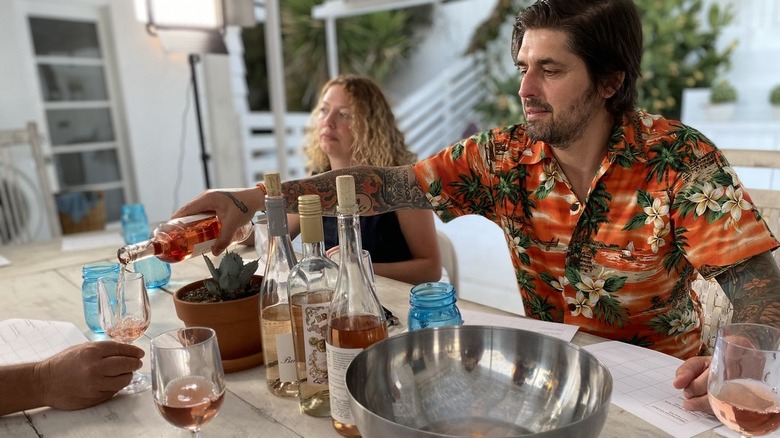 Wine Insiders
What if you're not ordering food at a restaurant that has a sommelier — some of us are "fancy" like Applebee's, after all — or, you're trying to choose a wine for a dinner you're making at home? Lefebvre concedes this is a harder decision to make without an expert on hand. "Not everybody has a sommelier at home," he pointed out, so you're going to have to uncork what you have on hand, and taste as you cook. "It's about tasting, definitely. Tasting and tasting and balance — to balance the food and the wine together between the acidities, the fats, the fruit," he said. "But that comes with experience."
If you don't happen to have a cellar's worth of wine bottles to taste, and dinner's at 7 p.m., Lefebvre has two quick hacks for choosing the right wine. The first is the app Raisin, which will recommend a wine to pair with your dinner, and usually, the suggestions are dependable, according to Lefebvre. Beyond that, "what grows around together, they go well together. Like you go to Burgundy, you take a red wine Burgundy, order a Boeuf Bourguignon. You're safe with that. Or a good pâté," Lefebvre explained. "Just use the local food and local wine together. You'll be okay. Local food: local wine!"
Shop Chef Ludo Lefebvre's Vin De Table wine collection. For updates on his new Denver restaurant, Chez Maggy, follow him on Instagram.