Homemade Pumpkin Seed Butter Recipe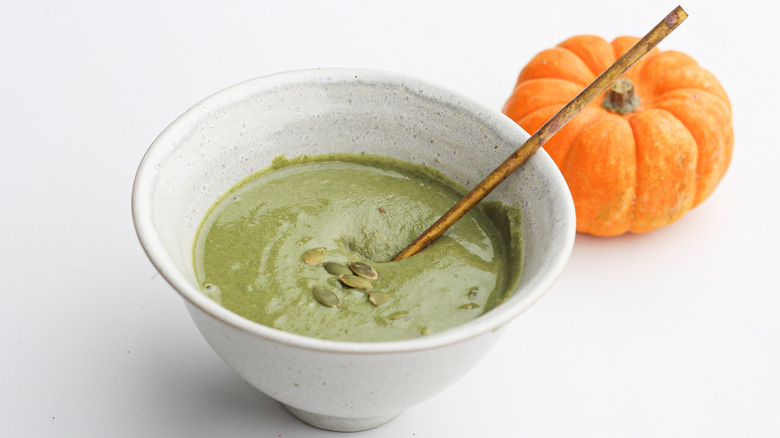 Susan Olayinka/Mashed
There are three primary reasons you should consider trying out this homemade pumpkin seed butter recipe from photographer and recipe developer Susan Olayinka. The first is the fact that pumpkin seed butter is, of course, not peanut butter (or a tree nut butter, either, while we're at it). This means that it is a safe alternative to things like peanut butter or tree nuts, which can cause dangerous allergic reactions in some people. Second, this homemade seed spread is very easy to make and requires minimal ingredients. And third, autumn is the perfect time of year for it because, as Olayinka says, pumpkin seeds "will be in abundance very soon" if they aren't already available all around you.
Oh, wait, we forgot one other very important reason to make this stuff: it's absolutely delicious. You can spread it "on crackers, in sandwiches with jam or jelly, [and use] it in smoothies or salad dressings," Olayinka says. Pumpkin seed butter is a great and generally allergy-safe stand-in for peanut butter, to be sure. But it also really does stand on its own two feet, so to speak, as well.
Try it in any of those applications or whatever sounds great to use, whether you're stir-frying with the stuff, drizzling it over coffee-infused ice cream (perhaps as a sweet pumpkin spice dessert!), or even trying it with some roasted meats or veggies. You basically can't go wrong with this easy-to-make pumpkin seed butter.
Gather your ingredients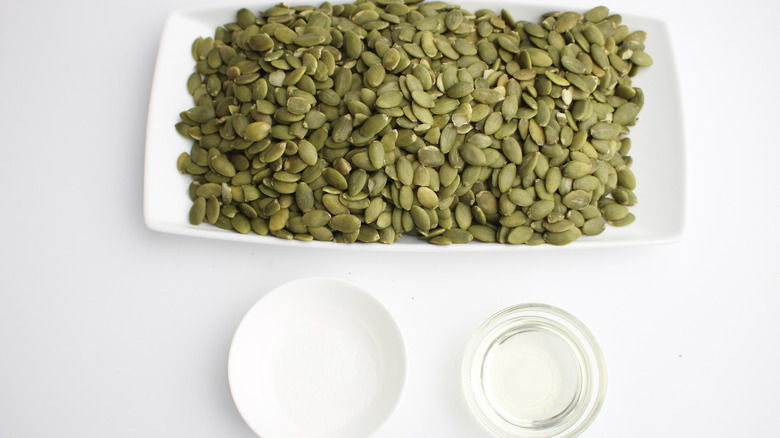 Susan Olayinka/Mashed
Before we get to the exhaustive list of ingredients needed here (we're joking, don't worry), we'd like to issue a quick and friendly public service announcement: you need to use shelled pumpkin seeds to make pumpkin seed butter! We don't want to insult anyone, but we do want to make sure that you have the best time possible when making this pumpkin seed butter. If you were to try to grind up the seeds just as they come out of the pumpkin — as in, with their white shells still around the seeds — you're going to have a bad time. 
That said, you can indeed eat the seeds still in their shells. So long as you spit out the shells, that's good eating and great fiber for ya!
Okay, now to that ingredient list. You'll need pumpkin seeds (sometimes referred to as pepitas), sea salt, and vegetable oil. And yep, that's it.
The health benefits of pumpkin seeds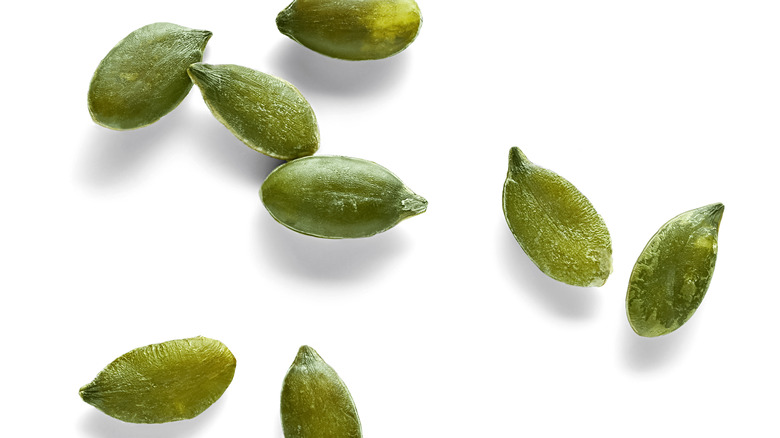 art nick/Shutterstock
According to Healthline, pumpkin seeds are chock full of various vitamins and other nutrients. And all those valuable nutrients remain available to your body when you process pumpkin seeds into pumpkin seed butter. Enjoying this stuff delivers a whole host of goodies, including magnesium, zinc, vitamin K, iron, and copper. Pumpkin seeds are high in protein, too. Still not enough for you? These little wonders also have quite a lot of the healthy fats that your body needs, deliver some fiber, and are rich in antioxidants.
In other words, you can add the word "nutritious" to the delicious we talked about earlier.
Blend, scrape, repeat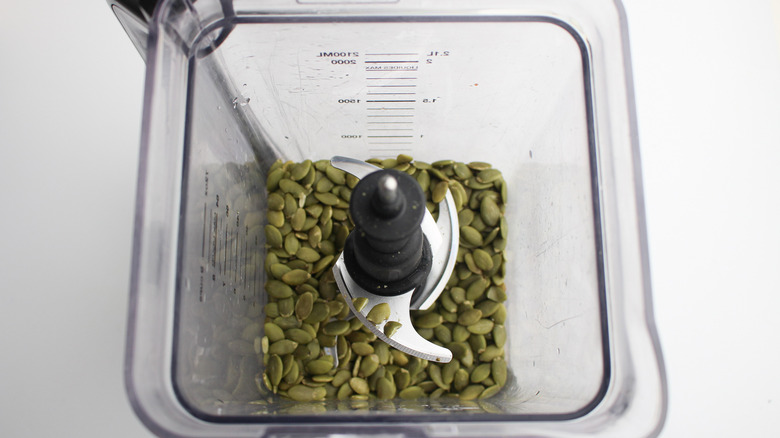 Susan Olayinka/Mashed
Place the shelled pumpkin seeds into the blender or a high-speed food processor. Then, sprinkle the sea salt over the top and drizzle the vegetable oil on top after that. Take care to do it in that order, so the salt and oil will be as well integrated as possible.
Now blend the seeds, salt, and oil on high speed for a couple of seconds, or until the pumpkin seeds form a sandy texture. Next, scrape down the sides of the blender with a silicone spatula or with a spoon, making sure that any seed bits that have crept up the sides of your blender are pushed back down. Then blend the pumpkin seeds on high for a couple more seconds and scrape down the sides again.
Blend the seed mixture again, then enjoy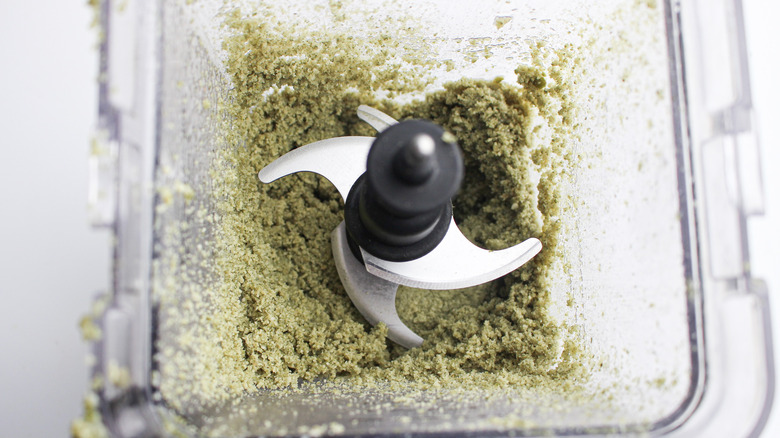 Susan Olayinka/Mashed
Repeat the blending and scraping process several times as needed until the mixture turns into a thick paste, adding a tad more oil if the consistency gets too thick for your liking. Then blend it all yet again for another couple of seconds, though you'll want to be careful not to overdo it. "Be sure not to over-process it or it will cook and get hard," Olayinka says. "Once it turns silky like peanut butter, it's ready."
And that's it. Now, with your beautifully textured pumpkin seed butter ready, you can transfer it to a jar or pot and enjoy! Enjoy it on crackers, mixed into dressings, or even by the spoonful.
Homemade Pumpkin Seed Butter Recipe
This pumpkin seed butter is easy to make, uses just a few ingredients, and is generally safe for people with tree nut or peanut allergies. What's not to love?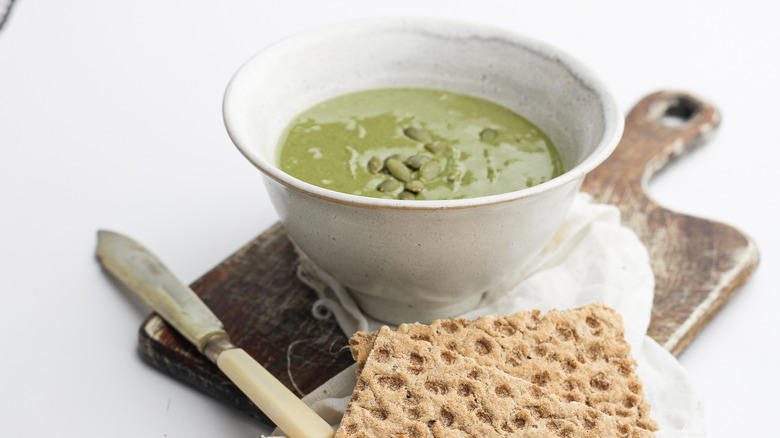 Ingredients
2 cups pumpkin seeds
½ teaspoon sea salt
2 tablespoons vegetable oil
Directions
Place the pumpkin seeds, sea salt, and vegetable oil into a high-speed blender or food processor.
Blend on high for a couple of seconds until the pumpkin seeds form a sandy texture. Scrape down the sides with a spatula or spoon.
Blend the pumpkin seeds on high for a couple more seconds, scraping down the sides.
Repeat the process, blending the pumpkin seeds on high for a couple of seconds more, scraping down the sides, until the mixture turns into a thick paste.
Continue to blend the mixture on high for a couple of seconds until it starts to loosen.
Blend again for another couple of seconds. Be careful not to over-blend, as this may cause the pumpkin seed butter to get hot and cook.
Transfer pumpkin seed butter to a jar or pot, or use it right away and enjoy.
Nutrition
| | |
| --- | --- |
| Calories per Serving | 282 |
| Total Fat | 25.8 g |
| Saturated Fat | 4.0 g |
| Trans Fat | 0.1 g |
| Cholesterol | 0.0 mg |
| | |
| --- | --- |
| Total Carbohydrates | 4.6 g |
| Dietary Fiber | 2.6 g |
| Total Sugars | 0.6 g |
| Sodium | 110.8 mg |
| Protein | 13.0 g |