Shake Shack Announced 3 New Drinks Featuring These Winter Fruit Flavors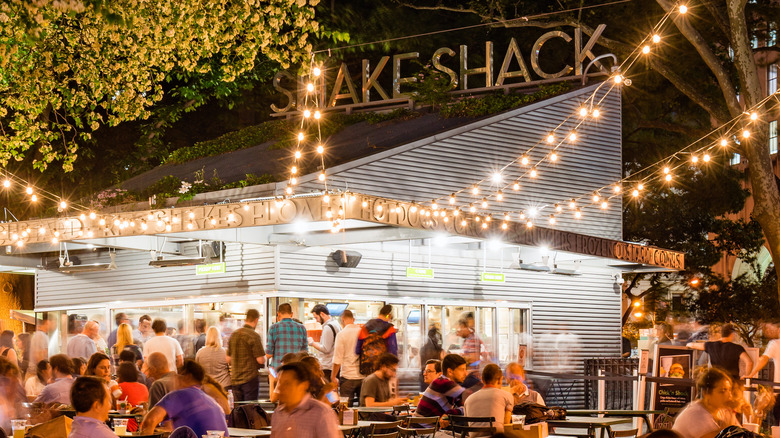 Francois Roux/Shutterstock
Shake Shack enthusiasts have a lot to be excited about in the coming months. The cult-classic burger joint just announced on October 15, that they would be adding three new drinks in winter fruit flavors. It's the perfect way to wash down your burger and fries while keeping things seasonal. In a recent tweet, the chain wrote, "BEVERAGE DROP! Meet our three new Winterades: Cran Citrus Punch, Pomegranate Yuzu Lemonade, and Apple Ciderade." 
While apple cider is definitely a traditional drink for the fall and winter months, both the cranberry citrus and pomegranate yuzu options will undoubtedly pack tons of flavor too. According to the announcement Shake Shack shared to Instagram, fans could read the descriptions for each drink too. The Cran Citrus Punch is made with cranberry and white grape juices mixed with orange zest and Shack-made lemonade​. Next up, Pomegranate Yuzu Lemonade​ features real yuzu and pomegranate juices mixed with Shack-made lemonade. Finally, the Apple Ciderade​ is simply apple cider mixed with vanilla and Shack-made lemonade​.
This is what Shake Shack fans are saying
Within two hours of announcing the new drinks, the Shake Shack Instagram post had received more than 1,500 likes. Clearly, fans are already feeling thirsty for these new sips. One person commented, "I am so psyched to try them!" Another person tagged someone else on Instagram and simply said, "we're going." A different user commented with an apple emoji to show they were psyched for the Apple Ciderade, while someone else simply wrote, "Yuzu." 
Others shared fire emojis, heart-eyed emojis, and commented which flavor they want to try first. Whatever flavor customers ultimately decide to choose, the drinks are sure to be as big of a hit as everything else Shake Shack does. While we do not have exact dates for when these drinks will begin to appear at your local burger chain, you should definitely start keeping an eye out for them.