The Surprising Fact You Never Knew About Pumpkins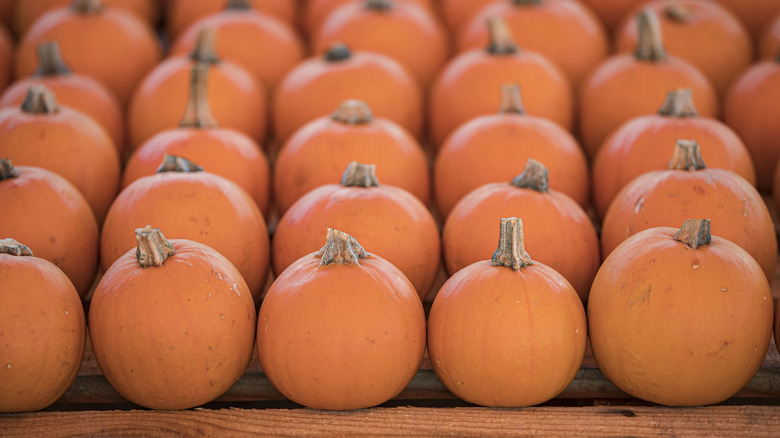 Daniel Knighton/Getty Images
As soon as Pumpkin Spice Lattes hit Starbucks menus everywhere, fans of fall know that pumpkin season has officially arrived. While there are plenty of pumpkin spice items every year that get people in the mood for cool weather and fall flavors, there are so many other ways to enjoy real pumpkins and winter squashes too. Not to mention, there are even more pumpkins available to try out different recipes.
According to Good Housekeeping, America grows a whopping 1.5 billion pounds of pumpkins every year. But out of that massive number, more than 800 million pumpkins are ripe and ready to be picked and served up in October alone. That means you'll have plenty of gourds at your local supermarket, so you can attempt all kinds of sweet and savory recipes. The Pioneer Woman suggests pumpkin chili, pumpkin dinner rolls, pumpkin nachos, and, of course, pumpkin ravioli topped with sage.
But there is a healthy reason to indulge in so much pumpkin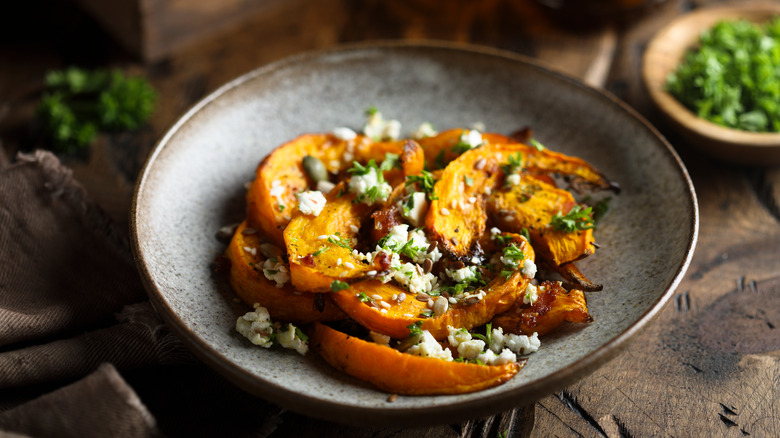 MariaKovaleva/Shutterstock
The reason why so many people should pick up more pumpkins to cook with is that they are astonishingly healthy. In fact, they are made up of 90% water according to Good Housekeeping. With such a high percentage of water accounting for their makeup, pumpkins are very low-calorie. A cup of the gourd doesn't even have 100 calories and just half a gram of fat, so it's a really healthy produce option for all kinds of dishes.
What might be even more surprising is that pumpkins actually pack more nutrients than some of your other produce favorite picks. The squash outranks kale for the amount of fiber they pack, as well as bananas for potassium. To top it off, pumpkins are also rich in magnesium and iron. Another fun way to enjoy pumpkins and make the most of their good nutrition is to eat the seeds, which are also rich in iron after roasting them. Even pumpkin flowers are edible. So, try eating more pumpkins and get creative with how you use them in healthy recipes.